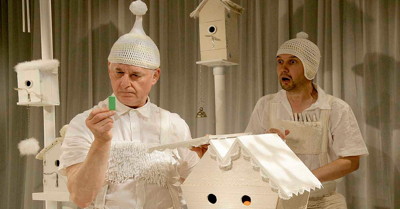 Continuing their commitment to presenting high quality theater for children, the Wallis Annenberg Center for the Performing Arts is staging another imported show. The award-winning Catherine Wheels Theatre Company from Scotland presents White, a magical and delightful production for the very young, in the Wallis' smaller space, the intimate Lovelace Studio Theater. White plays in the mornings and afternoons and runs through March 23, 2014.
This show was created especially for 2 to 5 year olds, yet it won the Edinburgh Fringe Festival 
Total Theatre Award—across all categories.
The space, and its cute set, is entirely white. Audience members perch on low, white, wooden benches and there are little mats on the floor for kids to lounge on. The show is only 30 or so minutes long—perfect for short attention spans. The little ones who attended the show were completely enchanted by the simple storyline, occasionally piping up with curious questions and giggles of excitement.
Two fellows, Wrinkle and Cotton (played by Ian Cameron and show creator Andy Manley), inhabit a small world of white things. A teepee is their place for sleeping and all around are little white wooden bird houses. As the pair begin their daily ritual of waking, grooming themselves and cleaning their space, we soon find out what the highlight of their day is all about. Eggs miraculously fall from the sky into their fluffy white aprons. Then the pair find homes for the eggs in egg cups and tuck them away inside the birdhouses. Whenever a spot of color is discovered, it goes straight into the bin. "White!" intones Wrinkle. "White…" replies Cotton.
But when a red egg appears, Cotton can't help himself and he secretly retrieves it from the bin, wreaking a colorful havoc on their placid and plain world.
With its simple themes of non-conformity and acceptance, White is a sweet and silly show that is perfect for tiny tots. Danny Krass has composed a truly gorgeous score of delightful sounds and light melodies that perfectly complements this adorable show.
*** Now available is the White iPad app that takes babies and toddlers inside the performance to catch and take care of eggs, build them a home and finally enjoy a party! Available at Apple's app store and available to download while the show is in town.***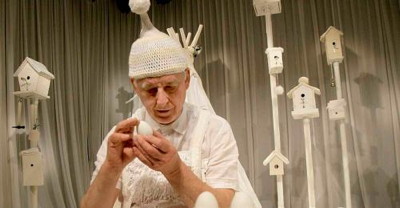 White
Lovelace Studio Theater, Wallis Annenberg Center for the Performing Arts
9390 N. Santa Monica Blvd,
Beverly Hills, CA 90210
Performances:
Wednesday, February 26 through Sunday, March 23, 2014
Schedule:
Wed 2/26 at 2:30pm;
Thur 2/27 at 10:00am, 12:00pm & 2:30pm;
Fri 2/28 at 10:00am, 12:00pm;
Sat 3/1 at 10:00am, 12:00pm, and 2:30pm;
Sun 3/2 at 10:00am and 12:00pm
Wed 3/5 at 10:00am & 12:00pm;
Thur 3/6 at 10:00am, 12:00pm & 2:30pm;
Fri 3/7 at 10:00am, 12:00pm;
Sat 3/8 at 10:00am, 12:00pm & 2:30pm;
Sun 3/9 at 10:00am & 12:00pm
Wed 3/12 at 10:00am & 12:00pm;
Thur 3/13 at 10:00am, 12:00pm & 2:30pm;
Fri 3/14 at 10:00am, 12:00pm;
Sat 3/15 at 10:00am, 12:00pm & 2:30pm;
Sun 3/16 at 10:00am & 12:00pm
Wed 3/19 at 10:00am & 12:00pm;
Thur 3/20 at 10:00am, 12:00pm & 2:30pm;
Fri 3/21 at 10:00am, 12:00pm;
Sat 3/22 at 10:00am, 12:00pm & 2:30pm;
Sun 3/23 at 10:00am & 12:00pm
Tickets:
Prices:
All seats $25.00 (General Admission)
Purchase in Person – Wallis Annenberg Center Box Office,
9390 N. Santa Monica Blvd, Beverly Hills, CA 90210
Or by Phone – 310-746-4000