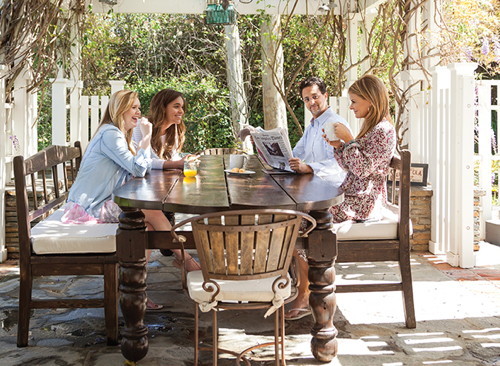 Elegance Refined
A top Hollywood producer and his philanthropist wife discover solace and sophistication in Sherman Oaks.
It's no surprise that the Sherman Oaks home of Grant and Lysa Heslov reeks with elegance, creativity and good taste. He is an Oscar-winning writer and producer; she is also a pedigreed filmmaker and the founder of an innovative children's charity. They discovered the property, tucked in a charming neighborhood south of the Boulevard, while living in Studio City in 2009. Needing bigger digs, the couple contemplated remodeling.
"My kids (Olivia and Maya) were younger, and they were just not great with change. And so you're like, 'Okay, what do we do?'" remembers Lysa.
Rather than renovate, the Heslovs went house hunting. "We both just have such crazy lives, so we were happy when we found this place we could just move into." Wearing loose-fitting red track pants, a T-shirt and no makeup, the Georgia native looks every bit as unfussy and relaxed as the home she has created.
Although the house was appealingly turnkey, they've reworked many aspects, including remodeling the kitchen and bathrooms. Cream and white tones with accents of red and dark, mostly reclaimed wood, abound here. The main living area, adjacent to the bright Carrera marble kitchen, has a huge, custom-made Holly Hunt sectional sofa that's perfect for lounging, with a large square ottoman in lieu of a coffee table.
The delightful, 6,000-square-foot home has an open floor plan and great flow, with large rooms including a gym and movie screening room. With the main structure relatively close to the curb, the backyard is deceptively vast.
To read the rest of this interview, please go here.