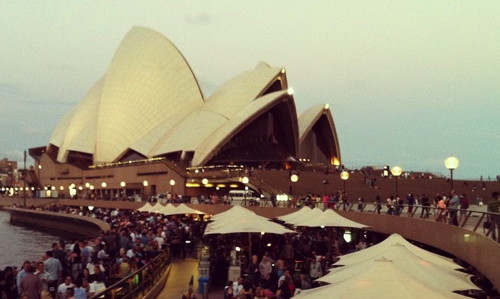 Cate Blanchett, Heath Ledger, Nicole Kidman.   Phil Noyce, George Miller, Baz Luhrmann . . .
Ever since the swashbuckling days of Errol Flynn, people have been marveling at the wealth of talent that emerges from Australia, sometimes even complaining about the "Aussie invasion" of US screens.
Well, hang on to yer hats, mate, because the 'gum leaf mafia' is about to storm Hollywood's theater stages as well — welcome to Aussiewood!
Intent on sharing Australian stories, voices, culture and talent — as well as collaborating with topnotch American practitioners — co-producers Nick Hardcastle and Nate Jones have formed the U.S.A.'s very first Australian stage troupe, with the moniker Australian Theatre Company. Following initial discussions late last year, by mid-March the company raised over $50,000 via a Kickstarter crowdsourcing campaign in order to get going. The ATC will mark its debut with the Los Angeles premiere of Holding the Man, adapted by Tommy Murphy from the best-selling memoir by writer, actor and activist Timothy Conigrave. Featuring an all-Australian cast and directed by Hollywood acting coach Larry Moss, opening night is set for May 10 at the Matrix Theatre.
Initially set at Xavier College, an all-boys Jesuit Catholic school, in Melbourne during the 1970s,  Holding the Man tracks the 15-year-long love story between two young men. The title refers to a term used in Australian football rules, referring to a transgression that incurs a penalty.
To read the rest of this article and interview, go here to the Stage Raw website.