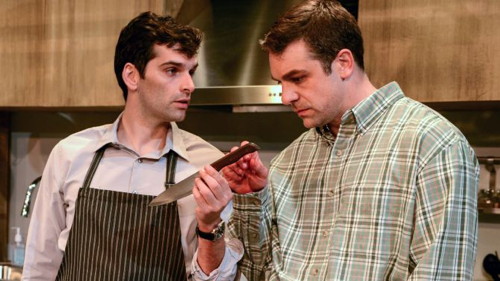 Greetings art and theater aficionadi!
The new critical website Stage Raw has launched and contains the latest arts and theater coverage from our intrepid team of journalists.
Some links to recent reviews are listed here for your perusal.
Happy reading!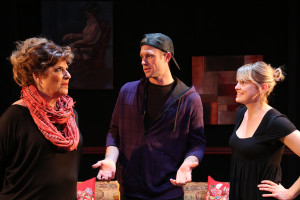 Be A Good Little Widow – at NoHo Arts Center until May 25.
It's hard to tell if Bekah Brunstetter's play is a tired string of clichés or if any dramatization of dealing with the loss of a spouse, as in Be a Good Little Widow, inevitably hits the same familiar notes.
Brunstetter establishes her groundwork with the commonplace beats of a young couple struggling with the challenges of their swift new marriage: She's lonely in their new home in a new town. He's often traveling for work, but it will all be better "once the merger is over." She's nervous about having the archetypal 'Monster-In-Law' she barely knows over for dinner . . . Her happiness at his arrival home is punctured by his admission he has to head out again all too soon. His disappointment that she has failed to find a vocation — or any kind of gainful occupation — is quickly glossed over so they can enjoy their reunion, including a hackneyed tender slow dance to a jazz standard.
Taste – at Sacred Fools until May 17.
Two men meet on the internet and forge an unholy pact.
Screen and television writer Benjamin Brand's first play Taste is based on a bizarre true crime episode from 2001 for which a German man named Armin Meiwes was convicted and eventually sentenced to life imprisonment.
Every grisly detail of the actual event was video taped, and so we have a factual play that reenacts the meeting between the two men and powerfully unfolds in real time.
It's chilling stuff, yet it's also inexplicably hilarious. Well, perhaps less so if you are male…
Stuart Gordon (Re-Animator: The Musical, based on his cult horror film) directs this unusual play brilliantly, walking a fine line when finding the laughs within the disturbing storyline. Right from the start Brand establishes numerous details about his characters and Gordon includes several sight gags — e.g. the reach for the front door — that break the ice and relax the audience. It's a credit to Gordon and his fine actors that the performances never tip over into camp territory.
We first meet Terry (Donal Thoms-Cappello), a slightly fey fellow and enthusiastic cook who lives in a spacious and stylishly decorated urban bachelor pad. He's so fastidious he even has a coaster on his granite counter for his vodka bottle. In fact, DeAnne Millais' stunningly detailed and expensive-looking scenic design — complete with a well-equipped, working kitchen — helps us form a strong impression of the character who inhabits this luxe dwelling even before the play commences. When the play does start, Terry is listening to an LP recording of an exquisite aria as he expertly dices then fries an onion and our first impression is confirmed. Plus, we gain the olfactory (and auditory) pleasure of the frying onion, unaware of its foreshadowing.
Next we meet the other character of this one-act two-hander, the portentously named Vic, played by Chris L. McKenna. Vic is awkward, nervous and, somewhat schlubby and goofy, he seems far less refined than Terry. Lines such as "You don't quite look like your photo…" suggest that this is a first date for a pair who've met on the internet. The men dine and toast "To seeing things through," and another ominous note is sounded.
As Vic, McKenna does a marvelous job of conveying all the emotional complexities and nuances of the encounter he willingly undertakes. Thoms-Cappello's emotional journey also undulates but on a slightly different trajectory; together the performances intersect and ebb and flow like a beautifully orchestrated duet. It's masterful writing.
This macabre black comedy is also searingly visceral, complete with sexually explicit scenes and jets of gore. Taste is gross yet riotous and definitely not for the squeamish.
Taste by Benjamin Brand.
Runs until May 17, 2014
Thursdays-Saturdays at 8pm,
Sundays at 7pm
18+
Sacred Fools Theater Company
660 N Heliotrope Dr, Los Angeles, CA 90004
Phone: (310) 281-8337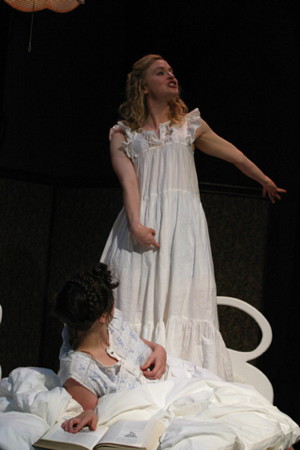 White Marriage – at Odyssey Theatre until May 25.
That director Ron Sossi decided to remount White Marriage, a play he first directed in 1975, might be an attempt to recapture the hit production for the Odyssey Theatre Ensemble that Sossi staged 35 years ago. In the here and now, however, the urgency of the play's point is muted largely by Sossi's own re-staging.
Polish poet, dramatist and writer Tadeusz Różewicz was one of the first generation of Polish writers born after their homeland regained its independence in 1918. A WWII resistance fighter and prominent member of the Polish avant-garde theater scene of the 1970s, Różewicz was very much a product of his artistically provocative times. White Marriage is, nonetheless, linear and accessible.
 Is There Sex After Marriage? – at Two Roads Theatre until May 4.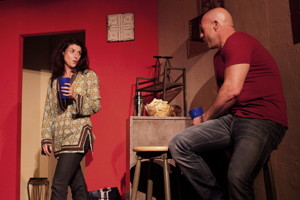 Playwright-director Jeff Gould has found a formula that works. Several years ago he had a huge hit with his play It's Just Sex!, which played off-Broadway and all over the world and enjoyed a two-year run at Studio City's tiny Two Roads Theatre. Gould has returned to the 56-seat house with a world premiere comedy that is an offshoot of his former hit. In Is There Sex After Marriage?, he once again charts the marital woes of three couples, examining their interpersonal dynamics with a sparkling sense of humor.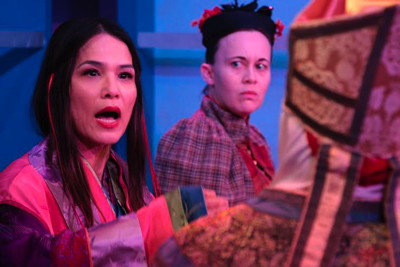 Top Girls – at Antaeus Company until May 4.
During the 'greed is good' '80s and the tumultuous era of British Prime Minister Margaret Thatcher, London-born playwright Caryl Churchill informed her scathing political satires with an examination of feminist themes — challenging and charting the evolving notions of gender and sexuality in the workplace. Her plays were bold, different, and felt thrillingly immediate. They were of their time, yet they still scorch.
Perhaps one reason Churchill's plays are seldom performed on our shores these days is that it takes a truly gifted actor to tackle the complexities and atypical demands of her biting works. Of all the companies in Los Angeles, The Antaeus Company feels like the perfect troupe to do Top Girls justice. The classical theater group kicks off its 2014 season with a fully partner-cast production of this Obie Award-winning dramedy, now considered a 'modern classic.'
[Churchill won Obie Awards over two consecutive years; 1981-1982 (for
Cloud 9
) and 1982-83 (
Top Girls
). These Off-Broadway Theater Awards are annual awards given by The Village Voice newspaper to theatre artists and groups in New York City.]
Nota Bene: What follows is a review of the 'High Flyers' cast, with Kimiko Gelman from the 'Ballbreakers' cast replacing Linda Park for last Saturday's performance.
Excitingly, Top Girls boasts a cast of seven women. As all but one of the actors take on multiple roles, this play truly is a showcase of fantastic female talent and range. The play also has a highly unusual structure that takes some getting used to. In the first scene of Act One we meet Marlene (Sally Hughes), a successful businesswoman whose career is on the rise. Garbed in a chic black dress teamed with oversized jewelry and firmly instructing the silent waitress (Alexandra Goodman), Marlene confidently takes charge. She has assembled a handful of notable women from history for a restaurant dinner. As the party devolves into a rowdy, boozy feast, the women share stories and gradually a depiction of the role of women in society throughout the centuries emerges. In this fashion, Churchill explores what being a successful woman means, and to what extent that perception has evolved.
What's interesting is which characters Churchill has selected to sit at the table; all are archetypes of their respective eras. We meet a 13th century Japanese Emperor's concubine Lady Nijo (Kimiko Gelman) who tells a tale of the difficulties she faced being a mistress of the court. Particularly wrenching are the two episodes when her children were confiscated from her, yet Lady Nijo maintains her honor at serving in a role that was her life's destiny. A similar tale is that of Patient Griselda, a 14th century Italian peasant woman whose marriage to a nobleman was beset by 'tests' of her obedience, including the confiscation of her offspring. Her folkloric tale was immortalized by Petrarch, Boccaccio, Chaucer and Charles Perrault. The other three guests each have their own unique and intrepid sagas, with the experience of Pope Joan (Rhonda Aldrich) being the most astounding. The remainder of the two-act play concentrates on Marlene's story. By the play's emotionally devastating conclusion, we realize how these figures reflect on the modern woman's choices.
Churchill scripts overlapping dialogue in the first and final scenes. Unfortunately, this technique hinders and alienates during this initial scene as we are trying to piece together each woman's story. Nor is there any sense of directorial orchestration of vocal modulation—meaning, one actor claiming dominance within competing dialogue—but perhaps clarity will emerge as the season progresses. Also confusing is the absence of any sense of timeline, at first. The non-naturalistic elements sit at odds with the realistic restaurant setting, complete with a procession of actual food and drink. (Pro-tip—don't see this play while hungry!) Questions arise: Is this the present day? Are all these women spirits from the past? How does Marlene figure into this gathering? It's hard to decipher, at first, what's going on. It's once the play proceeds with its more naturalistic depiction of Marlene's present-day story that we, the audience, find our footing. The final scene has Marlene arguing with her hostile sister Joyce (Karianne Flaathen) and here the overlapping dialogue works extremely well to build the tension and capture the passion and gut-punching irony of Marlene's lot.
Under Cameron Watson's direction, the cast all give beautifully nuanced performances and complement each other extremely well. Etta Devine's character of Dull Gret is a minor figure in scene one, but she convincingly portrays an angry and dim-witted teenager Angie in later scenes. Flaathen shines in three different roles, each finely observed. Also playing three characters Alexandra Goodman shape-shifts from one role to the next, impressing with her portrayal of Shona, the brash and alluring sales rep.
The costumes, designed by Terri A. Lewis, are superb, especially the fabulous 80's power suits, paisley dresses, flashy jewelry and purple satin and leather as well as the period costumes seen in scene one. Stephen Gifford's highly versatile scenic design is brilliantly conceived for maximum mobility.
With its sympathetic and insightful portrayals of women from all walks of life, Top Girls is welcome blast from the past.
Details for Calendar Listings
"Top Girls"
WHAT:
Top Girls – Antaeus. L.A.'s classical theater ensemble, kicks off its 2014 season with a fully partner-cast production of the Obie Award-winning comedy by Caryl Churchill. Politics get personal in the go-getting 1980s of Margaret Thatcher's England when Marlene, who has just been made managing director of the Top Girls Employment Agency, discovers that life above the glass ceiling is not all it's cracked up to be. An insightful commentary on bourgeois feminism, this bold and ingenious work offers one of theater's most honest portraits of what it means to be a woman in the modern world. Shoulder-pads may no longer be in fashion, but Churchill's masterpiece continues to resonate.
WHO:
Written by Caryl Churchill
Directed by Cameron Watson
Starring Rhonda Aldrich, Shannon Lee Clair, Julia Davis, Etta Devine, Karianne Flaathen, Kimiko Gelman, Alexandra Goodman, Sally Hughes, Abigail Marks, Rebecca Mozo, Linda Park, Elizabeth Swain, Jeanne Syquia, Rebekah Tripp
WHEN:
Performances: March 13-May 4:
Thursdays at 8 p.m.: March 20, 27; April 3, 10, 17, 24; May 1
Fridays at 8 p.m.: March 21, 28; April 4, 11, 18, 25; May 2
Saturdays at 2 p.m.: March 22, 29; April 5, 12, 19, 26; May 3
Saturdays at 8 p.m.: March 8 (preview); 15, 22, 29; April 5, 12, 19, 26; May 3
Sundays at 2 p.m.: March 9 (preview); 16, 23, 30; April 6, 13, 20, 27; May 4
WHERE:
ANTAEUS THEATER
5112 Lankershim Blvd.
North Hollywood CA, 91601
(1½ blocks south of Magnolia)
PARKING:
$7 in the lot at 5125 Lankershim Blvd. (west side of the street), just south of Magnolia.
HOW:
(818) 506-1983 or www.Antaeus.org
Join them on Facebook at www.facebook.com/AntaeusTheater
Follow them on Twitter @AntaeusTheater
TICKETS:
Thursdays and Fridays: $30  (except March 13 & March 14)
Saturdays and Sundays: $34