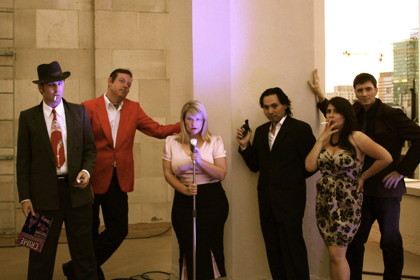 CAPTURED AURAL PHANTASY THEATER presents
Crime Story Confidential
Comic book crimes they didn't want you to see…
Witness "Sin-fluential" tales from the brutal pages of vintage crime comic books – exposed! – uncensored and LIVE! Captured Aural Phantasy Theater presents the CRIME STORY CONFIDENTIAL show at the historic El Cid for one night only Sunday, May 4!
They will be showcasing live performances of stories pulled from classic, mid-century crime comic books presented in their signature variety show / old radio show style. Be advised, these aren't heart-warming tales – these are the bloody comic book crime stories that were burned in the 40's and banned in the 50's for being too hard-boiled, too violent and too much! Along with multi-media comic book performances, the evening includes comedic acts, prizes and the finest live music by Laurel and their super-talented friend Adriene Biondo.
Spend the evening with Captured Aural Phantasy Theater for naughty, uncensored entertainment!
The CRIME STORY CONFIDENTIAL show is another in their new Seduction of the Innocent series, monthly shows that highlight comics once deemed harmful to kids. The series commemorates the 60th anniversary of the Senate hearings of April 21, 1954, which damned the comic book industry. The CAPT crew will be re-staging this historic event with a special theatrical performance later in the spring.
In the meantime, get the backstory and enjoy their "bad influence" at El Cid.
All the cool kids are doin' it.
 Captured Aural Phantasy Theater is being brought to you with the generous support of
 Comic Book Hideout, Junk for Joy and many others!

Please check them out.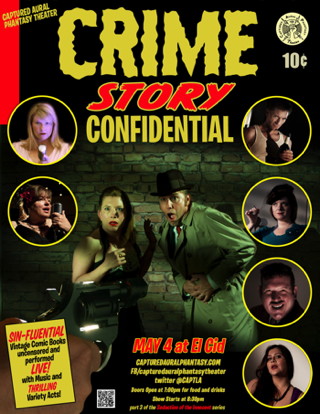 CRIME STORY CONFIDENTIAL
Where:
El Cid
4212 W. Sunset Blvd.
Los Angeles, CA 90029
When:
Sunday, May 4, 2014
7:30 pm doors open and dinner seating begins
8:30 pm show starts
Get there early to grab a good seat!
PRO TIP:
They always start the show at 8:30pm, but doors open at 7:30pm so audiences can start enjoying El Cid's brand new tapas menu and superb cocktails.
Cost: $10.00 at the door (cheap!) or purchase here or here or at the venue here.
*NEW* this season—shop before the show at the Phantasy Faire!
Join local vendors on the El Cid patio and peruse everything geek and chic in their very own version of a nerdy farmer's market.
Enjoy a variety show, music and booze!
MORE ABOUT CAPT:
This is a BIG year for us! The 2013-2014 season celebrates Captured Aural Phantasy Theater's 5th Anniversary in Los Angeles. However, we have been playing with the pop culture-variety-show / comic book-radio-show-style medium for over 10 years. We've been featured at many renowned venues including Comic-con International in San Diego, the Alexandria Hotel, i/O West, The Bootleg, the Velaslavasay Panorama and the Nerdist Showroom at Meltdown Comics.
Captured Aural Phantasy Theater combines the art, drama and comedy of a vintage radio program with the live entertainment of a variety show. In our signature show format, CAPT players interpret thematic comic books and other pop culture nuggets in the style of a retro radio program along with musical acts, projected art and comedic bits. With this perfect blend of variety, radio, cabaret, and multimedia performance, Captured Aural Phantasy Theater aims to entertain all your senses.
Captured Aural Phantasy Theater is what would happen if Garrison Keilor, John Waters and Stan Lee all hooked up after a night of hard partying. Shows are built around performances of vintage pop culture gems, but our specialty is giving old comic books a modern voice. Our retro-influenced variety show features real cultural artifacts of Americana interpreted for 21st-Century audiences.
Captured Aural Phantasy Theater is a group dedicated to producing high-quality live, filmed and recorded entertainment; bred in Chicago, but in L.A. to stay.
We never fail to entertain! Here's a little of what "they" are saying:
The Word on the Street:

• "Park your time machine on Sunset and join these retro revivalists for a unique variety show that's sure to impress funny book fans of every era."
-Geek Chic Daily
• "An intoxicating mix of pre-Lichtenstein comic book stories…an evening that fueled me, resuscitated me when I was a mere flat line…"
-Eye Spy LA
• "Featured Event"
-LAist
• "I've seen…their shows. So awesome! Can't wait to see them again."
-Comic Book Resources
•"The gang at Captured Aural Phantasy has crafted something uniquely wonderful."
-LA Weekly
"I highly recommend this show. Go see them now! You will be so happy you found them and you will become a loyal fan and want to see all their shows!"
-Goldstar
LA Downtown News "Don't Miss" List!
Featured in LA Weekly's "GO LA!", RECOMMENDED by Eye Spy LA! & MTV APPROVED.
The Cast:
Captured Aural Phantasy Theater is the original comic book / radio / variety show based right here in L.A. for over 5 years!
Consisting of a group of super-talented, experienced performers, writers, visual artists, and filmmakers, the troupe includes:
Ben Dickow – Producer and director, who also lectures on the history of comics at Otis College
Laurel Robinson – Singer and Musical Director
Adrien Biondo – Musician and cabaret singer
Nicole Ortega – Producer and star of "Police Chicks"
Josh Hickman – Recording artist and member of the instrumental surf band "The Noble Gasses"
Michael Uribes – Veteran of the Los Angeles theater circuit and various TV appearances
Jim Meade – Song Writer and co-leader of the duo "Quinn's Uncles"
Peter Wylie – Stage Manager, Assistant Producer and our resident Master of Theatrical Performance
Andres Loera – Audio/Visual Artist
This is a sponsored post.

For more information on sponsored posts, please get in touch with the author via the Contact page.