Jennifer Dyer, of Jeneration Interiors, was selected to design the window at Gina Berschneider for the 6th annual LEGENDS of La Cienega Design Quarter event that was recently staged from May, 7-9, 2014. The talented designer presented a black and white fantasy window display paying homage to Maya Angelou's poetic novel I Know Why The Caged Bird Sings in celebration of this year's guiding theme Novel Interiors: Storytelling by Design
Jeneration Interiors joined the best of our fair nation's tastemakers, including Diane Von Furstenberg, all of whom were invited to transform the more than forty of the top design shops and galleries participating in LEGENDS 2014. The annual LEGENDS celebration of design has become one of the industry's most anticipated events. For Jennifer Dyer, it was both the opportunity to showcase her prodigious talents and to provoke a higher consciousness in people's minds.
Everything selected for the window display at Gina Berschneider devised by Jeneration Interiors—including an antique rocking chair, writing desk, and inkwell—were selected in the hues of black or white to creatively illustrate the point of view that no one should ever 'see color.'
"Having an opportunity to use my skills to express an important time in our nation's history is an honor and responsibility I take seriously," says Jennifer Dyer of Jeneration Interiors. I chose I Know Why The Caged Bird Sings because the plight and triumphant spirit of the author is inspiring to me, says Dyer. "My most favorite books are non fiction stories of dealing with human suffering and overcoming obstacles, such as Maya's story," adds Dyer.
Jeneration Interiors evocative design included a literal re-creation of Maya Angelou's grandmothers' general store — selected to bring the author's past to life — as well as a fantasy classroom, signifying the importance of literacy. Suspended birdcages with doors left intentionally open represented the African American community's fight and eventual victory against oppression. Striking black and white photography —emblematic of the civil rights movement — created a powerful a focal point of the display. The famous words 'I have A Dream' captured in the image "Mule Train" by Ernest Withers (1968). Dyer's Jeneration Interiors design captured the attention of passers-by taking in the striking Gina Berschneider window.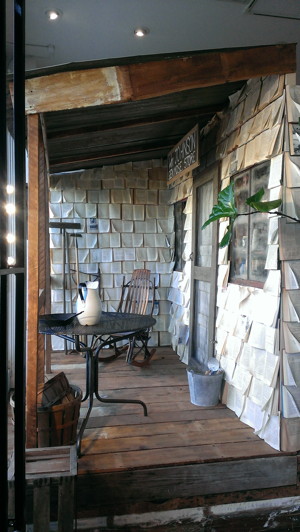 Background:
LEGENDS allows participating designers to support the design community through creative expression and to showcase talents. Each year the event brings together authors, editors and bloggers from around the country to join their counterparts in L.A. to take in the creativity presented in the myriad of window displays. They descend on the La Cienega Design Quarter for lively panel discussions, high-profile cocktail parties and receptions, book signings, and special showroom events.
"The La Cienega design quarter's reputation is well known throughout the country, says Dyer. "When I was designing and living in Miami, I used to come to Los Angeles to shop on La Cienega… Now, its annual LEGENDS event, with its prestigious sponsors, has become the design event of the year," adds Dyer. "I'm thrilled to have been chosen to participate."
About Jeneration Interiors/ Jennifer Dyer:
Jennifer Dyer is the principal designer of the full-service Los Angeles design practice Jeneration Interiors. Jennifer is regarded for her ability to mix styles and periods of furniture effortlessly and enjoys challenging clients to rethink design. Jeneration Interiors projects have been featured in the most read shelter magazines including LUXE Home + Design, Hampton's, Elegant Homes, Tuscan Style, California Homes, Lonny, Angeleno Interiors, Riviera Interiors, Los Angeles Magazine, and on TV. In 2012, a Jeneration Interiors project landed the cover of California Home & Design. Jennifer Dyer has contributed to the community beyond her firm's work. In addition to designing a window for LEGENDS 2014, Jennifer designed two spaces for DIFFA's Dining by Design exhibit at the LA Mart and has participated in the Pasadena Showcase for the Arts for two years. She also partnered with the L.A. Mart Design Center (LAMDC) and Los Angeles magazine to curate SOURCELA, an urban, gallery-inspired design collective showcasing product design for the 21st century home. For more information, or to schedule an interview, contact Shaun Thompson PR at (310) 838-0444 or via email.
About LCDQ LEGENDS 2014:
One of the most anticipated design events in the United States, LEGENDS is a 3-day celebration of design in May that brings together VIPs and tastemakers from the worlds of interior design, decor, art, fashion and architecture for receptions, keynote panel discussions, cocktail parties, exhibitions, book signings, personal appearances and special events. The dates for LEGENDS are May 7-9, 2014. In its sixth consecutive year, this year's event has drawn the unprecedented participation of 11 of the most prominent design magazines in the United States, Europe and California. National and international media sponsors for LEGENDS 2014 are Architectural Digest, DomaineHome.com, Elle Decor, The Hollywood Reporter, House Beautiful, Luxe Interiors + Design, Milieu, Objekt, Traditional Home and Veranda. Regional publications include C magazine and California Homes. LEGENDS 2014 presenting sponsors are 1stdibs and Coldwell Banker International Previews, along with corporate sponsors One Kings Lane and Benjamin Moore. For more information, visit their official site.