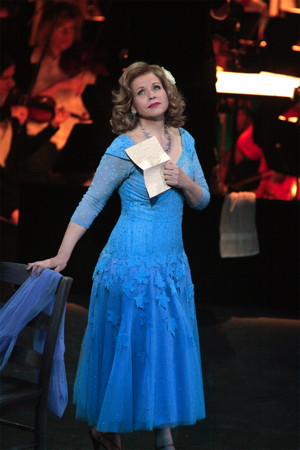 One performance remains of A Streetcar Named Desire – the Lyric Opera of Chicago and LA Opera's co-production – featuring superstar soprano Renée Fleming in the iconic lead role of Blanche DuBois.
The last chance to experience this opera is this Saturday May 24, 2014, at 7:30 PM, at the Dorothy Chandler Pavilion in Downtown Los Angeles.

More info on ticket availability here.
Renée Fleming's superb soprano voice — tinged with a mild Southern accent, at times — captures the memorable role of Blanche DuBois in the Los Angeles premiere of André Previn's A Streetcar Named Desire. All performances are conducted by Evan Rogister and directed by Brad Dalton. (See note below.)
Previn's modern opera is a faithful adaptation of Tennessee Williams' classic play of the same name, the melodramatic and sordid tale of the downfall of a once proud and refined Southern Belle.
A lively and stylish adaptation from the medium of pure theater to high flown opera, the production also stars bass baritone Ryan McKinny as the blue collar, physically abusive meathead Stanley Kowalski, with soprano Stacey Tappan as Blanche's sweet sister Stella and tenor Anthony Dean Griffey as Blanche's guileless suitor Mitch.
Performances across the board are wonderful, with Fleming's gorgeous voice soaring and elevating the somewhat pedestrian musicality. This modern-style opera really doesn't feature any arias in the strict sense (well, there are two or three almost arias…) and the libretto feels more as if it is spoken — recitative style — rather than melodically sung.
Case in point: In Act II of Streetcar there's a lovely 'getting to know you' exchange between Blanche and Mitch that is redolent of Act One in Puccini's La bohème, where Mimi and Rodolfo meet for the first time and swap the story about their lives and how they came to be where they are today. In Streetcar, it's a nice scene. In La bohème, however, it's the most sublime matched pair of arias that never fails to send shivers down your spine. There's nothing in Streetcar that even comes close to that divine scene, and that's a shame…
Even though there are no songs — just random modern musicality — Previn's jazz-infused score beautifully evokes its highly-charged, steamy New Orleans setting. The libretto, however, hews far too closely to Williams' original text and makes for a long evening of over three hours (three acts with two intermissions).
Bottom line — this opera may not reach the heights of a Puccini or Verdi classic, but thanks to its clever staging and sublime lead soprano, it is still well worth seeing.
One performance remains — do not miss this show!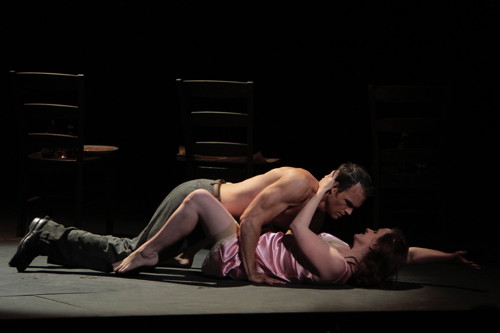 Final performance of A Streetcar Named Desire composed by André Previn.
Saturday May 24, 2014, at 7:30 PM
Dorothy Chandler Pavilion
135 North Grand Avenue,
Los Angeles CA 90012.
Tickets for A Streetcar Named Desire (starting at $17) are on sale at the Dorothy Chandler Pavilion Box Office, by phone at 213.972.8001 or online here.
For disability access, call 213.972.0777 or email [email protected]
More info available here. www.LAOpera.org
(May 6, 2014 update: Mr. Rogister replaces the previously announced conductor, Patrick Summers, who has withdrawn from this production due to a back injury, from which he is expected to recover.)