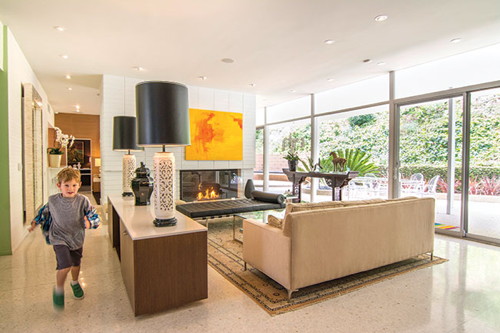 Past Present Perfect
Unveiling a magnificently restored Mid-Century Modern in Sherman Oaks.
Written by Pauline Adamek | Photographed by Marco Franchina
In 2005 Guy Genis, along his wife, Jennifer, and their small daughter, Stella, were living on Valley Vista when his twin brother called sharing news of a home just on the market. Recalls Guy, "Mark said, 'It's not for me, but I think you would like it.'"
The home, as it turns out, had a pedigree. It was designed by the prestigious Benton & Park architectural firm, formed in the '50s. Guy walked into the open-flow, 3,850-square-foot structure and immediately noted its potential. "I called Jen: 'You gotta see this house—the bones are really good.'"
Guy continues, "I'm a fan of Mid-Century Modern architectural design." Growing up, his parents owned a Palm Springs weekend retreat in that classic style. "I've always loved that open floor plan—it reminded me of my childhood."
Guy also loved that fact that the spacious, airy home is conducive for entertaining. It's not surprising that this would be a priority for the founder and CEO of Eventmakers, an international event production company.
The front entrance opens onto a small foyer, which leads into the sprawling living room, resplendent with large, floor-to-ceiling glass windows and sliding doors that open to the walled-in back patio and kidney-shaped pool. On one wall, two orange-hued leather wingback chairs flank a painting by Israeli artist Christina Matalone.
On the other side of the roomy kitchen is a family room and bar, perfectly positioned for entertaining. The private living quarters are all situated on the right-hand side of the property, easily closed off by a custom-made, 8-foot-tall, modern sectioned door with dark-wood-trimmed portholes. It is a replica of an antique they spotted on La Brea.
"We host a lot of 'Tequila Fridays' where we invite clients and friends over for these informal mixer events," Guy shares.
To read the rest of this interview, please go here.