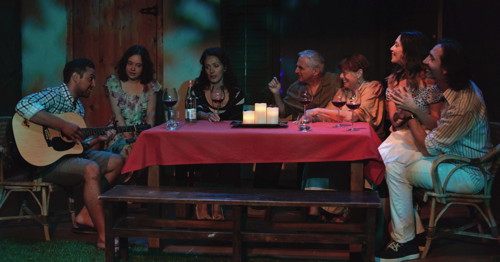 Hello #LAThtr fans!
My newest theater review for the critical website Stage Raw — which contains the latest arts and theater coverage from our intrepid team of journalists & critics — is out now.
Happy reading!
Luigi by Louise Munson.
Louise Munson's meandering and nostalgic family drama is set in Italy during a summer holiday. Two American siblings touch base with their Italian mother's parents and brother, discussing poetry and philosophy while drinking and dining, reading, playing board games, singing songs and telling stories. Much of the conversation is in Italian, with some translation here and there.
David Mauer's pretty scenic design features a dining table in a rustic courtyard within a Tuscan landscape, and it's there that all but one of the play's countless scenes are staged. The long table is frequently set with — and then laboriously cleared of — plates, napkins, bowls of food and ever-present glasses of wine or morning coffee mugs.
Quiet late-night exchanges between 13-year-old Anna (Erin McIntosh) and her grandfather Luigi (Ray Xifo) happen over candlelight. Anna has aspirations to write poetry and receives kindly assistance, plus language lessons, from her grandfather.
Over the course of a drawn-out two-act evening (stretching close to two and a half hours), a portrait of this extended family gradually emerges. Anna's mother Maria (Nicola Bertram) flies into to rages or bursts into tears at the slightest provocation; it turns out her husband has left her. Anna is angry and resentful at her "lame-o" parents but enjoys becoming acquainted with her aging grandfather. Anna's older, guitar-strumming brother Max (Ryan Plourde) is smitten with his uncle Paolo's animated girlfriend Diana (played by Gian Franco Tordi and Stephanie Sanchez, respectively). Anna's grandmother Mariella (Helen Duffy)beams beatifically and mangles the Italian language, occasionally engaging in a passionate political argument.
Go here to read the rest of this review…
Luigi is being presented by the Inkwell Theater at VS Theatre
5453 W. Pico Blvd,
Los Angeles.
Thurs.-Sat., 8 p.m.; Sun., 2 p.m.
Runs through August 16, 2014.