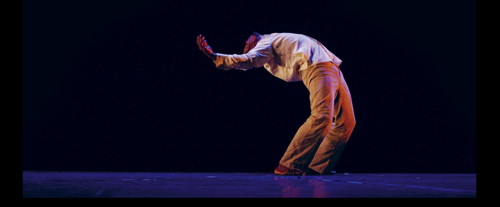 REDCAT, CalArts' downtown center for contemporary arts, announces its 11th annual New Original Works (NOW) Festival, a three-week celebration of Los Angeles' vibrant community of artists making work for the stage. This year's festival will be held on the weekends of July 24—26, July 31—August 2 and August 7—9, 2014.
Three distinct programs on three weekends, offer audiences a chance to experience the full breadth of NOW—new original works created in Los Angeles by celebrated world class and emerging artists, with each weekend presenting a shared evening of dance, theater and multimedia work.
The 2014 NOW Festival kicks off its first weekend July 24—26, with a collaboration between dancer Wilfried Souly with music by Senegalese Kora player Amadou Fall and multi-instrumentalist Tom Moose, as well as the six-member Rosanna Gamson/World Wide, closing out with a 20-member cast in the contemporary opera Iceland by Overtone Industries.
NOW continues on the weekend of July 31—August 2, with multimedia work by Carole Kim, featuring dance by Oguri and Roxanne Steinberg with music by vocalist Carmina Escobar, bassist Mark Dresser and sound designer Paul Chavez, as well as taple-top puppetry by Marsian De Lellis and new dance and music by d. Sabela grimes.
The NOW festival closes the weekend of August 7—9 with a new theatrical work by John Fleck and new dance by Ate9 dANCEcOMPANY.
All three works are performed each night of the program. (See below for full details.)
Every year, the REDCAT NOW Festival acts as a catalyst for artist creativity and new ideas—while offering audiences an inspiring view of a generation of artists among us. Over its eleven year history, the program has launched 85 new works by an impressive roster of alumni who continue to be seen on stages throughout the U.S., including New York, Philadelphia, Portland, Austin, San Francisco and internationally—Poland, France, India, Nepal and the UK.
"It is a thrill to see REDCAT active as a vital performance laboratory each summer, with dozens of artists and collaborators using our flexible theater to invent new and interdisciplinary ways to express urgent ideas, says REDCAT Executive Director Mark Murphy. "The eight works premiering during this 11th edition will surely resonate with audiences who value the exploration of new forms, and hybrid approaches to creating new productions for the stage."
Individual tickets at $20, $16 for student and members, $14 for CalArts.
A Festival Pass, which provides access to all three programs, is available for $40. 


The New Original Works Festival is made possible by generous support from the National Endowment for the Arts, the Rosenfeld Fund for Special Projects, and REDCAT Circle donors.
TICKETS & INFORMATION:
REDCAT's 11th Annual New Original Works (NOW) Festival 2014
Date(s)/Time(s):
Thursday, July 24 at 8:30 pm
Friday, July 25 at 8:30 pm
Saturday, July 26 at 8:30 pm
Thursday, July 31 at 8:30 pm
Friday, August 1 at 8:30 pm
Saturday, August 2 at 8:30 pm
Thursday, August 7 at 8:30 pm
Friday, August 8 at 8:30 pm
Saturday, August 9 at 8:30 pm
Ticketing:
$20 general [$16 for members/students, $14 CalArts]
$40 festival pass [See all three programs for $40]
Seating is general admission and tickets are available for purchase in person at REDCAT Box Office, by phone at 213-237-2800, or online at redcat.org.
REDCAT's Box Office is open Tuesdays through Saturdays from noon until 6 pm, or two hours prior to curtain. Group, member, student and CalArts faculty/staff discounts available.
Location: 
631 West 2nd St. Los Angeles, CA 90012
ABOUT REDCAT | THE ROY AND EDNA DISNEY/CALARTS THEATER 
REDCAT, CalArts' downtown center for contemporary arts, presents a dynamic and international mix of innovative visual, performing and media arts year round. Located inside the iconic Walt Disney Concert Hall complex in downtown Los Angeles, REDCAT houses a theater, a gallery space and a lounge. Through performances, exhibitions, screenings, and literary events, REDCAT introduces diverse audiences, students and artists to the most influential developments in the arts from around the world, and gives artists in this region the creative support they need to achieve national and international stature. REDCAT continues the tradition of the California Institute of the Arts, its parent organization, by encouraging experimentation, discovery and lively civic discourse.
GENERAL INFORMATION 
For current program and exhibition information call 213-237-2800 or visit their site.
Location/Parking:
REDCAT is located in downtown Los Angeles inside the Walt Disney Concert Hall complex with a separate entrance at the corner of West 2nd and Hope Streets. Parking is available in the Walt Disney Concert Hall parking structure. $9 event rate or $5 for vehicles entering after 8:00 pm on weekdays.
Street Address: 631 West 2nd Street, Los Angeles CA 90012
THE LOUNGE | Open to the public six days a week, the Lounge is a great place to spend an afternoon or grab a drink pre- and post-performance.
Lounge Hours: Tuesdays–Fridays from 9am until 8 pm or post-show; Saturdays from noon until 8 pm or post-show; Sundays from noon until 6pm or post-show
THE GALLERY | REDCAT's Gallery presents five major exhibitions each year, and publishes artist books and catalogues. Admission to the Gallery is FREE.
Gallery Hours: Tuesdays–Sundays from noon until 6 pm and through intermission.
THE THEATER:
Tickets for programs held in the theater are available through the REDCAT Box Office, by phone 213-237-2800 or online here.
Group, member, student and CalArts faculty/staff discounts available.
Box Office Hours:
Tuesdays–Saturday from noon until 6 pm or two hour prior to curtain.