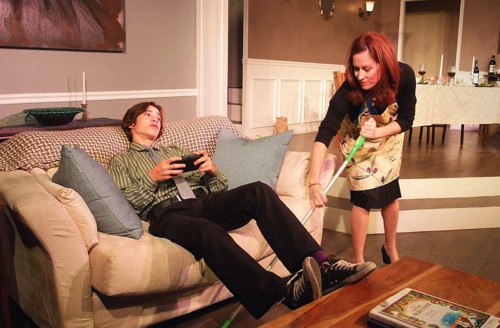 Sometimes what's happening behind the scenes can be funnier than the action that's been thoughtfully scripted… A new drama by Robin Uriel Russin, The Face In The Reeds, just made its world premier this weekend at Ruskin Group Theatre in Santa Monica.
In the play, family members from three generations quarrel during an important Passover Seder — the ritual feast that marks the beginning of the Jewish holiday of Passover.
Making his stage debut, Aidan Blain plays the smart-ass teenaged son Mose. In the play, Mose taunts his sister with an incriminating photo on his cell phone. It's not a prop phone, either — it's his own device.
The teen's parents were in the audience proudly watching their son's professional debut when Dad noticed something amiss towards the end of the second act — Aidan's fly was open. He quietly mentioned it to the boy's Mom who surreptitiously alerted him by text. Laughs the boy's father, "I was the one who noticed Aidan's fly was undone but it was his Mom who thought to text him — I didn't imagine that he would actually respond to the text in the middle of the show!"
Ruskin Group Theatre presents The Face In The Reeds by Robin Uriel Russin.
Runs Fridays-Saturdays at 8pm, Sundays at 2pm until October 11, 2014.
Box Office reservations: (310) 397-3244 or purchase online.
Tickets $25 (Students, Guild, and Seniors $20).