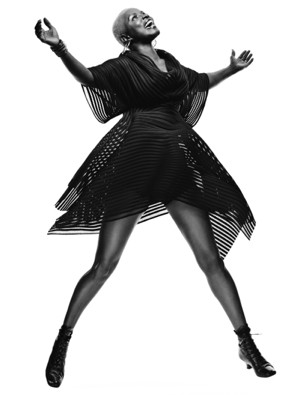 "For me, the audience is a huge part of a concert." — Angélique Kidjo.
Grammy-winning African songstress Angélique Kidjo and acclaimed Brooklyn-based world beat octet Red Baraat will perform together at California State University Northridge's Valley Performing Arts Center on Friday, Oct. 3 at 8:00 p.m.
Although it's tempting to call this a one-of-kind musical event, the two acts have actually performed together once before, back in the summer of 2013 at the WGBH Summer Arts Festival in Boston. "They were great," says Kidjo, whose past musical collaborators range from Josh Groban, Dr. John and Branford Marsalis to members of Vampire Weekend, the Kronos Quartet and Bono.
Kidjo has been called "Africa's premier diva" by TIME magazine, but that's selling her short. She's truly an international music force, whose songs, performances and collaborations aren't limited by genre, language, borders or preconceived notions. For nearly 25 years, she's proven to be a free spirit, who moves to her own beat, singing in Fon, French, Yorùbá and English while happily acknowledging her fellow musicians, and sharing her muse with her worldwide legion of fans.
While other artists have been known to slow down as they enter their second decade of recording, Kidjo just keeps going. In January, she released her ninth album, Eve, which debuted on top of the World Music charts in Billboard and on iTunes and Amazon in the U.S. in Canada and garnered widespread critical accolades. On top of that, her memoir, Spirit Rising: My Life, My Music, was published by Harper Collins. As testament to her broad appeal in both political and music circles, a preface was penned by Desmond Tutu while Alicia Keys wrote the foreword. The releases were followed by a U.S. tour in February, which picks up again with her visit to Valley Performing Arts Center, before heading overseas to Copenhagen, Stockholm and Paris.
Eve, named for Kidjo's mother, is dedicated to the women of Africa and was influenced by a particularly eye-opening 2005 trip to Darfur, where Kidjo witnessed women living in such horrific conditions it still keeps her up at night. "I've seen the women in Africa suffer," she says, before adding that their plight is not without hope. "Education is the key."
You'll find such heavy topics addressed in Benin-born singer's music, if you don't completely get lost in the infectious rhythms. "The message is secondary," Kidjo says. "I learned that from the traditional music of my country. I'm not here to lecture people. I'm here to tell my story, but beyond the story, we have joy, we have to have fun and we have to dance."
Kidjo might be best-known for her 2008 album Djin Djin, which won a Grammy for Best Contemporary World Music Album, while her 2010 follow-up, Õÿö, scored a nomination in the same category.
Two years later, she showcased her wide-ranging influence and incredible diversity in Spirit Rising, a PBS special performance that was subsequently released on CD and DVD. In that special, she performed her own classics such as "Afrika," and covered the Rolling Stones "Gimme Shelter" with Dianne Reeves, Curtis Mayfield's "Move On Up" and "Ravel's Bolero" with Branford Marsalis and Vampire Weekend's "I Think UR a Contra" with the group's frontman Ezra Koenig, showcasing her eclectic tastes and wide artistic reach.
"In my music, you have everything from  classical music to rock 'n' roll and blues," she explains. "Whatever it is, most of it comes from Africa. Rock 'n' roll comes from Africa because it uses the same chords. We're all Africans, the DNA is there. Geography has divided us, but deep down in our soul, we still have the music, the humanity, the joy, the strength, the love and the kinship of human kind."
So what can you expect from Kidjo at the Valley Performing Arts Center? She prefers to keep it a mystery, although she hints she may preview segments from Mama Africa, her upcoming Carnegie Hall tribute to Miriam Makeba.
"Let's keep their mouths watering, their expectations high," Kidjo says. "For me, the audience is a huge part of a concert. I just want them to come and have fun, no matter how hard it is in the daylight before they come. I just want them to give me their time and connect deep within themselves, enjoy this moment and keep it with them for the whole week."
The 1,700-seat Valley Performing Arts Center has established California State University, Northridge as a hub for culture and performing arts in the region. It was recently voted one of the top ten performing arts centers and theaters in Los Angeles by Time Out Los Angeles and was ranked number three on the Best College Ranking's list of "The 25 Most Amazing College Campus Theaters" in the US.
Angélique Kidjo and Red Baraat
California State University Northridge's Valley Performing Arts Center
18111 Nordhoff St,
Northridge, CA 91330
Friday, Oct. 3, 2014 at 8:00 p.m.
For more information about the center or performances, visit their official site or call the ticket office at (818) 677-3000.