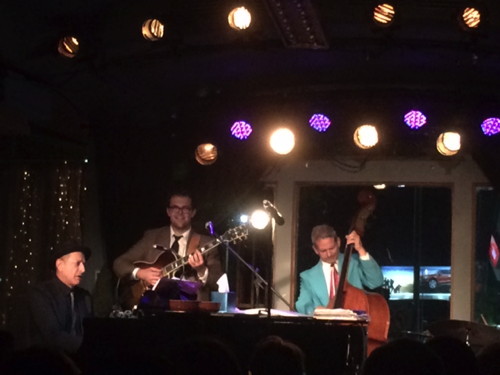 Sometimes it's so much fun to live in LA. Where else can you hear actor/performer/musician Jeff Goldblum gracing the stage with his jazz outfit, the Mildred Snitzer Orchestra, every Wednesday night? At the intimate little supper club Rockwell: Table & Stage in Los Feliz, that's where.
Goldblum has been in residence there on and off for well over a year (sometimes he goes of to make in plays…)
The evening begins around 8.30pm, while you are enjoying a few great cocktails over a nice meal (restaurant review here) as Goldblum roves around the room interacting with the audience and building a great rapport. Last night the jovial performer was rapping with the crowd about baseball, even sitting down at tables to converse and posing for photos with anyone who wanted one. He polled the crowd to see who were newcomers — most were — riffing that the evening was a lot like "speed dating — I think it's going well so far!"
His casual, easy banter and mild flirting — "who smells good?" — warmed us up and got us laughing. Then his jazz associates took to the stage, right on the dot of 9PM, and launched into their first set. And let me tell you, the guy can really play, and sing!  His musicians are clearly at the top of their game as well. The outfit mostly perform jazz standards, such as Skylark, which is fun, light and accessible. Special guests sometimes come up to sing or play. Last night's guest songbird was Sarah Jazzar.
The Mildred Snitzer Orchestra includes:

Tim Emmon – double bass

John Storie – jazz guitar

Kenny Elliott – drums

Zane Nusa – saxophone

and Jeff Goldblum on piano
In-between songs, Goldblum maintains a steady patter, engaging us in silly games such as guessing the novel just by hearing the first line.
While I would have appreciated more music and less banter, the evening was tremendous fun.
First rate jazz in a convivial room with fine food and drink? You can't ask for more than that!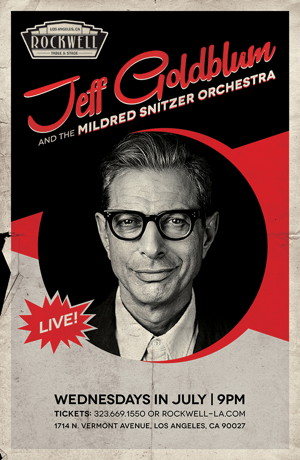 Here's the info:
Rockwell: Table & Stage is hosting a jazz performance by Jeff Goldblum and the Mildred Snitzer Orchestra.
Wednesday nights (indefinitely.)
Show starts at 9PM and they perform two spectacular sets.
Doors open at 8PM.
VIP reserved seating is available for $25.00 and bar seating is $20.00 (plus approx $2.20 booking fee)
Box Office:
Call (323) 669-1550 or visit their official site.
LATE SEATING POLICY:
All tickets and reservations are released at scheduled showtime.
About the venue:
Rockwell: Table & Stage is an intimate supper club with close seating quarters, and they try to accommodate as many patrons as possible.
If you book two seats, you are likely to be seated with another couple, so be prepared to make new friends!
Cuisine review pending.
Rockwell: Table & Stage
1714 N. Vermont
Los Angeles, CA 90027
*** Turn down Kingswell Ave, just north of Prospect Ave, and then turn right down the alley to find the valet and entrance***
Disclaimers:
Please note that parties cannot be changed or combined once you've chosen your seats and purchased your tickets.
While performances at Rockwell: Table & Stage are not restricted to 21+, many of our performances do include mature content, and patrons under the age of 21 are prohibited by law from sitting in certain areas of the venue without exception.
Guests are encouraged to arrive early and enjoy Rockwell: Table & Stage cuisine and cocktails.
***There is a two item minimum.***
LATE SEATING POLICY: All tickets and reservations are released at scheduled showtime.
For additional information, please call (323) 669-1550
Valet parking is available behind the restaurant.