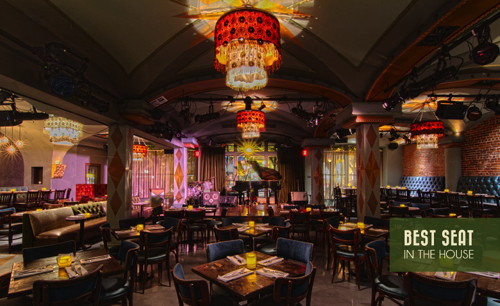 There are lots of fun shows coming up this month at Rockwell: Table & Stage, that intimate supper and performance venue in Los Feliz. (See full list below.) You might want to head over soon to catch their current menu because the food they serve at this cozy little supper club makes it well worth the visit. The new Fall menu is coming soon, but anytime you visit you'll experience a thoughtful American menu and killer cocktails that complement their unique and sensational stage shows.
The other day we headed over to listen to Jeff Goldblum and the Mildred Snitzer Orchestra, a jazz outfit in residence on Wednesday nights – more info and review here.
My guy ordered his favorite cocktail – The Girl at the Mirror – which is Aviator gin, oranges, grapes, cucumber and fresh mint. Mine was the Aviary — Absolut Peach, Vodka, Apple Pucker, prickly pear cactus puree and pineapple juice. It sounds kind of sweet, but it was just right.
We started with a few appetizers and were impressed with the KOREAN-STYLE SPICY CHICKEN LOLLIPOPS – chicken drumettes, with Korean "Gochujang" chili, soy & honey served with ranch dressing celery & jicama ($13) – really sweet and spicy and totally addictive.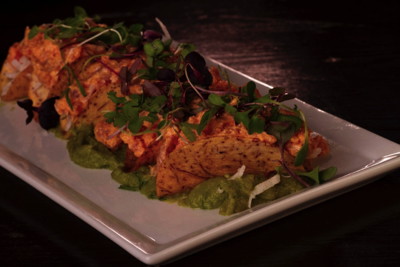 We also had to try the SPICY TUNA TACOS – spicy tuna, cumin-avocado purée, jicama slaw, cilantro in taro root shells ($15, pictured). They were fantastic as well.
The GARLIC SHRIMP – olive oil, garlic, red pepper, Spanish paprika, parsley ($14) were rich and oily (in a good way) and perfectly tender.
With these apps they also brought one of our sides, the CAPT'N CRUNCH ONION RINGS (all additional side dishes are $9) which taste as good as they sound — a little on the sweet side, thanks to the pairing of sweet onion with sweet breakfast cereal coating – decadent!
For an entree, I highly recommend the CRISPY BARAMUNDI, which is an open face crispy grilled baramundi sandwich, tomato relish, scallions arugula with mustard sauce & citrus garnish. You get to select one side dish, so mine came with grilled asparagus. It really was crispy and delicious and quite a substantial meal for the price.
My guy got the "AU POIVRE" BURGER which is made with 100% natural beef, baby gem lettuce, heirloom tomato, Worcestershire-pepper sauce, and he said he was surprised (and a bit disappointed) that it wasn't very peppery. He selected the snap peas as his side dish and grumbled that the cooks hadn't bothered to remove the strings from the snap peas – annoying!
We rounded out this fabulous meal with a truly scrumptious dessert, the PEACH AND GINGER SKILLET with streusel crumble & vanilla bean ice cream ($9, pictured). It comes cooked and served in a little cast iron skillet, so it stays piping hot. It's great!
Below the restaurant info is a list of forthcoming shows.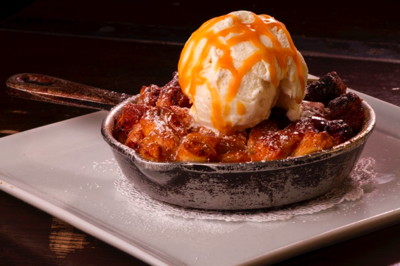 1714 N. Vermont
Los Angeles, CA 90027
*** Turn down Kingswell Ave, just north of Prospect Ave, and then turn right down the alley to find the valet and entrance***
Guests are encouraged to arrive early and enjoy Rockwell: Table & Stage cuisine and cocktails. There is a two-item minimum.
LATE SEATING POLICY:
All tickets and reservations are released at scheduled showtime.
TICKETS:
Range from $20—40.00, with an additional processing fee of $2.20—3.40.
For additional information, please call (323) 661-6163 ext. 20.
For Reservations:
(Dining Only)
Call (323) 669-1550 or Click Here
For Show Tickets:
(Dining Included)
Email: [email protected] or Click Here
Upcoming October Shows:
Wednesday, October 1, 8, 15, 22 & 29 at 9:00pm  & 11:00pm
JEFF GOLDBLUM and the MILDRED SNITZER ORCHESTRA
Stories and songs from the inimitable Jeff Goldblum and the fabulous Mildred Snitzer Orchestra. More info and review here.
TICKETS:  $20.00 – $25.00
Thursday, October 2 at 8:00pm
BLAKE McIVER
Blake McIver is thrilled to be launching the tour for his recently released debut solo album "The Time Manipulator" at Rockwell! Blake is a Star Search champion and you've seen him as a kid on Full House and starring in the film The Little Rascals. You've seen him recently on BRAVO's hit reality show The People's Couch. Blake's music is a powerful blend of pop, soul, and gospel and has been described as having "a tremendous vocal range, and a style and artistry reserved for singers twice his age" by broadwayworld.com and backstage.com has called him "mesmerizing; a singer of great range and texture."
TICKETS:   $15.00
Friday, October 3 & Sunday, October 5 at 8:00pm
ROAR
Three young women discover what it means to be truly human when they must battle for survival in their messy, private world as it crumbles. Lover. Husband. Partner. Friend. No one is left unscathed as these women face the strangers they thought they knew when their ideas about love, relationships and health are suddenly turned upside down. A sexy, edgy and kinetic cast delivers gut-wrenching vocals with a dazzling display of songs from superstars like Katy Perry, Demi Lovato, Taylor Swift, P!nk, Shakira, Rihanna, Miley Cyrus, Lorde, Sia, Lady Gaga, Sara Bareilles and many more.
TICKETS:  $15.00 – $30.00
Saturday, October 4 at 8:00pm
MATT YEE'S PRE-CRUISE ADULT SING ALONG DIVA PARTY
Matt Yee returns to Rockwell Table and Stage with additional goo! Tiaras and boas will be flying once more in L.A. the night before the Big Mexican Riviera Gay Cruise.
TICKETS: $15.00 – $20.00
Tuesday, October 7 at 8:00pm
THE HOLLYWOOD JANE REVUE PRESENTS:
ROCKY HORROR BURLESQUE
The Hollywood Jane Revue is giving the burlesque treatment to the Rocky Horror Picture Show! The Hollywood Jane Revue troupe members have nearly 100 combined years of Rocky Horror Picture Show Shadowcasting experience and some of our performers can be seen on the Rocky Horror Picture Show 35th Anniversary Blu-Ray special features The Midnight Experience, and The Search for the 35th Anniversary Shadowcast. So come see your favorite Rocky Horror characters like you've never seen them before performed by the ladies and gents of the Hollywood Jane Revue! With Burlesque by: Gwen Ruby, Brandy Snifter, Alice Le Grande, Blanche Bourgeois, Tiffy Twister, Scarlett Letter, Veronica Voss, Holly Holiday, and Lana Entendre. Magic by Scott Marshall. Your Host: Charles Eights
TICKETS:  $10.00 – $15.00
Tuesdays, October 7, 14, 21 & 28 at 10:15pm
HARBOR PARTY – Late Nights at ROCKWELL
So you're out on your Yacht again and you're decked out in your anchor print scarf, boat shoes and khaki shorts.  All your friends are there and it's a beautiful day but there's something missing.  Where's the music?  What soundtrack will get this party started?  Enter Harbor Party: the band committed to bringing the party from the mainland to the ocean.  They play all the songs you want to listen to on your Yacht – The Doobies, the Eagles, Michael McDonald, Loggins and Messina, Hall and Oates.  If it's yacht worthy, they'll play it.  And they'll play it good.
TICKETS:  $5.00
Thursday, October 9; Sunday, October 12 at 8:00pm
LOS FELIZ 90027
Directed by Jake Wilson (You Must Be Joking, The Battery's Down), starring Rumer Willis and produced by Kate Pazakis, "Los, Feliz, 90027" is a love letter/spoof to soapy dramas like "Nashville," that follows the over-the-top lives of the staff of Rockwell restaurant and bar: the waiters, waitresses and bartenders who are aspiring actors, musicians and… porn stars.  "90027" is an experimental format that could be described as live episodic entertainment. The story will alternate between live theatrical performance (performed twice a month LIVE at Rockwell Table & Stage in Los Feliz, LA) and pre-taped scenes on film that will be projected during the show for a can't miss, one-of-a-kind experience you will only find at ROCKWELL!
TICKETS:  $15.00 – $40.00
Friday, October 10 at 8:00pm
SHAWN RYAN
Shawn Ryan, Semi-Finalist from NBC's America's Got Talent makes his Rockwell debut with an ALL NEW SHOW! Original comedy, jazz standards – in short, Pure Entertainment! Shawn Ryan is one on the hottest nightclub acts today! From his gender bending turn on "Bones" as Destiny Childs to his GLAAD Nominated role on "The Mentalist" to his Grammy shortlisted album "Blue Skies", Shawn's showbiz life gives his audiences a musical romp through tinsel town! "The love child of Bette Midler and Peter Allen, Shawn Ryan is Pure Entertainment! Whether it is acting, singing, or cracking audiences up on LOGO TV's One Night Stand Up, Shawn Ryan is taking the world by storm, one song at a time! Shawn Ryan is Entertainment! This is a not-to-be-missed event to be sure!
TICKETS:  $15.00 – $20.00
Friday, October 12; Saturday, October 13; Friday, Octber 17 at 8:00pm
PREVIEWS
OPENING NIGHT – SATURDAY, OCTOBER 18 at 8pm
Continues every Friday and Saturday through November 15
The Unauthorized Musical Parody series opens with…
SCREAM!
Rockwell begins its new series, The Unauthorized Musical Parodies, with a spoof of the 1996 cult horror classic, SCREAM. This hyperbolic retelling ups the ante from the camp of the original with live on-stage blood, beyond reverent narration, and the infamous killer mask donned by our very own Screamettes. Written and directed by prolific television writers, Michael Gans & Richard Register and starring Modern Family's Sarah Hyland as Sidney along with many other L.A. favorites including Missi Pyle, Christine Lakin, Nicole Parker and Jonah Platt!  SCREAM arrives at Rockwell just in time to terrify and delight Los Angeles for the Halloween season.
TICKETS: $15 –  $35  $50 for VIP Seats (includes wine, champagne or Beer and a signed poster)                                                                                                                        
Tuesday, October 14 at 8:00pm
MUPPET ROCKS – SIRIUS XM RADIO/STAGE DOOR SUPPER CLUB presents: LIVE FROM THE ROCKWELL
In the first of a monthly collaboration with SIRIUS XM RADIO and ROCKWELL – SIRIUS XM will be presenting LIVE FROM THE ROCKWELL "MUPPET ROCKS!"  Jim Henson's Muppets have been entertaining, delighting and educating audiences around the globe for almost 60 years, and his creations have given us some of the most iconic songs of the past century. Join us as we explore the music of the Muppets with your favorite hits from The Muppet Show, Sesame Street, Fraggle Rock and the Muppet films. From "Rainbow Connection" to "Rubber Duckie," it's an evening celebrating the weird and wonderful world of the Muppets with puppetry performances and madcap musical mayhem.
TICKETS:  $15.00 – $25.00
Thursday, October 16 & 23 at 8:00pm
COURTNEY ACT – BOYS LIKE ME
Decadent vocal talent, mesmerizing stage presence, charisma, charm, and looks for days." –Broadway World
TICKETS:  $15.00 – $25.00
Monday, October 27 at 8:00pm
MARGARET M. SPIRITO – THE SOUNDS OF DIRTY JERSEY
A powerhouse performer from NYC, Margaret has recently started conquering LA. Described by another cast member as "a 400lb black woman singing in church", Margaret will surprise you with her powerful voice and unique sound.  She definitely does not blend in, and she is perfectly fine with that! Once you see Margaret perform, you are sure not to forget her! Margaret's heart is in the world of musical theater, but she is also a true lover of good rock and soul music and calls her own sound "a little bit of rock w/a whole lot of soul". In addition to her lengthy musical theater credits, Ms. Spirito has written a number of her own original songs when inspired to do so! She is down for anything, whether it be Broadway or a recording studio, as long as she's doing what she loves… singing.
TICKETS:  $12.00 – $15.00
ROCKWELL TABLE AND STAGE is located at 1714 N. Vermont Blvd. in Los Feliz.
For reservations or tickets to any of their events, please call 323-669-1550 ext. 20 or visit their official site.