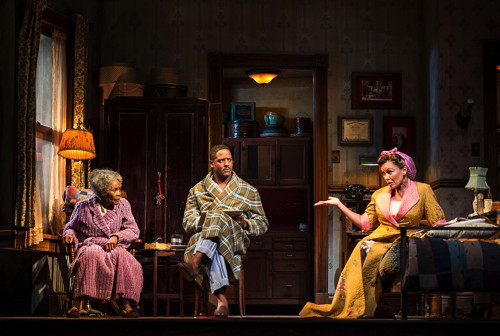 A sweet play that captures an era that feels so far away, so long gone, Horton Foote's American masterpiece The Trip to Bountiful is a theatrical treat. Set in the 40s, the gentle story focusses on an elderly woman Mrs. Carrie Watts (Cicely Tyson) who lives in a cramped, two-room tenement apartment in Houston with her son Ludie (Blair Underwood) and daughter-in-law Jessie Mae (Vanessa Williams). The two women of the house don't get on all that well, much to the consternation of Ludie, who has his own worries trying to provide for the household. The pair of in-laws seemed locked in an ongoing battle of wills, with Jessie Mae lording over the older woman, insisting she fetch things and haranguing her while Mother Watts gets her own back by loudly singing hymns and clattering about the place at high speed just to annoy the idle and vain Jessie Mae.
When Mother Watts expresses a longing to return to her home town of Bountiful, we immediate gain a sense that this is an oft-lamented refrain. She is chastised by Jessie Mae and warned not to run away again by Ludie. Jessie Mae also accuses her mother-in-law of withholding her pension check and as scene one progresses, we see that wily Mother Watts indeed has an escape planned. In fact, one of this play's great pleasures is enabled by the clever Act One, scene one set that reveals both rooms at the same time while maintaining a sense of the division. The truly superb scenic design is by Jeff Cowie and each time a set piece trucks on or glides off or artfully painted flats fly in, we marvel at the ongoing scene transitions that chart the stages of Mother Watts' bold adventure.
The play consists mainly of simple plot points and heartfelt conversations. Nothing particularly earth shattering happens, yet Horton Foote's play is a gorgeously constructed and realized work with a lovely grace note at its conclusion.
The central trio are all superb, as is the ensemble under Michael Wilson's excellent direction, but it's really Cicely Tyson's performance that impresses. At 80, the grand dame exhibits a vitality as well as the right amount of world weariness that captures your heart. She puts a great deal of comedy or pathos in each line reading — in short, she's a joy to watch.
Tyson deservedly won the Tony Award for Best Actress in a Play at the 67th Tony Awards for the 2013 Broadway production, which earned a total of four Tony Award nominations.
Don't miss this lovely play!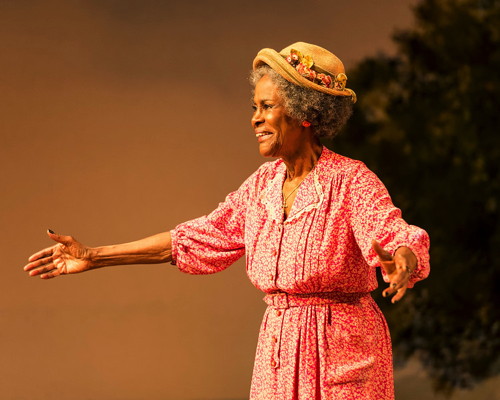 The Trip to Bountiful by Horton Foote
Ahmanson Theatre, downtown LA
Runs through November 2, 2014.