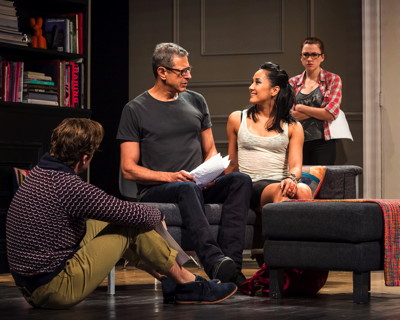 Playwright and screenwriter for film and TV Theresa Rebeck has a brilliant ear for realistic and witty dialogue and – more importantly – an eagle eye for observing the dynamics of modern relationships. Her insight, combined with her satirical edge, makes for some highly entertaining comedies and dramedies. She's not always successful; a recent production of Our House had issues with a wavering tone. But when you settle into your seat to experience one of her plays, there's no doubt you will be entertained, provoked and hopefully amused. This newest production, Seminar, does all that and more.
Jeff Goldblum stars as a writing teacher and magazine journalist whose former smooth-sailing career as a novelist was shipwrecked by scandal. He now offers private seminars for well-off writing students. When the lights go up, we are in the stylish and spacious Upper West Side (New York City) apartment of one of the students, Kate (Aya Cash), who's opted to host the ten-week seminar. We learn that the four young writers – Kate, along with Izzy, Martin and Douglas – have each paid Leonard $5,000 for this private instruction and his close analysis of their writing.
As tensions mount and romance ebbs and flows between them, the contentious quintet clash over their writing, their relationships and their futures.
Seminar made its debut on Broadway late last year, with Alan Rickman in the lead role. Jeff Goldblum replaced Rickman as Leonard towards the end of the show's almost six-month run.
The good news is that Goldblum is fantastic as the writing instructor. He delivers exactly the right amount of self-absorption, uttering arrogant proclamations, dry sarcasm, ruthless critiquing, brutal advice, witty put-downs and snappy rejoinders while remaining a fascinating character. Nor are any of his usual actor tics on display; it's just a great performance.
The entire cast gives excellent performances under Sam Gold's direction. Then again, the writing and characterizations are strong. Izzy (Jennifer Ikeda), Martin (Greg Keller) and Douglas (Lucas Near-Verbrugghe) are well-delineated characters who we grow to care about within the play's swift, 90-minute duration.
What's especially interesting is to see a play where the young females are very much aware of and in command of their sexual power. When Leonard dismisses Kate's work on feminine grounds alone, she devises a clever revenge. Kate also takes Leonard to task for his sexist thinking and language yet, curiously, does not pipe up when Leonard insults one of the guys by calling him "a pussy".
A highlight is Leonard's speech that succinctly and evocatively describes his career and downfall. Another highlight is a reveal, towards the end of the play, of a second set, as designed by David Zinn. You just want to crawl onto the stage after everyone has left and simply move in.
Don't miss this play!
Photos by: Craig Schwartz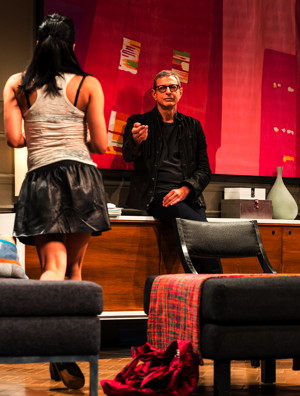 Seminar
Center Theatre Group
Ahmanson Theatre
135 N. Grand Ave.,
Downtown L.A., CA 90012
Performances:
Runs until November 18, 2012.
Fridays at 8pm;
Saturdays at 2:30 and 8pm;
Sundays at 1 and 6:30pm.
Running time:
Approximately 1 hour, 40 minutes, no intermission.
TICKETS:
$30.00—$110.00
Box Office:
Tickets and information are available here and at the Center Theatre Group box office, located at the Ahmanson Theatre, or by calling 213-628-2772.