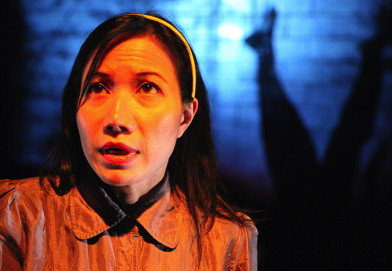 ::STOP PRESS::

Year of the Rabbit

has been extended through November 11, 2012.
Gentle readers,
This week my theater review for the LA Weekly is of a new play by Keliher Walsh entitled The Year of the Rabbit, now playing at the Atwater Village Theatre.
Click here to go to the LA Weekly's theater page and scroll down to the bottom.
~ OR ~
You can read the full version here!!
Happy reading!
The Year of the Rabbit, by Keliher Walsh.
Watching Keliher Walsh's multifaceted mini-saga about war feels like peering through a kaleidoscope at tiny, glittering particles that shift and tumble before locking into place to reveal a pattern. The three related storylines are presented in a fragmented fashion until the connections eventually are revealed. One involves a bomber flight duo, Lt. Bridges (Ashanti Brown) and Lt. Skinner (Will McFadden), and the impact and subsequent fallout their intimacy has on their tour of duty in the Persian Gulf. The unifying storyline is that of Lieu (Elyse Dinh), a Vietnamese child orphaned and cursed by the horrific war that destroyed her country. Lieu's presence touches all the characters, whether they realize it or not.
Dinh's graceful and alluring performance adeptly evolves from a small child to a survivalist to a woman on a mission, and her lilting accent perfectly complements Walsh's evocative and poetic language. Despite the play's choppy nature, Dinh's complex performance is reminiscent of a fluid stroke of calligraphy. Brown also is outstanding as a woman carving out her military career under the watchful eye of her ex-military father (Meshach Taylor). Director James Eckhouse elicits fine performances from all (Walsh also has a key role in her own play), and Joseph Slawinski's dramatic sound design beautifully counterpoints some subtle music cues.
The Year of the Rabbit, now playing in repertory with The Belle of Belfast.
Ensemble Studio Theatre L.A.
Atwater Village Theatre
3269 Casitas Ave.,
Atwater Village
Fri.-Sat., 8 p.m.; Sun., 2 & 7 p.m.; through November 11, 2012.
(323) 644-1929