Majestic, haunting and somber, Los Angeles Master Chorale's new CD release, "Miserere," features the sublime choral compositions of acclaimed Polish composer, the late Henryk Górecki.
Captured during a live performance and recorded in the acoustically perfect Walt Disney Concert Hall, this fine recording is conducted by the ensemble's Music Director Grant Gershon. The clarity of this recording is superb, with clear delineation between the voices.
The album begins with Lobgesang, op.76, (Song of Praise), an almost eight-minute piece that immediately showcases the power and control of this fine ensemble of unaccompanied voices. (The track is mostly a cappella until the final sustained sung chords, where the subtle chime of a glockenspiel is heard accompanying the low intonations.)
The ten movements of Miserere, op.44 (Domine Deus noster – "Lord our God") follow, as written for an 8-part choir to sing a capella. This composition is thoughtful and contemplative, rich with the deep harmonies of the group.
The CD concludes with Pieśni Maryjne, op.54. Four of his five Pieśni Maryjne, written in the mid-1980s, are based on melodies and texts from the Church Songbook. Sung in Polish, they represent Górecki's love for the folk and liturgical music of his homeland.
Miserere was written in 1981 as a protest against a violent attack by police on members of the Rural Solidarity union in the northern Polish city of Bydgoszcz. The imposition of marshal law in December 1981 meant that Górecki's piece could not be performed. (It finally received its world premiere in September 1987.)

Los Angeles Master Chorale's (LAMC) Music Director Grant Gershon is a longtime champion of the Polish composer. Gershon and the Master Chorale first performed Górecki's Miserere a decade ago during Gershon's inaugural season as music director. The twelve-movement work moved the audience and performers to tears.  "It was an overwhelmingly emotional experience for all of us," Gershon recalls.  "Over the ensuing ten years, we have explored much of the a cappella choral music of Górecki, and we continue to find new wellsprings of compassion and humanity in these works."  The conductor and this acclaimed chorus naturally turned to Górecki's Miserere as the centerpiece for their second Decca album.

Górecki, who passed away in November 2010 at age 76, is noted for the rapturous simplicity and monumental emotional power of his music, which oftentimes was a thorn in the side of Poland's then-communist regime.

"To reflect Górecki's passionate belief in the ability of music to transcend borders and unite people, it seems fitting that each of the three works on this recording is sung in a different language," comments Gershon.  "It is a tribute to the astonishing acoustics of our home, the Walt Disney Concert Hall, that these very different pieces can resonate with the right balance of grandeur, intimacy and warmth.  It is therefore with enormous pleasure yet deep humility that we offer these recorded performances of the great choral works of Henryk Górecki."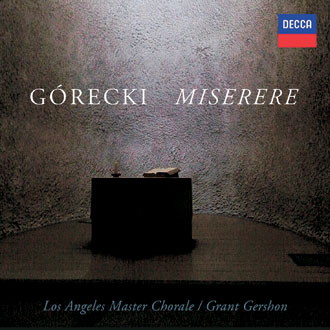 Los Angeles Master Chorale's "Miserere" by Henryk Górecki.
Grant Gershon
CD 00289 478 3537
Digital 00289 478 3538
International release September 3, 2012
About Composer Henryk Górecki:
Early childhood was an idyllic time for Henryk Górecki.  Young Henryk, born December 6, 1933, grew up on the family farm in Śląsk (or Polish Silesia), a place of wheat fields and hay meadows boldly punctuated by coal mines and steel mills.  The boy's world was upturned by the death of his mother and, soon after, by a fall that dislocated his hip.  Górecki received poor medical treatment and developed life-threatening complications.  His father, a railway employee and amateur musician, did little to encourage his son's love of music but eventually sent him to study violin with a local teacher.  In September 1939, Nazi and Soviet forces invaded Poland and subjugated the country within five weeks.  Shortly before the Second World War's end, Górecki witnessed the desperate plight of inmates from Auschwitz-Birkenau concentration camp as they were forcibly marched through Silesia.  What he saw left a lifelong mark on the composer, his worldview and his music.  Poland's post-war experience of Soviet communism and its many injustices also informed Górecki's artistic development and gradual move towards composing sacred music. Górecki was awarded Poland's highest honor, the Order of the White Eagle, just weeks before he died on November 12, 2010.
About the Artists:
GRANT GERSHON was named Music Director of the Los Angeles Master Chorale in 2001 and also serves as Resident Conductor of the LA Opera.  The Los Angeles Times declares that the Chorale "has become the most exciting chorus in the country under Grant Gershon."  During his tenure with the Chorale, he has led nearly 100 performances at the Walt Disney Concert Hall, including virtually all of the major works in the choral repertoire.  A champion of new music as well, Mr. Gershon has led world premiere performances of major works by John Adams, Louis Andriessen, Christopher Rouse, Steve Reich, and Chinary Ung, among many others.  His discography includes two Grammy Award-nominated recordings: Sweeney Todd (New York Philharmonic Special Editions) and Ligeti's Grand Macabre (Sony Classical); and five CDs with the Chorale: Glass-Salonen (RCM), You Are (Variations) (Nonesuch), Daniel Variations (Nonesuch), A Good Understanding (Decca), and Miserere (Decca). In New York he has appeared on the Great Performers series at Lincoln Center and on the Making Music series at Zankel Hall.  Other major appearances include performances at the Ravinia, Aspen, Edinburgh, Helsinki and Vienna Festivals.  He has worked closely with many leading conductors, including Claudio Abbado, Pierre Boulez, Gustavo Dudamel, Lorin Maazel, Zubin Mehta, Simon Rattle and Esa-Pekka Salonen.  In 2007, Mr. Gershon conducted the Minnesota Opera's world premiere of Ricky Ian Gordon's opera The Grapes of Wrath, which was recorded live for PS Classics.  In 2008, he made his highly acclaimed LA Opera debut leading eight performances of Verdi's La Traviata.  In 2010 Gershon led the world premiere performances at LA Opera of Daniel Catán's Il Postino featuring Plácido Domingo, which was subsequently broadcast on PBS' Great Performances, and which he also conducted in Chile in July 2012.  Other highlights include conducting L'Allegro, il Penseroso ed il Moderato in a co-production with LA Opera and Gloria Kaufman Presents Dance at the Music Center, featuring the Mark Morris Dance Group, and his Santa Fe Opera debut in 2011, conducting Peter Sellars' new production of Vivaldi's Griselda.  In November and December 2012, Mr. Gershon conducts LA Opera's production of Puccini's Madame Butterfly.  Mr. Gershon, who, among other accolades, was named Outstanding Alumnus of the USC Thornton School of Music, is a member of the Board of Advisors for the Thornton School and the Board of Directors of Chorus America.