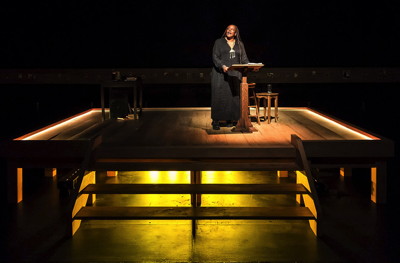 Forever was, to quote an elderly gentleman leaving the theatre, "not my cup of tea." The latest creation of writer/actress Dael Orlandersmith, this one-woman show is a piece of straight-up storytelling that just bored this reviewer. The writing is repetitive, not poetic enough to be beautiful for its own sake and not sharp enough to tell a clear story. But worse than the writing is that Orlandersmith simply sits at a podium and reads the entire thing. For 90 minutes. This would take the award for the least theatrical production I've seen this year—only Mary Louise Geiger, the lighting designer, seems to have gotten the memo that this piece will be performed onstage to an audience who might like something to do with their eyes.
The story itself is a tough one, about abuse and poverty and growing up poor and black in America. It's an important story, but one that is told here with neither grace nor style. From the program, it looks like Orlandersmith was commissioned to write this piece for the Kirk Douglas based on past success, and her resume certainly is impressive. Yet what's feels absent is a fiery story burning inside her that she needed to tell here. Rather, it seems as if she's merely writing what she knows; a sort of lackadaisical memoir. Her performance is adequate, for a reading, but if this production is merely a reading – and it is – then it should be billed as such and not presented as part of the theatrical season. As it was, this reviewer experienced a painful mismatch between expectation and reality.
The Center Theatre Group at the Kirk Douglas is trying to do various cool new things that I appreciate, and with cool new enterprises there are bound to be misfires. Save your money for something with more theater and more fire.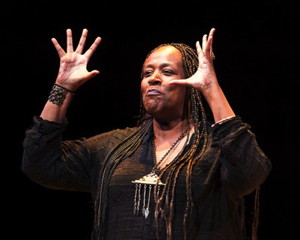 Forever
Kirk Douglas Theatre
9820 Washington Blvd., Culver City.
8 p.m. Thursdays-Saturdays; 6:30 p.m. Sundays. Call for exceptions.
Runs through Oct. 26, 2014.
$20-$30.00
Bookings (213) 628-2772 or here.
Running time: 1 hour, 30 minutes – no intermission
 Review by Brian Sonia-Wallace.