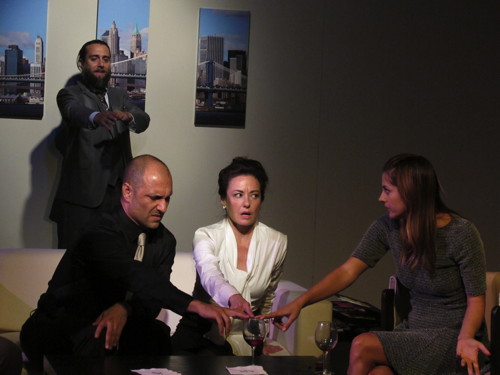 Hello fellow #LAThtr goers!
Here is an intro and link to my newest theater review for the critical website Stage Raw — which contains the latest arts and theater coverage from our intrepid team of journalists & critics.
Happy reading!
Somewhere… by Antony J. Bowman.
Antony J. Bowman's afterlife drama Somewhere… begins with his amiable central character, architect Michael (Josh T. Ryan), vividly describing his sudden death in a violent car wreck. Michael then proceeds to narrate the story from a state of limbo, observing his grief-stricken wife and best-friend colleagues during his wake and making wry observations throughout. It's a nice dramatic device that, for the most part, works well. But unfortunately this poignant play lacks dramatic heft. The story basically meanders over the course of a long boozy evening through to the following morning. The cliffhanger reveal at the end of Act One comes as no surprise; it's not overly signaled, it's just a little too obvious. The inevitable climactic confrontations lack the momentum of well-orchestrated dramatic tension, something that a more experienced director (granted, Jeanie Drynan is a well-known and highly experienced actor) would have knocked into shape.
Nevertheless, Drynan shows her strengths in eliciting fine performances from her superb cast of six.
Go here to read the rest of this review…
Somewhere…  by Antony J. Bowman.
Meta Theatre on Melrose, 7801 Melrose Ave, Los Angeles 90046
Run through October 26, 2014.
Fri & Sat at 8pm, Sun at 7pm.