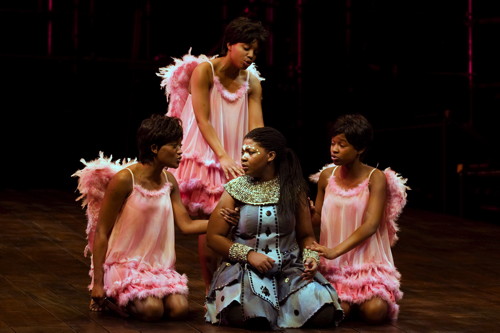 Joyful & exuberant — Isango Ensemble's afrobeat version of Mozart's fairytale opera The Magic Flute is a unique and beautiful experience. You will probably have never experienced anything like it before, and perhaps never will again — it's that special.
Mozart's masterpiece about love and redemption is boldly re-imagined in this exhilarating and uplifting opera. Re-envisioned 'South African-style,' the musical accompaniment is entirely comprised of simple percussive instruments. Several of the ensemble members take turns in pounding the gorgeous melodies from eight wooden marimbas, each larger than the next to produce deeper tones. The instruments flank the two sides of a steeply raked wooden stage, which has a balcony set above it, upstage. The performers are bare-footed (for better purchase on the slanted stage) and are garbed in simple and attractive costumes that evoke tribal costume with their brightly patterned fabrics and headdresses. At times the ensemble play glass jars filled with water, producing pretty chimes. One character intones through an animal horn. When Papageno plays his magical flute, we hear the perky sound of a trumpet. It's fun stuff!
Best of all, the voices are excellent, so none of the key arias are sacrificed in this otherwise streamlined production. With her impressive voice and powerful stage presence, Pauline Malefane is especially fantastic as the formidable Queen of the Night.
Four performances remain!
The Magic Flute by Mozart.
Runs until Sunday October 12, 2014.
1310 11TH STREET
SANTA MONICA, CA 90401
Run Time: Approximately 105 mins, plus intermission
Performance Dates and Times:
Fri      Oct 10     7:30pm
Sat      Oct 11     2:00pm
Sat      Oct 11     7:30pm
Sun      Oct 12     4:00pm
 Buy tickets here.