Featuring an 11-foot long puppet of the legendary submarine Nautilus, Théâtre Raymond Kabbaz is pleased to present 20,000 Leagues Under the Sea, a steampunk-inspired puppet theater performance based on the classic 19th century Jules Verne science fiction novel and presented by Portland-based Tears of Joy Theatre, on Wednesday, November 19, 2014. The story investigates a wave of mysterious sinkings encountered by the advanced submarine, the Nautilus, commanded by the brave seafarer Captain Nemo.
Tears of Joy's 60-minute performance is full of fun, with humor for adults as well as children (ages 4+) to enjoy. The show will start at 7:30pm and will take place at Théâtre Raymond Kabbaz, the performance space at Le Lycée Français de Los Angeles. 20,000 Leagues Under the Sea. It will be presented in English.
"We invite this puppet theater company every single year to perform for Los Angeles…. and every time they absolutely mesmerize our young audience with an amazingly fun and creative production," says Pierre Leloup, Théâtre Raymond Kabbaz Director, "Tears of Joy's new work, 20,000 Leagues Under the Sea, is particularly innovative…. we're all in for a very special treat."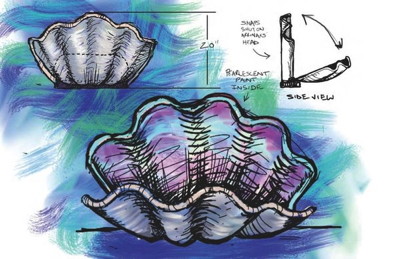 20,000 Leagues Under the Sea
by Tears of Joy Theatre
10361 W. Pico Blvd.,
Los Angeles CA 90064
Tel – (310-286-0553)
Wednesday, November 19, 2014.
7.30PM
Tickets are $15 for adults and $10 for students and can be purchased here. Learn more about the production here.
20,000 Leagues Under the Sea –
The enthusiastic Tears of Joy production tells the story of 20,000 Leagues Under the Sea as it has never been told before. The fun, rollicking, family-friendly adaptation of French writer Jules Verne's classic novel presents some of the most exciting scenes from the book aboard the Nautilus, under the sea. The production combines humor with the science and technology imagined by Verne, who is generally considered the very first science fiction writer. Much of what he predicted in the book, which was published in 1870, was astonishingly accurate and ahead of its time.
The Tears of Joy production was written by Jon Ludwig from the Center for Puppetry Arts in Atlanta, is directed by Tears of Joy Theatre's Artistic Director Nancy Aldrich, is designed by Jason Miranda, and features original music by Richard Emmet, former assistant to Frank Zappa. For a sneak peek into the steampunk-influenced puppets, props, and sets for the production, please watch the video below. Steampunk aesthetics feature anachronistic, retro-futuristic technologies as people from the 19th century might have imagined them, rooted in that era's perspective on art and style.
Tears of Joy Theatre –
Portland-based Tears of Joy Theatre is recognized as one of the nation's outstanding puppet theaters, known internationally for its innovation and excellence. The mission of Tears of Joy Theatre is to produce, develop, and present puppet theatre that celebrates the diversity of world cultures, and to teach children as well as enrich their lives by helping them experience, create, and perform art with professional artists. Four of the theatre's productions have received American puppetry's highest honor, the Citation of Excellence in the Art of Puppetry. Tears of Joy Theatre has also received a Washington State Governor's Arts Award and a Young Audiences Sunburst Award for its "exemplary commitment to arts in education." Reg and Janet Bradley originally founded the company in 1971.
Impressed by their work, TRK Director Pierre Leloup invites the company to perform in Los Angeles every year. Leloup first met Tears of Joy's founder, Janet Bradley, 10 years ago at the Western Arts Alliance Conference in Spokane, WA. Leloup has seen many of the group's beautifully crafted shows at the Portland Center for the Performing Arts, where they are a resident company.
Théâtre Raymond Kabbaz –
Théâtre Raymond Kabbaz (TRK) is a non-profit institution dedicated to the promotion of art and culture in the West Los Angeles area. This 220-seat theater welcomes multidisciplinary and multicultural shows. TRK's mission is to be an open window on French and international cultures and to inspire and sustain a lifelong appreciation for the arts.