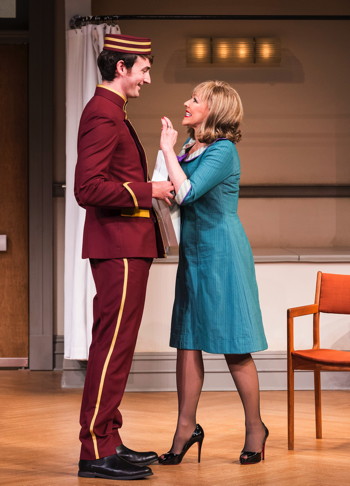 It's a fair question if the specific brand of anarchic humor owned by the late playwright Joe Orton (1933-1967) works anymore. A gifted comedic writer in his day, Orton wanted to – and did – shock his 1960s audiences with his wild tales of errant politicos, mental health establishments, and middle-class mores (homosexuality, theft, etc).
Well, after 50 years of the advances in how society views all of the above, what's to shock us with anymore? So his last comedy, What the Butler Saw, is dated. Not hopelessly so; some of it still makes us cringe. Yet in a grand production, such as the work director John Tillinger and producers Center Theatre Group have offered up, Orton's rebellious sense of humor still titillates.
With its fine cast and technical prowess, the farcical show zings along furiously, with the requisite door-slams, clothing on-and-off at the appropriate time for maximum humor, and Orton's carefree slinging of mud against all forms of establishment norm.
The question also remains, would it have been sharper in the writing if his deranged lover hadn't bashed his Joe's head in before taking his own life? (What the Butler Saw was first produced posthumously.) Obviously we'll never know, but just as any comedy depends on a full understanding of what the barbs and darts are for might have dated it anyway.
So, it's not perfect. But as the current cliché has it: let not the perfect be the enemy of the good. And this is a muscular, uproariously funny, and sensible satire/farce for its day (and to ours, as well).
Tillinger makes the ridiculous real, directing his cast with gusto allowing the moments to be as real as farce allows itself ever to be, aided by James Noone's wide, cool set, Laurie Churba Kohn's amusing costume design and Carol F. Doran's exaggerated wigs and hair – well, you gotta believe it when you see it.
The cast is exemplary, with Charles Shaughnessy's befuddled and amoral psychiatrist making the moves on his new secretary (Sarah Manton), amid betrayals by his "nymphomaniac" wife (very old hat, that term… played by Frances Barber, in a farceur's brilliance). Then you have the (fully) naked lothario (Angus McEwan), another randy hypocrite psychiatrist (Paxton Whitehead, basso-profundo-eccentric), and portly Rod McLachlan as a much-put-upon policeman.
Truly this is a gloriously witty and funny farce, with far-reaching stabs by Orton at the frighteningly-obvious leaders, who might normally earn our condemnation, but here earn our hearty laughs. Sic mundo extraordinario.
What The Butler Saw plays through December 21, 2014, at the Mark Taper Forum, Temple at Grand Streets, downtown Los Angeles, Ca 90012.
Over-priced parking underground, but free street parking can be found north of the freeway.
Review by Dale Reynolds.