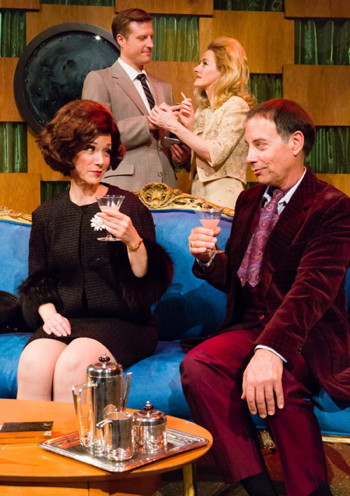 Noël Coward's 1924 drama of the excesses of drugs, closeted homosexuality and fatal denial of ageing has been given a strong, if strange, production from its original run at the Malibu Stage earlier this year, when director Gene Franklin Smith changed it from its original period, when the Bright Young Things of the UK during the 1920s were rebelling against the staid Victorian/Edwardian years, and placed it in the "swinging" London of the mid-'60s.
Florence (Shannon Holt), a rich socialite, is bored with her marriage to her traditionalist husband, David (John Mawson) and waltzes through a number of younger men, some around the same age as her son, Nicky (Craig Robert Young), who is 29. But Nicky has problems of his own, including a sexuality that Coward himself shared but neither could deal with it out-loud in those days: homosexuality was thoroughly despised and illegal to boot. So Nicky has become a cocaine addict, as well as an alcoholic.
The play builds in three short acts (with two short intermissions) to a climactic ending with the seriously disturbed relationship between mother and son battling each other and, in classic co-dependency, reinforcing their weaknesses.
The production has given us a bright costume color-wheel and the actors wear them well (nicely designed by Shon LeBlanc). Some of Florence's friends include her closest female friend, Helen Saville (Victoria Hoffman), someone willing to tell Florence some important truths about her fixation on youth and beauty (mainly her own) and how she has become a joke in her circle. (Florence's attitudes are rooted in the pre-psychiatric days of the '20s and she is undoubtedly unwilling to fix what doesn't work within herself.)
Another friend is a "camp" older gentleman, Pawnie (Cameron Mitchell, Jr.) whose sexual interest in Flo's latest, Tom Veryan (David Jimenez), is rudely rejected. But Pawnie is also the only one acutely aware of Nicky's (not so-) hidden sexuality. Also aware is Nicky's fiancé, Bunty Mainwaring (Skye LaFountaine), a beautiful socialite who is painfully aware that Nicky's protestations of love aren't sincere.
The actors are all up to their marks and the sparks fly as they should. Holt and Young make their characters' dilemmas real, which also makes them pathetic and ultimately difficult to root for. In fact, all the characters, save two (Helen and David), are pretty shoddy; Hoffman and Mawson create carefully-structured humans out of their written roles. Mawson, as an example, is the one "quiet" character whose strength gives him dignity, even though David has to have been in serious denial about his wife's constant infidelities.
That, clearly, is Smith's strength as a director. However, the flimsy sets detract somewhat and the truncated first scene (too many actors needed in the original) doesn't allow for a clearer sense of Florence's social standing.
At any rate, it's a strong production of an early Coward work, which is wobbly, if entertaining.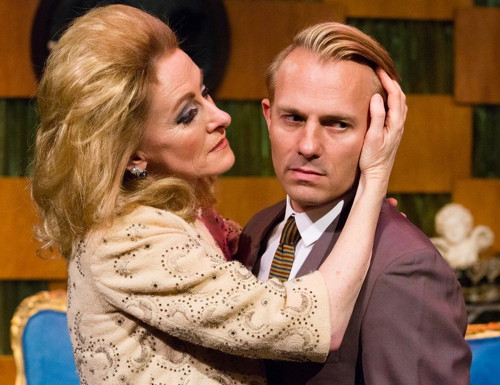 The Vortex plays through December 14th, 2014. Tickets: 323.960.7735 or available online here.
Review by Dale Reynolds.