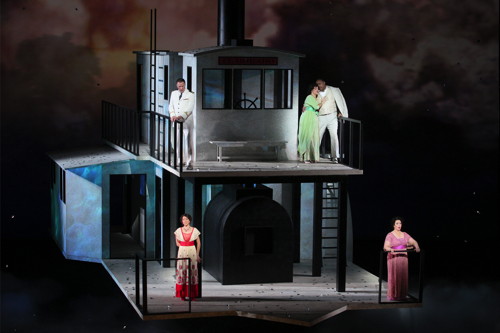 Evocative and dreamy — three performances remain for Florencia en el Amazonas, the stunning and romantic modern opera composed by Daniel Catán, with a libretto by Marcela Fuentes-Berain. The conductor is Grant Gershon. This fresh, new opera was first staged in 1996 but is rich with mellifluous melodies and romantic themes worthy of (the 19th century operatic composer) Puccini.
Sung in Spanish, and set in the steamy Amazonian rainforest, the story deals with a famous soprano returning to her homeland to sing at the opera house in Manaus (the capital city of the state of Amazonas, in northern Brazil). She is traveling incognito but reveals her fervent hope that her performance will attract her former lover Cristóbal, a butterfly hunter who has disappeared into the jungle. She boards the steamboat El Dorado for a trip down the Amazon River, along with several passengers who are traveling to Manaus to hear her sing. Noe of the passengers, however, are unaware of her identity (only the crew members are wise). One of the passengers is Rosalba, is a journalist whose been researching the diva for the past few years with hopes of interviewing her and writing a book about 'the mysterious Grimaldi'. In preparation, Rosalba has compiled a notebook of her research, a precious item that factors into the storyline.
Florencia spends her time on the boat brooding about Cristóbal. Initially, she does not interact with the other passengers, until a tempestuous storm — and a magical appearance — brings them all together at the end of Act One.
Brimming with gorgeous melodies — solos, duets, quartets — Florencia en el Amazonas is a wonderful experience. Its magic realistic and stylistic elements are very much influenced by (though not directly drawing from) the works of Colombian novelist Gabriel García Márquez.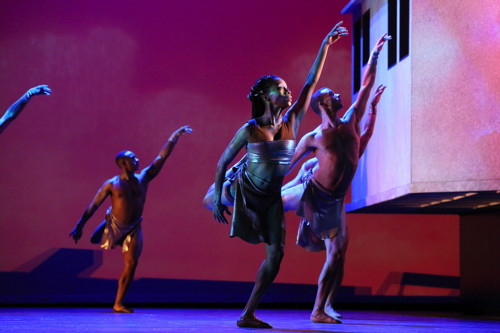 Musically, the opera mostly draws from the traditional orchestration but occasionally incorporates South American instrumentation such as conga and steel drum to great effect.
Lushly directed by Francesca Zambello, Florencia en el Amazonas is deceptively simply staged on a large, boxy river boat as it travels down the Amazon River. But the set gently and ingeniously rotates from time to time to reveal small cabins and different aspects of the boat, with its broad decks from whence to sing and ruminate on love. Colorful projections upstage on the scrim depict the rich rainforest setting, while gentle reflective lighting suggests the river's hues bouncing off the boat.
At times silvery 'butterflies' float down from above. In the 'water' cavort a quintet of elegant ballet dancers, representing everything from piranha to natives, to spirits — even logs impeding the boat's progress. The dance element of this staging really elevates the production to its highest level.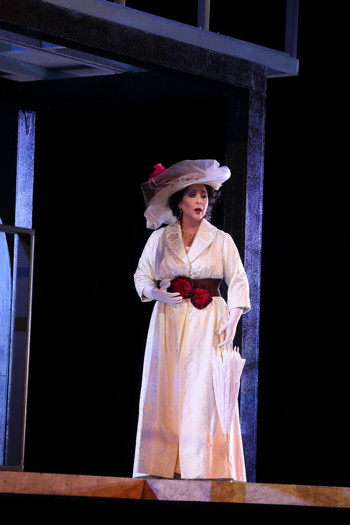 Florencia en el Amazonas
Dorothy Chandler Pavilion
Performances:
Sunday December 14, 2014 02:00 PM
Thursday December 18, 2014 07:30 PM
Saturday December 20, 2014 07:30 PM Buy Tickets
Tickets available at the Box Office or purchase online here.
Production notes:

Cast:

A steamboat passage through the fabled rainforest becomes a mystical voyage of discovery, each passenger harboring secret hopes of what the trip will bring. Among them, a famous prima donna hopes to recapture the great love of her life. Reality and fantasy intertwine as the dangerous splendors of the Amazon test the travelers' preconceptions of their hopes and dreams.

The sensational Chilean soprano Verónica Villarroel returns as Florencia, joined by one of the finest casts ever assembled for this production, including fast-rising soprano Lisette Oropesa. A ravishingly beautiful score by Daniel Catán, the beloved composer of Il Postino, shimmers with passionate melodies and sumptuous orchestrations reminiscent of Puccini and Debussy. Inspired by the writings of Gabriel García Márquez, Florencia en el Amazonas paints an intoxicating portrait of the transformative nature of love.