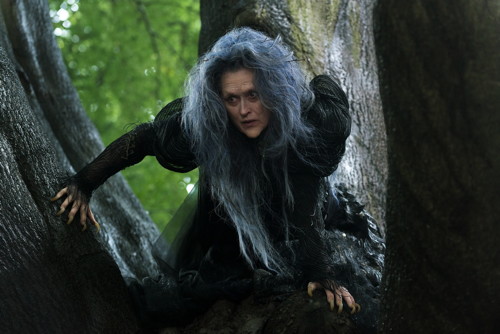 Stephen Sondheim and James Lapine's Tony award-winning musical comes to the screen in a lavish and beautifully mounted version.
Sondheim purists always wince when a film adaptation of one of his musicals is planned, mainly due to the disastrous reception A Little Night Music (1977), featuring an unfortunately-cast Elizabeth Taylor, received upon its release.
When it was announced that Tim Burton would be helming an adaptation of Sweeney Todd: The Demon Barber of Fleet Street back in 2006, with Johnny Depp as the murderous Todd, fans of the stage version groaned. Happily, Burton delivered an R-rated, gore-drenched black comedy wallowing in the filth and disease prevalent in 1800s London, and Depp — though light of voice — was a fine Todd.
Into the Woods is another piece that had been promised for years, so when Disney finally got around to actually putting it into production with Meryl Streep as the Witch and Rob Marshall as director, fans and industry insiders alike were forced to pause and consider — well, Streep can sing, after all, and Marshall is an Oscar nominee for Chicago — so let's wait and see.
Critics are always going to be polarized by any film adaptation of a beloved stage production. If they admired the original, they're going to hold the film version up to the world's most powerful microscope and howl over every missing detail. But we're talking about two distinctly different animals here.
I first saw the show in L.A. in 1989, and have watched the PBS "Great Performances" version several times since, so I was initially skeptical, especially upon hearing that Disney had lightened the material and cut some songs. However, I can happily give this film version a hearty recommendation, provided the viewer: a) is familiar with the show and knows what to expect; b) loves movie musicals; and c) is open-minded about changes that need to happen in order to make the transition from stage to screen.
As you may or may not know, Woods is a mashup of familiar fairy tale tropes — Cinderella, Red Riding Hood, Jack and the Beanstalk, Rapunzel, the Baker, his Wife and — of course — the Witch. The story follows them to their separate happy endings — and then shows what happens afterward.
Woods features a strong cast with good singing voices. Anna Kendrick makes for a lovely Cinderella, Emily Blunt and James Corden are great as the baker and his wife, and Lilla Crawford brings the smarts and sass as Red Riding Hood. Young Daniel Huttlestone and Tracey Ullman are also a delight as Jack and his mother. Chris Pine and Billy Magnussen are hilarious as the handsome, posturing princes, and their shirt-ripping duet of "Agony" is splendidly staged.
Critics are smacking Depp around for phoning in his performance as Red Riding Hood's Wolf, but give him a break. The Wolf has always been a campy secondary character, and points must be given to Depp for emphasizing the salaciousness directed toward the young, virginal and underage Red. He even opens his coat to "expose" a tempting selection of candy. If anything, his costume isn't as amusingly lewd as the stage version, in which the wolf's — ahem — gender is clear to see.
Filmed at the venerable Shepperton Studios in Surrey, Woods looks just beautiful, perfectly capturing the ethereal fairytale world. Dion Beebe's cinematography is luminous, and Dennis Gassner's handsome production design brings the kingdom to vivid life. There are some well-used special effects, which actually help to elevate the lyrics in some songs, whose recurring themes of exploring and venturing outside one's own gate become rather redundant onstage with its limited visuals. Here, we can actually see where they're going and it expands the experience.
That said, these visual effects are almost all piled into Disney's trailer, convincing some audiences that this is a fantasy rather than a full-on musical. I saw probably 20 people leave the theater about half an hour in, but that's bound to happen. And I didn't see the validity in complaints about lightening the material. Characters still die, and there are a couple of nasty blindings and amputations thrown in for good measure. If anything, the minor trimming helped to streamline Act Two, which frankly dragged onstage.
As for Streep? She remains the star here. Ageless, timeless and genre-less, she continues to give everything she's involved in everything she's got, whether it's an embarrassment like the execrable Mamma Mia or a knockout like the small but beautiful Marvin's Room. With Into the Woods, she delivers the witch that Sondheim — and audiences — deserve.
Review by Kurt Gardner.