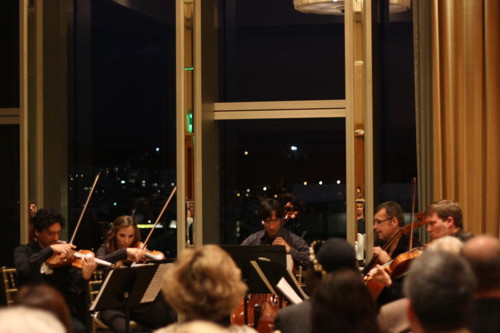 Coming up this weekend, on Sunday December 7, 2014, is the next concert presented by Le Salon de Musiques, entitled Expressionism & Impressionism. This new season features extraordinary composers and works, paired with an exceptionally high level of performers, with more than eight musical pieces making their USA premiere.
Le Salon de Musiques is a Chamber Music concert series taking place the first Sunday (of almost every month of the year) at the famous Dorothy Chandler Pavilion in Downtown Los Angeles.
Each month you can experience their exquisite concept as they present and perform Chamber Music just as it should be always performed — in a small and intimate space without any stage nor separation between the audience and the artists.
As always, they have their esteemed musicologist Julius Reder Carlson introducing each performance. Each concert is followed by a Q & A between the audience and the artists, while they graciously serve French Champagne followed by a gourmet buffet of sandwiches and cakes catered by Patina.
This year, once again, audiences will enjoy performances from some of the most prestigious performers from the LA Phil, LA Opera, LACO, and so on.
Through this new Season, artistic director Francois Chouchan strives to introduce or re-introduce some of the most extraordinary Romantic-Neo Romantic and Impressionistic Composers of the Chamber Music Repertoire — sometimes never performed or almost forgotten. This is the main purpose of Le Salon de Musiques — Masters Rediscovered.
"This Fifth Season is definitely a "magical" one, between the exceptional diversity and quality of the pieces performed, (almost unknown or forgotten…), and the highest level of our Artists invited to perform this Season. I am thrilled to share these new exquisite moments again with our beautiful audience!" says Francois Chouchan.
With three USA Premieres, this third concert of the season will be really unique, featuring four genius composers (three of them almost forgotten) through their exquisite Expressionistic & Impressionistic style.
These powerful pieces are pure gems and deserve so much to be discovered or re-discovered.
With three different cultural backgrounds (French, Russian and British), these Masters reveal their exceptional talents through their amazing works: another beautiful and emotional journey is announced.
Event Information:
Sunday December 7th, 2014 at 4:00 pm
The Dorothy Chandler Pavilion, 5th Floor
135 N Grand Ave, Los Angeles, CA 90012
Program:
Maurice RAVEL: Sonata for Violin & Cello
Arnold BAX: Fantasy Sonata for Violin & Harp
Mikhael GNESIN: Songs for a Knight Errant Op 28 – USA PREMIERE
Jean CRAS: Suite en Duo for Flute & Harp – USA PREMIERE
Jean CRAS: Quintet for Harp, Flute & Strings – USA PREMIERE
Performers:
Angela WIEGAND — Flute
Marcia DICKSTEIN — Harp
Jessica GUIDERI and Erik ARVINDER — Violins
Rob BROPHY — Viola
John WALZ — Cello
Tickets are $75 for Regular, and $39 for Students (including French Champagne & Gourmet Buffet), with "Early Bird" Offers and "Special Offers", are available for purchase here.
About the Artists:
Angela WIEGAND Flute:
Angela Wiegand is a member of the LA Opera, and is principal flutist with the Santa Barbara Chamber Orchestra. As a founding member of the Debussy Trio, she has performed in Prague, Copenhagen and Geneva, at the Kennedy Center, in more than 1000 concerts nationwide, on NPR's St. Paul Sunday, Voice of America, and KCET's Life and Times. She earned her bachelor of Music at UC Santa Barbara, and her master's degree from USC.
Marcia DICKSTEIN Harp:
Harpist Marcia Dickstein continues enticing new audiences to the harp in chamber music and solo with orchestra, and inspiring composers to write new works in classical and jazz genres. To date, she has commissioned and premiered over 130 compositions by American composers. Her performance credits include: soloist with orchestras in Louisville (KY), Seattle, Los Angeles, San Francisco, and chamber orchestras in Geneva (Switzerland), South Bay (Los Angeles), with the Los Angeles Master Chorale, Roger Wagner and William Hall Chorales, and over 1000 outreach concerts.
Ms. Dickstein has recorded numerous chamber music and solo recordings including the award winning 3 Friends, Chamber Music of Arnold Bax, the latest with The Debussy Trio Look Ahead (Klavier) and on Koch, Harmonia Mundi, and RCM labels plus she has played on over 450 film and TV scores. As Founder/Artistic Director of The Debussy Trio, now in its 25th year, she has performed worldwide: in the United States, Canada, Europe, Scandinavia and Japan, over NPR radio, on commercial & PBS TV. She also plays with the Long Beach Symphony, Santa Barbara Chamber Orchestra and San Luis Obispo Symphony.
Active as a composer/editor, her harp solos, transcriptions, and scholarly editions are available at www.fatrockink.com. Adjunct Professor of Harp at Westmont College in Santa Barbara and Cal Poly, San Luis Obispo, Ms. Dickstein also holds Master Classes throughout the USA and maintains a private studio in Los Angeles.
Jessica GUIDERI Violin:
American violinist Jessica Guideri currently serves as Associate Concertmaster of the Los Angeles Opera Orchestra, Assistant Principal Second Violin in the Pacific Symphony, and Associate Concertmaster of the Eastern Music Festival. She also performs with the Los Angeles Philharmonic, plays for recordings of major motion picture soundtracks, and is featured on the upcoming public television series the "All Star Orchestra," comprised of musicians from major orchestras around the country, led by Gerard Schwarz.
Before moving to Southern California, Jessica was Associate Principal Second Violin of the Phoenix Symphony, and was awarded a position in the Seattle Symphony. She has also performed as concertmaster of the Juilliard Orchestra, the Schleswig-Holstein Music Festival Orchestra in Germany, and the Tanglewood Music Center Orchestra, and was invited as guest concertmaster of the Phoenix and Santa Barbara Symphonies.
Since her Carnegie Hall solo debut with the New York Youth Symphony, which James Oestreich of The New York Times called "a lovely account," Ms. Guideri has performed as soloist with several orchestras, including the Queens Symphony, Westchester Symphony, and the Symphony Orchestra of Campinas in Brazil. She has also given numerous solo recitals, including appearances at Lincoln Center and Steinway Hall in New York.
An accomplished Chamber musician, Jessica was the first violinist of the Fry Street Quartet, artists-in-residence at Utah State University. During her four years with the ensemble, they performed numerous concerts nationally and internationally, won prizes at the Banff International String Quartet Competition, were sponsored by Carnegie Hall and the U.S. Department of State as cultural ambassadors to the Balkan states, and worked with hundreds of students throughout the U.S. to promote arts education. Jessica performs each summer with the Eastern Chamber Players in North Carolina, and has performed in various chamber ensembles in such concert venues as Alice Tully, Merkin, and Weill Halls in New York.
Jessica has also served on the violin and chamber music faculties at San Diego State University, Utah State University, and the Eastern Music Festival.
Jessica received both the Bachelor and Master of Music degrees in violin performance from the Juilliard School, where her teachers included Dorothy Delay, Masao Kawasaki, and Joel Smirnoff.
Erik ARVINDER Violin:
Dividing his time between his native Stockholm, Sweden and Los Angeles, Erik Arvinder is an enterprising chamber and orchestral violinist across Europe and the United States. After completing undergraduate and graduate studies at the Royal College of Music in Stockholm under the tutelage of Professors Henryk Kowalski, Magnus Ericsson, and Peter Herresthal, Erik went on to become the youngest permanent member of the first violin section in the Royal Stockholm Philharmonic Orchestra. Erik has served as the concertmaster of a number of renowned Swedish ensembles including the Wermland Opera Orchestra and worked with distinguished conductors including Alan Gilbert, Kurt Masur, and Esa-Pekka Salonen.
Erik is an active contributor to the Vamlingbo Chamber Music Festival on Gotland Island in Sweden and is one of the founding members of the Vamlingbo String Quartet, which will release its debut recording with acclaimed clarinetist Emil Jonason on the BIS label in 2015. In addition to his playing, Erik is known for his arrangements and orchestrations. His works have been performed and recorded by ensembles throughout the world, led by celebrated conductors, including Gustavo Dudamel. Most recently Erik arranged music for Anne Sofie von Otter's upcoming performances with cellist Steven Isserlis and pianist Bengt Forsberg.
Erik has been an avid performer, arranger and orchestrator in the Los Angeles area since 2010.
Rob BROPHY Viola:
Robert holds degrees from the Royal Northern College of Music in Manchester, England and Rice University in Houston, TX where he studied with James Dunham formerly of the Cleveland Quartet.
Actively involved in chamber music, Robert is featured alongside Nigel Kennedy in a quartet for his new release 'Greatest Hits' on the EMI label. He has also performed alongside Martha Argerich, Mischa Maisky and Dmitri Sitkovetsky, and also a concert of chamber music with pianist Michel Dalberto and violinist Dmitri Sitkovetsky. New music is close to his heart and he has worked with many leading composers of the 20th and 21st centuries as a former member of the Enso Quartet. These include Joan Tower, William Bolcom, Tan Dun and Bernard Rands. Some press highlights of their concerts include; "It was standing room only", noted the Pittsburg Post-Gazette, and The Strad applauded them for their "totally committed, imaginative interpretation." The quartet earned its place in the ensemble world with multiple honors at the 2004 Banff International String Quartet Competition, including the Piece de concert prize for the Quartet's riveting performance of a new work, and wins at the 2003 Concert Artists Guild International Competition, the Fischoff National Chamber Music Competition and the Chamber Music Yellow Springs Competition. Robert is featured on two recordings with the Enso Quartet under the Naxos label.
Robert is continuing his quartet life as a member of the New Hollywood String Quartet. The NHSQ have recently become Quartet in Residence at South Pasadena Library's 'Restoration Concert Series', where they played their inaugural concert with cellist Lynn Harrell. Robert also plays regularly with the Los Angeles Philharmonic, LA Opera and has an active presence in many west coast chamber music series.
John WALZ Cello:
John Walz is a celebrated soloist and chamber music artist, known for his dazzling virtuosity and elegant musicianship. A student of the legendary French cellist, Pierre Fournier, he has appeared as soloist with more than 150 symphony orchestras on 4 continents. His performances of 25 different concertos include both standard showcases and rarities like Martinu's Concerto #1 and William Schuman's Song of Orfeus.
In 1979, Mr. Walz, along with pianist Edith Orloff, founded the Pacific Trio. Now performing with violinist Roger Wilkie, this renowned ensemble has played more than 900 concerts throughout North America and Europe.
In addition to his solo and chamber music duties, he is currently the principal cellist with the Los Angeles Opera, a position he previously held for 20 years with the Long Beach Symphony.
His ever expanding discography includes recordings of the concertos by Dvorak, Haydn, Shostakovich, Bloch, Martinu, Vivaldi, and trios by Brahms, Dvorak, Smetana, and the newly released Pacific Trio CD featuring Beethoven's Triple Concerto and Archduke Trio.
He is on the faculty of the Idyllwild Arts summer program and Academy.