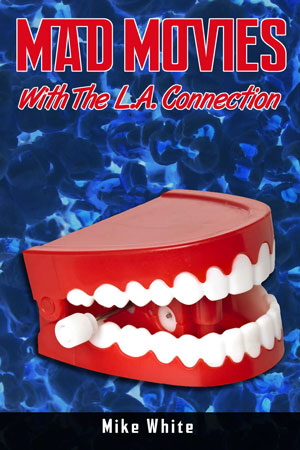 Ah, L.A. in the mid-1980s — what a magical place. The punk rock scene was going strong, KROQ ruled the radio dial, Elvira's "Movie Macabre" was a Saturday night must-see on KHJ-TV, and I was working at a down-at-its-heels TV distribution company called Four Star Television.
Founded by Hollywood stars Dick Powell, David Niven, Charles Boyer and Ida Lupino in 1952, Four Star had been a leader in television production through the 1960s, selling such hits as Wanted: Dead or Alive, Burke's Law and The Big Valley to the networks. But by 1984, with nothing in the pipeline and a dusty library of forgotten black and white shows, the company had slowed down considerably. A new regime was brought in to juice up the joint, and that's how Mad Movies with the L.A. Connection was born.
But let's step back a bit. The L.A. Connection improvisation troupe had been successfully performing live redubs (called "Improvision") of movies like Plan 9 from Outer Space at theaters around town, which led to a brief stint doing the same thing for "Flicke of the Night" segments on Alan Thicke's 1983-84 talk show, Thicke of the Night.
Meanwhile, Four Star had acquired the questionable assets of another syndication company, Gold Key Entertainment, and with that purchase had gotten a library of what today would be a goldmine of cult classics, but back then was just a bunch of unsellable bad movies.
It was destiny that the dubbers of bad movies should join forces with the purveyors of bad movies… and therein lies the tale.
In his new book, Mad Movies with the L.A. Connection, author Mike White chronicles the colorful history of the L.A. Connection and the development of the show that was ahead of its time — and still has a following today.
Ample behind-the-scenes reminiscences are provided by L.A. Connection founder Kent Skov and cast members and writers Bob Buchholz, Connie Sue Cook, Stephen Rollman, Steve Pinto and April Winchell, as well as the show's producer, Randy Ridges. They describe how Mad Movies was pitched and produced (including the making of the first pilot, Dungeon Women, that was scuttled for being too racy), researching appropriate properties, scouting locations for the wraparounds — and delivering 26 half-hours on a budget that wouldn't even pay for craft services nowadays. It truly was guerrilla television. As Four Star's Director of Promotions at the time, I provide some recollections from the corporate perspective.
Fans of the show will appreciate the book's complete episode guide, rare production photos and the "after Mad Movies" section. As for me, it brought back great memories of a time when we were all so young and L.A. was a town that represented limitless possibilities.
Mad Movies with the L.A. Connection is available from Amazon.
Review by Kurt Gardner.