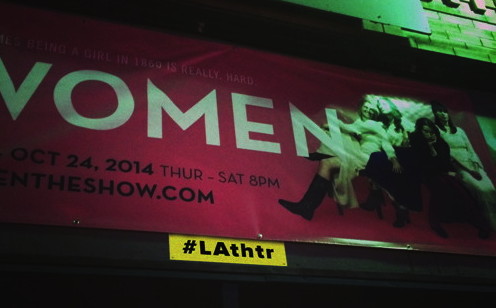 Get organized and start putting up #LAThtr signs!

Signs that proclaim "L.A. theater can be found HERE!"
About six months ago, towards the end of the Hollywood Fringe Festival, Colin Mitchell over at Bitter Lemons hosted the critics panel. Sadly, it wasn't all that well attended, but a bunch of us got to discuss the state of Los Angeles theater yet again.
Present were theater critics of varying but respectable reputation:
Steven Leigh Morris, critic emeritus with LA Weekly and founder of Stage Raw; Frances Baum Nicholson — Stage Struck Review; Jason Rohrer — Stage and Cinema; Bill Raden, critic for LA Weekly and Stage Raw: yours truly, Pauline Adamek – critic for LA Weekly, Stage Raw and founder of ArtsBeatLA.
I do recall an amusing and feisty exchange where infamous firebrand Jason Rohrer equated the hashtag moniker #LAThtr with "whiny bitch" thanks to his interpretation of a recent brouhaha involving a bogus review on Vanity Fair's website that trumpeted how Demi Moore's daughter Rumer was "saving L.A. Theater" by appearing in a juke-box kind of musical show over at DBA nightclub.
My retort was this: "No, #LAThtr simply means L.A. Theater. It's you who is imposing the derogatory layer of meaning of 'whiny bitch.'"
Predictably, that did not go down so well, and I thought I might have to remove my earrings if we were gonna scrap. Colin gleefully called for an "on-stage knee wrestle" (say, what?!) but he was disappointed by our general composure.
In any case, the main thing I recall is how the discussion led to what I considered to be an epiphany — alas, lost to the winds of time — until now!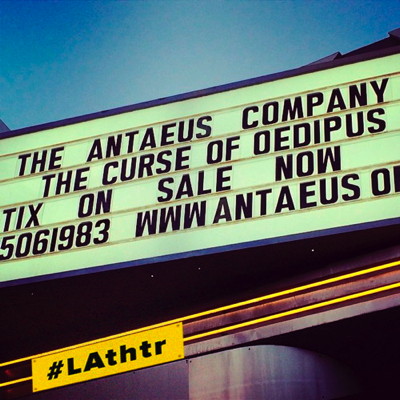 Why, I asked, can you spot a Starbucks a mile down the street? How do you know when you're outside a barber shop? What do all those square crosses in glowing green neon signify?
Branding! Los Angeles Theater needs branding, people!
Why, we've even already got the brand!  Courtesy of Cindy Marie Jenkins and friends, who — way back in 2010 — co-created the groovy and useful twitter hashtag #LAThtr.
More info on the people involved in the #LAThtr creation and their Twitter accounts here.
Great. Fantastic. That's awesome.
So what the hell are you theater practitioners waiting for?!
Get organized and start putting up#LAThtr signs!
Signs that proclaim "L.A. theater can be found HERE!"
These signs can be neon (expensive and easily breakable but cool and visible) — they can be made from LEDs (cheap! also highly visible) they can even be a goddamn banner printed down at Kinkos for $40 — YES, for as little as $40! — and strung up over your marquee or theater door.
Come on #LAThtr peeps! Let's do this!  Let's make 2015 the year we all put our theater community out there for all to see!
Could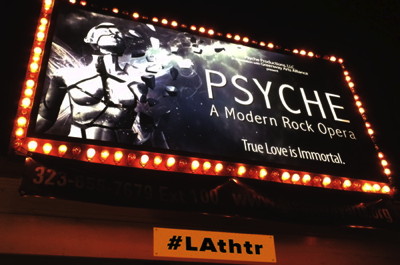 Let me know what you think in the comments section, or on twitter. @ArtsBeatLA
FYI — The L.A. Theater branding discussion happens in this video around the 50 minute mark.