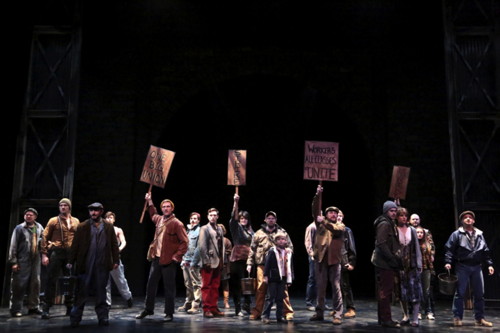 Based on the Stephen Daldry/Lee Hall 2000 film (which starred Jamie Bell), this 2008 musical version, Billy Elliot The Musical (music by Elton John, book and lyrics by Lee Hall), earned its three young actors who played the lead role Tony Awards for Best Actor(s) in a Musical the following year, in addition to winning Best Musical of 2009 and eight other nominations.
This brand new production lives up to the reputation of the Broadway version in that they have an extraordinary lead, fourteen-year-old Floridian, Matthew Tobin. On opening night, co-producer Tom McCoy came out on stage before the curtain rose to inform the audience that young Mr. Tobin had only just joined the company five days earlier, after the originally cast young lead, also 14, had broken his arm during a technical rehearsal.
Tobin has performed the role for a couple of years now, on tour and in London, so he has the role down pat. And excellence is the keyword for this lad: an excellent Northern English accent, along with some brilliant dancing and singing. If his acting isn't as proficient as one might like, he still turned in a performance which earned him a standing accolade from a very enthusiastic audience.
Set in 1984, when the left-wing unions which controlled the coal pits of England and Scotland were defeated by the ultra-conservative forces of Prime Minister Maggie Thatcher, young Billy Elliot, aged 12, stumbles into dance class when he can't stomach his boxing class.
His hard-as-nails dance teacher, Mrs. Wilkinson (the sharp-as-nails Vicki Lewis) sees his talent underneath the semi-macho bluster, she shapes him into a strong enough dancer to audition for the Royal Ballet school. What Billy has to endure, from a shaken father and older brother (his mother has died), almost undoes his will, but eventually (and inevitably) he wins his town over to his side, right along with us.
The musical has as many tears for us to shed as did the film, due to the unsentimental story about pluck overcoming adversity, and how very wrong anti-gay bigotry is. The fact that our hero isn't put off by his best-friend's cross-dressing (in a standout performance by Jake Kitchin), and that his dad (David Atkinson) comes round at the end, makes this a family-friendly show, swear-words aside.
The huge cast (37 in all) is up-to-speed under Brian Kite's astute direction. Dana Solimando's choreography allowed this talented combination of adults and kids – Equity and Non-equity members  – a grand way to show off their talents.
The scenic design of Stephen Gifford was beautiful and didn't impede the action. All the technical aspects worked well and allowed this to be one of the highlights of the 2014-15 season at the gorgeous La Mirada Theatre for the Performing Arts.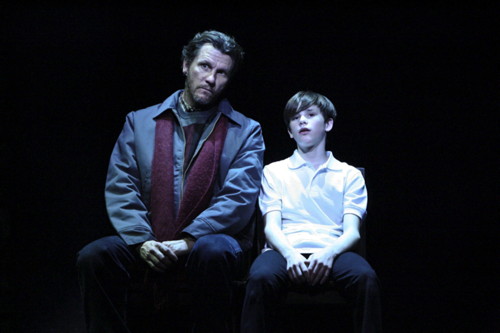 Billy Elliot The Musical
La Mirada Theatre for the Performing Arts
14900 La Mirada Blvd.,
La Mirada, CA 90638.
Runs through Sunday, February 8th, 2015.
Tickets:
$20-$70.00
Purchase by calling (562) 944.9801 or online here.
 Reviewed by Dale Reynolds.