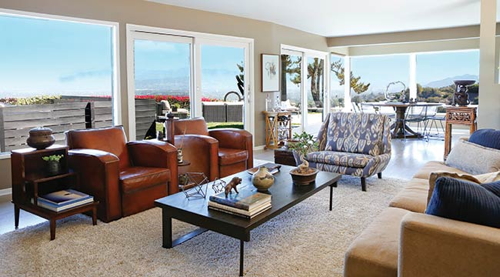 A showbiz couple and their family of rescue pups delight in an exquisitely appointed hilltop home in Sherman Oaks.
As you drive up the winding streets off rustic Benedict Canyon, it is easy to feel like you are in a wildlife preserve. Except for the homes that discreetly dot the hillside. One of them, perched on a flat expanse, up a bumpy, curved driveway belongs to Valarie Ianniello and Mark Perez. The couple felt like they were in heaven when they first moved in back in 2001; they traded up from a 600 square foot, one-bedroom apartment in West Hollywood, though there was work to be done.  Wrought iron fencing, unmaintained trees and messy hedges blocked the panoramic vista from the structure, which was built in the 50s. "But we could totally see the potential," Valarie hastens to add. "Our life is all right here. The great stores, the bakeries like Sweet Butter. We love going to the Local Peasant and especially Casa Vega, because it's old school."
Mark's requirements were simple. "I wanted a 'Frank Sinatra' style house," he muses. At 1900 square feet, the three-bedroom, two-and-a-half bath one level pad with generous  windows fit the bill. Number one on their priority list to have an appealing view. Smiles Valarie, "We both grew up in Florida where it's flat. There's no such thing as a view like this," gesturing to the sweeping panorama beyond the large picture windows. "It's so peaceful, looking at the mountains."
The pair had been together for years before they officially married on the property, under the picturesque pine tree with its symbolically intertwined trunks. They'd started dating while studying at Florida State College, eventually moving out to LA to pursue their entertainment careers. Valarie landed several acting gigs before turning her hand to screenwriting. A French production of a farcical comedy she penned is slated for next year. Mark, a comedy screenwriter, is currently penning a comedy vehicle for Jennifer Lopez for Universal Pictures (working title is  MILFs). Last year he completed another comedy thriller called Game Night set to star Jason Bateman.
As soon as they decided to buy the property, Valarie headed over to East Valley Animal shelter to adopt a second dog. They currently have four rescue dogs quietly padding about the house.
The home has undergone three  different remodels over the past decade, including removing all the heavy wood paneling and replacing the creaky rusty doors and windows with dual-paned ones. New hardwood flooring, tinted with a grey-blue wash, was installed throughout.. The kitchen was expanded and new appliances were added. Throughout, Valarie worked closely with Loren Schnider of Concept Design to achieve an effect of minimalism and simplicity — all clean lines and earthy, neutral tones. "She has been my mentor," Valarie raves. "My taste has really evolved because of Loren."
To read the rest of this interview, please go here.