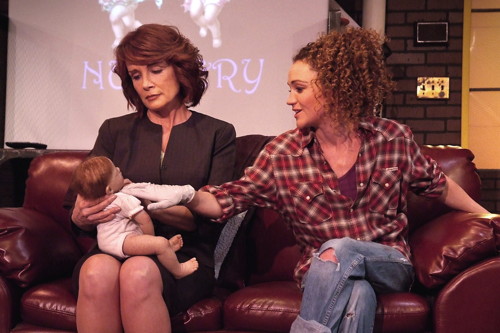 A strange and disturbing play, Reborning by Zayd Dohrn introduces us to the world of one-of-a-kind, life-like baby dolls — aka 'reborn' dolls — and the people who desire them. But the story the playwright fashions around this premise is extremely questionable…
A reborn doll is a manufactured vinyl doll that has been transformed to resemble a human baby with as much realism as possible. Although many consumers collect reborns as they would regular dolls, others use them to replace a child they once lost or a child that has grown up. The dolls often come with fake birth or adoption certificates, and their "parents" care for them as they would an infant.

In Reborning, a young artist who crafts custom-made dolls begins to suspect that a demanding client may be the mother who abandoned her at birth.
Ryan Doucette and Joanna Strapp play a young couple, Daizy and Kelly. Each are artists who work with prosthetics — living together in Queens and both working from home in their respective studios. We first meet Kelly laboring intently on a 'reborn' baby doll she is crafting. She's swigging beer, rocking out to loud music and not wearing any pants — it's probably a typical Sunday at home in her workshop. When one of Kelly's clients, Emily (Kristin Carey) shows up unexpectedly, this marks the beginning of an uncomfortable relationship between the two women that delves deeper than artist and customer. It's also the first of many inexplicable moments that eventually add up to a highly artificial and improbable script. Why on earth would Kelly ever let an uninvited client into her private space, especially given that she'd just lit up a joint?!  That Emily would help herself to a toke of the roach while snooping doesn't fit her uptight persona. I guess that's the point, but it's not presented in a credible fashion.
We learn that Emily is intrusive, pushy and demanding. We also learn, through contrived conversations, that Kelly is a barely functioning, messed up individual with a traumatic past. Her well-meaning yet somewhat selfish boyfriend Daizy finds himself unable to cope when Kelly's obsession with her work drives her to a psychotic breakdown. That's where the story takes a truly bizarre detour.
Dohrn seems to be trying to cram too much jumbled storytelling and character quirks into his one-act play which, though only running for around 75 minutes, still manages to baffle and drag.
Worse yet — the playwright's sense of humor is in decidedly poor taste. All his attempts at comedy feel limp. Daizy running around sporting a giant phallus (the prosthetic items he makes are custom-ordered and realistic-looking dildos) is not, in and of itself, hilarious, yet we see that lame sight gag in more than one scene. Daizy pretending to rape a baby doll is definitely not amusing. Sure, it illustrates he's gross and immature but that really crosses a line into offensive territory. The actors give decent performances of their dislikable characters but they are let down by the material. Simon Levy directs. This production is billed as a "darkly funny psychological thriller" and an "edgy comedy/drama" and I consider that pitch entirely misleading.
Not recommended.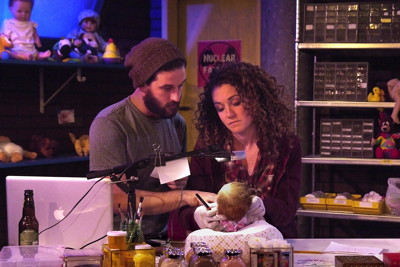 Reborning by Zayd Dohrn.
Performances:
Jan. 24—March 15, 2015
• Thursdays at 8 p.m.: Jan. 22 (preview), 29; Feb. 5, 12, 19, 26; March 5, 12
• Fridays at 8 p.m.: Jan. 23 (preview), 30; Feb. 6, 13, 20, 27; March 6, 13
• Saturdays at 8 p.m.: Jan. 24 (opening), 31; Feb. 7, 14, 21, 28; March 7, 14
• Sundays at 2 p.m.; Jan. 25; Feb. 1, 8, 15, 22; March 1, 8, 15
The Fountain Theatre
5060 Fountain Ave.
Los Angeles CA 90029
(Fountain at Normandie)
(323) 663-1525 or here.
TICKET PRICES:
$15-$34.95:
• Premium Seats: $34.95 (VIP center section, includes 1 free beverage)
• Regular Seating: $30.00 (assigned by box office)
• Patrons 30 years old or younger: $20 ("30/20 Club"– valid ID required)
• Students: $20 (valid ID required)
• Seniors: $25 (Thursdays and Fridays only)
• Rush tickets: $15 (15 mins prior to curtain, subject to availability – Thursdays and Fridays only)
PARKING:
Secure, on-site parking: $5