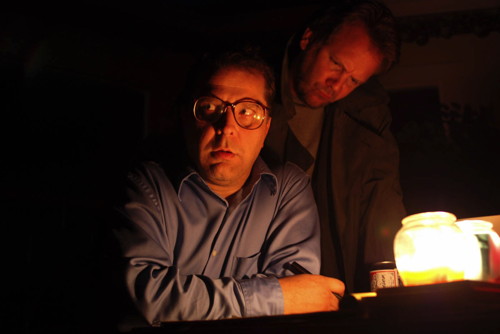 Sam Shepard's iconic tragicomedy is brought to explosive life in AtticRep's gripping new production.
Part of a trilogy of confrontational works that AtticRep has staged this season here in San Antonio, True West is a laceratingly humorous meditation on the subjects of brotherhood, Hollywood and the faded clichés of what it meant to be a man in the Old West.
Austin (Rick Frederick) is a bookish screenwriter working on his latest project while housesitting for his mother whose on vacation in Alaska. His older brother, Lee (Andrew Thornton), is a desert-dwelling drifter who literally drifts into the house, surprising Austin, who hasn't seen him in five years.
Austin tries to maintain an air of civility while Lee, guzzling beer after beer, derides his brother's career, his education and his family life. He also announces his intention to rob his mother's neighbors' homes, and he needs the use of Austin's car to do it. Exasperated, Austin gives in, if only to get him out of the house while he meets with an important producer about his new screenplay.
As the producer, Saul Kimmel (Guy Schaafs), sings the praises of Austin's script, Lee returns unexpectedly, carrying a stolen television. He insists that he, too, has a great idea for a movie, and manages to con Saul into playing a round of golf with him the next morning to talk about it.
Lee brutalizes Austin into helping him write a short treatment for his film, which seems to be nothing but a ridiculous series of desert chase scenes. Austin doesn't think his brother stands a chance, but when Lee triumphantly returns from the country club with the news that Saul wants to move forward, Austin is dumbfounded. Saul arrives to confirm it, explaining that Lee's material has "real authenticity." He wants to produce both brothers' screenplays, but when Austin protests that he doesn't have the time, the producer regrettably informs him that he must choose Lee's.
Now the roles of the siblings reverse. Lee sits at the typewriter, hammering out his great work of art, while Austin transforms into the derisive drunk. Frustrated at his inability to put anything on paper, Lee begins matching him belt for belt until anarchy prevails. Empty cans and bottles litter the floor and the typewriter is smashed to bits. Lee is burning the remnants of his script in a trash can and Austin is attempting to cook bread in the myriad toasters he's stolen from surrounding homes. That's when Mom decides to make a surprise appearance.
Shepard's piece is a Pinteresque assault on the family structure. An unseen father, also a desert-dwelling drunk and derelict, still manages to hold powerful sway over his sons' lives, while their mother is present yet ineffectual. The siblings' competitiveness stems not only from a constant quest for approval but the fact that they're actually jealous of each other.
This AtticRep production is potent and blackly hilarious. Thornton and Frederick deliver full-blooded, uninhibited performances that avoid veering into parody, so important for this piece, and their role reversals are viciously comic. Schaafs is an appropriately smarmy Saul, while Crosby impresses in her late-act arrival as their irritated yet unsurprised Mother, snapping on her rubber gloves to clean up the mess and ordering Austin not to kill his brother.
The staging is superb. Production designer Martha Penaranda's set, constructed by Ed Diaz, evokes the late '70s suburban California milieu with its hanging plants and parade of commemorative plates decorating the walls. Robin Crews' lighting design subtly shifts not only to communicate the changing times of day but also the characters' ever-darkening moods. Jeremiah Tuetsch's sound design is an effective combination of snippets of western songs and animal noises. And director David Connelly keeps a tight rein on the mayhem, even when it threatens to explode into the audience.
True West plays Wednesday through Saturday at 8:00 p.m. and Sunday at 2:30 p.m. through February 8th at Carlos Alvarez Studio Theatre at the Tobin Center, 100 Auditorium Circle, San Antonio 78205. Tickets can be obtained online or by calling (210) 999-8524.
Review by Kurt Gardner.