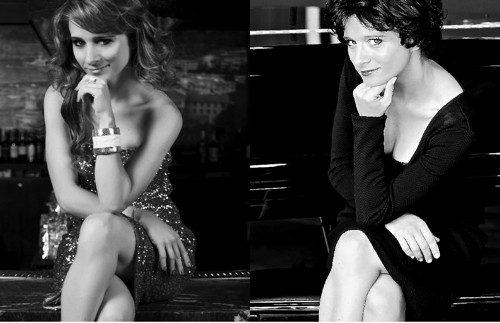 Dear readers and #LAThtr and jazz aficionadi,
Here follows my latest review for the critical website Stage Raw — which contains current arts and theater coverage from our intrepid team of journalists & critics.
Happy reading!
Maria Elena Infantino: From Piaf to Mambo.
Backed by a top-notch trio of jazz musicians, petite and pretty vocalist Maria Elena Infantino takes to the stage in a plain black dress and dark wig. Channelling 'the little sparrow' — Edith Piaf — Maria Elena devotes the first third of her hour-long performance to the famous French songbird. She adopts an appropriate, slightly nasal interpretation, regaling her audience with sweet and slightly humorous versions of several of Piaf's hit songs; La Vie en rose, Non, je ne regrette rien, and so on. It's no surprise that the Italian-born, half Bulgarian singer's French accent is impeccable. Verging on canny mimicry, she invests her renditions with the right dose of theatricality, as seen in dramatic gestures and posturing. Yet there's a delicacy and intimacy to her subtle performance that builds to a festive and carnivalesque enthusiasm with the sing-along crowd-pleaser Milord.
Then, excitingly, Maria Elena quickly disrobes and rips off her wig to reveal long blonde tresses teamed with a strapless dress of gold sequins. Ushering us from 'Oui' to 'Si' with a wiggle of her hips, she launches into a spirited version of Mambo Italiano (the 1950s tune made famous by Rosemary Clooney) as her Italian heritage comes to the fore. More Italian classics follow, including her rendition of Quando Quando which never tips over into cheesy territory thanks to her grace and aplomb. A unique interlude is her blended English and Italian version of the Shirley Bassey hit Never Never Never, which was adapted from the Italian tune Grande Grande Grande. Grabbing the microphone off its stand for a big finish, here Maria Elena demonstrates the confidence to take a stab at emulating one of the most impressive voices around. Though not every note hits its mark, Maria Elena more than makes up for that with her warmth and bubbly presentation. She even tackles another legendary set of Welsh pipes with the (original) Italian version of the Tom Jones hit You're My World. Ambitious! She rounds the evening out with a Sicillian flavor, including a gorgeous torch-song rendition of the theme from Coppola's movie The Godfather as well as the Sicilian folk song Lu Sciccareddu (The Donkey) that she claims her father, the renowned tenor Luigi Infantino, adapted for The Godfather, Part II.
In short, Maria Elena's jazzy show delivers an evening of pure fun.
You can read the rest of this review here.
Maria Elena Infantino: From Piaf to Mambo.
Upcoming shows include Casa Italiana — Italo Americano Gala — on February 7th;
Riviera 31 cocktail lounge at the Beverly Hills Sofitel on February 10th at 8 pm (and every second Tuesday of the month);
Plus a return appearance at Vibrato Grill Jazz on February 28, 2015.
Herb Alpert's Vibrato Grill, 2930 Beverly Glen Circle, Bel Air, CA 90077