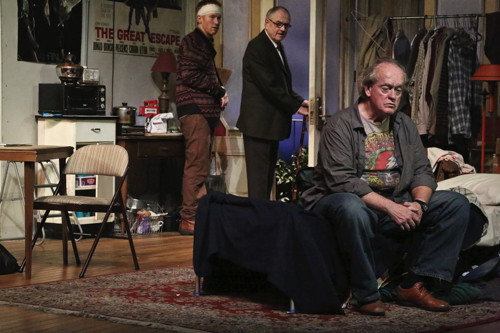 Dear readers and #LAThtr aficionadi,
Here follows my latest review for the critical website Stage Raw — which contains current arts and theater coverage from our intrepid team of journalists & critics.
Happy reading!
The Night Alive.
Conor McPherson's play The Night Alive feels like a study in randomness. The action, such that there is, happens in a nondescript bed-sitting room in Dublin that's piled with assorted junk, fast food rubbish and old clothes. The handful of characters who pass in and out are somewhat likable losers barely scraping a living. Their mindless conversation rambles. While a few incidents occur, the story feels aimless — it's more a subtle character study of quiet desperation than a play with a driving plot line.
That said, these authentically drawn characters, and their gently humorous exchanges, are mildly diverting. Tommy (Paul Vincent O'Connor) is a middle-aged, slovenly sad sack with a big heart. He rents a room in an old house from his Uncle Maurice (Denis Arndt) who appears from time to time to harangue him about something. Tommy picks up odd jobs here and there, assisted by Doc (Dan Donohue) who doesn't really have a place to call home, crashing at his sister's place when she'll have him and at Tommy's when she won't. When Tommy brings a young woman home after he sees her being bashed, Doc is temporarily displaced. Desperately lonely and estranged from his own family, Tommy takes a shine to Aimee (Fiona O'Shaughnessy) but trouble soon follows in the shape of her abusive pimp Kenneth (Peter O'Meara).
You can read the rest of this review here.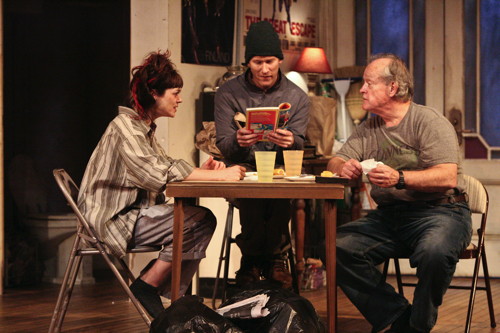 The Night Alive by Conor McPherson.
Geffen Playhouse
10886 Le Conte Ave,
Westwood.
Runs through March 15, 2014.
Box office 310-208-5454 or visit their site.