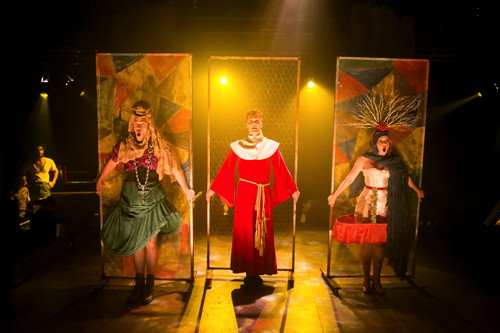 Squabbalogic's reimagining of Dale Wasserman's fusty old musical, Man of La Mancha (music by Mitch Leigh, lyrics by Joe Darion), is breathtaking in its across-the-board creativity and astonishing collaboration of pure talent both on and back stage. From its mild updating of the language, to the highly imaginative staging, to the elegant simplicity of its musical arrangement per Paul Geddes, this gorgeous production feels like a breath of fresh air. Director Jay James-Moody (who also appears in a hilarious cameo role) has distilled the original work, which was first staged on Broadway in 1965, winning numerous Tony awards. Weaving his magic, he's fashioned it into a marathon (for the actors, that is) one-act two-hour show. The musical evening rollicks along as pure fun until it deftly does an abrupt volte-face, punching you in the gut and ambushing you with its dark themes. The second half's mostly serious tone delivers all the more impact because of the amusement that's preceded it, such is the mastery of James-Moody and his cast.
Even with the legendary Tony Sheldon in the lead role of the poet Cervantes, aka 'Don Quixote,' this is very much an ensemble work; virtually every member of the 17-strong cast is given their moment to shine, and there's not a single weak voice in the mix. Additionally, each actor does double duty as an orchestra member, picking up various musical instruments and singing throughout. The sheer level and range of talent on display is astonishing.
Imprisoned for non-specific crimes against the Catholic Monarch regime of Spain, circa late 1400s, the poet Miguel de Cervantes awaits certain torture at the hands of the brutal Spanish Inquisitors. He finds himself in a communal, subterranean jail cell, beleaguered by bloodthirsty criminals. Pleading for his life, and desperate to save his precious manuscript (and skin) from wanton destruction, Cervantes is subjected to a kangaroo court conducted by the hardened inmates. He cannily draws on the only defense he has — his spirited imagination — to regale them all with the tale of his alter-ego, the gallant knight 'Don Quioxte,' enticing his fellow jail birds to adopt various characters as it unfolds.
Tall, svelte and energetic, Sheldon has charisma to burn. He inhabits the meaty central role with aplomb and a dynamism that belies his somewhat advanced age, at least in contrast to his mostly young co-stars. This role marks a welcome return for the internationally renowned performer to the Seymour Center. In 1984 Sheldon gave an indelible tour-de-force performance, starring in the smash-hit Torch Song Trilogy — a role that earned various accolades as well as bringing this critic to her feet for a much deserved standing ovation. I can still recall the show, thirty years on — it was that memorable. Of course, Sheldon has since appeared in numerous stage productions the world over, most notably starring in the stage musical version of Priscilla, Queen of the Desert.
Laurence Coy is brilliant in his dual roles, instilling a genuine menace as the formidable head prisoner, the 'Governor,' and also cracking us up with his perfect comedic timing in the hilarious role of Innkeeper. Joanna Weinberg also shines as an inmate who acts as the terrifying Prosecutor of the mock-court session. She also alternates as The Duke in the story-within-a-story. Marika Aubrey dazzles as Don Quioxte's love interest Aldonza.
One of the show's best numbers is "I'm Only Thinking of Him," sung by a trio who bust out their finest operatic voices and falsetto to excellent comedic effect. The musical number is preceded by the quick (and improbable) appearance of large screen-like props (see photo above) that prompted a witty throw-away ad-lib from Sheldon, "Where have you been hiding these all these years?!"
Another highlight of this production is the seemingly endless procession of stunning costumes created by Brendan Hay (who also appears in various roles). Collaborating with Hay on the elaborate costumes, as well as the exquisitely constructed masks and headdresses, is assistant costumier Pam Schultz. One whimsical and disturbing headpiece — fashioned from a plastic baby doll and radiating countless barbie doll legs — defies description.
The sophisticated storyline takes us on a journey and — startlingly — includes a savage gang rape which, while stylized, is utterly shocking in its violence and brutality. Scenes such as this forge a parallel with the horrific torture that lurks beyond the prison walls.
Bottom line — Squabbalogic's unique and thrilling production of Man of La Mancha is simply not to be missed.  Suggest you book your tickets soon before the run sells out. It surely will.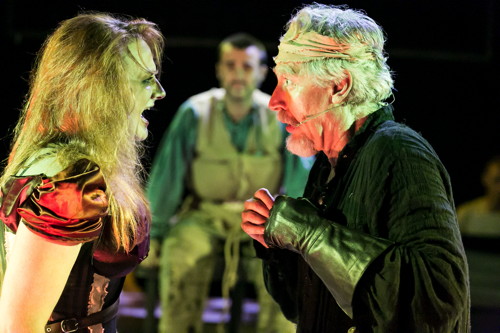 Man of La Mancha
Seymour Center
Tues–Fri, 7.30PM
Sats 2.30PM & 7.30PM
Limited season runs until March 21, 2015.
Check their website for more details & booking info.