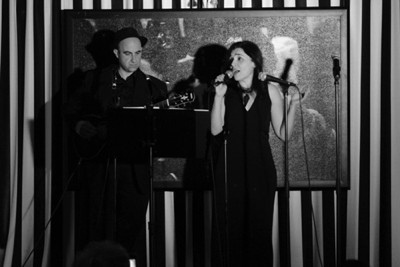 Paris Chansons is a delightful ensemble of singers and musicians who present authentic French and Russian musical entertainment in an intimate lounge setting.
Currently playing around town, I caught a recent show, Paris Je t'aime, in the cosy Riviera 31 lounge of the Sofitel Hotel in Beverly Hills. Their next performance is entitled Moulin Russe and promises an evening of French music with a Russian twist. The show is on Sunday, March 29th at the Catalina Jazz Club in Hollywood.
More information below.
The evening is co-hosted by songwriter and performer Jacob Kantor and singer Jean-Louis Darville — these two guys in smart black suits and matching fedora hats provide some gentle banter and introductions when needed, as well as musical and vocal accompaniment.
The band are all superb musicians, effortlessly switching from jazzy riffs to slow torch songs to uptempo popular songs and folk tunes through the two-part evening. The musicians are: Jeff Lams on piano; Adam Cohen on upright bass; Endre Balogh on violin; Sinclair Lott on drums; and Jacob Kantor on guitar. Endre Balogh really tears it up on the violin, wringing our heartstrings with gypsy-infused strains one minute then dazzling with his dextrous virtuosity the next.
The three main vocalists, Julia Kantor, Jean-Louis Darville and Max Cohen, each take turns in taking center stage, while at other times duets and sweet three-part harmonies combine their voices beautifully. Their relaxed stage presence really puts us at ease.
All the pop songs (circa 1950s and on) are sung in French or Russian, and the emotionality conveyed needs no translation. Some highlights included a funny Serge Gainsbourg song about a metro (train) ticket puncher, Le Poinçonneur des Lilas, where singer Jean-Louis Darville flung two pockets-full of confetti in the air to punctuate the song charmingly. He also delivered a splendid rendition of Jacques Brel's angsty classic Ne me quitte pas.
Julia Kantor stepped onstage in a slinky black dress and elicited a chorus of 'Zai zai zai zai' from the audience during one of the show's many sing-along/clap along moments.
Max Cohen charmed the audience with his debonair presence and powerful vocals, breaking hearts with his dreamy rendition of Pour Toutes Ces Raisons Je T'aime, and other songs.
Paris Chansons is an accomplished ensemble providing a wonderful evening of musical entertainment that celebrates France and French culture.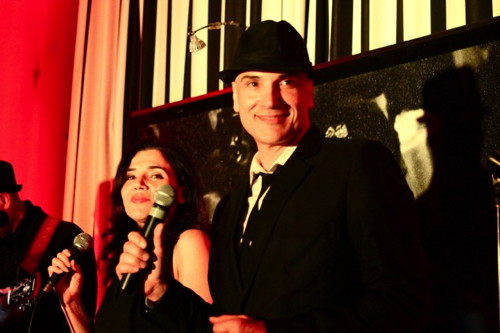 Moulin Russe
Hollywood.
6725 Sunset Boulevard,
Los Angeles, CA 90028
Sunday March 29, 2015
Tickets:
$15.00 in advance, $20.00 at the door.
Two drink or dinner minimum.
Purchase tickets in advance online here.
Get information on upcoming shows here.