Now on view at the Getty Museum, until March 22, is Josef Koudelka: Nationality Doubtful — the first major retrospective in the US of the Czech-born photographer's work that spans close to several decades of his largely nomadic output.
The exhaustive collection was first shown at the Art Institute of Chicago and thereafter will travel to Fundación MAPFRE in Madrid.
A Czech native, Josef Koudelka was born in 1938 in Moravia. The underpinning narrative of Nationality Doubtful is the sense of life's journeys. Even the exhibition's title is derived from an annotation ("N.D.") in Koudelka's travel papers that was inscribed by border control, after he lost his Czech passport. Self-exiled from his native Czechoslovakia, he sought exile in England and eventually gained French citizenship. But that early state of exile led to an identity crisis when crossing borders says Koudelka.
Of particular note is Koudelka's vivid documentation of the 1968 week-long Soviet occupation of Prague and the ensuing public protests, when the city was in the throes of revolution. These photographs of the 1968 Soviet invasion of Prague had a profound impact on world perception of the Cold War.
On the view are some of his vintage prints that document that historical event. Many of the photos were distributed by Magnum photos and sent all around the world. They were uncredited at the time because it was too dangerous for Koudelka. The room containing these photos echoes the chaos of the time. His negatives were smuggled out of Prague by an art historian shortly afterwards. By 1970 he was in exile from his homeland.
During his years in exile, Koudelka travelled throughout Europe and produced his finest work, including dramatic panoramic landscapes of empires in decline, from ancient Greece to the Israel-Palestine border.
Says the show's curator Amanda Maddox, "Most people know of the middle period of his career. But what becomes before and after is so much richer."
After early experiments with photography, Josef Koudelka began his career in the 1960s by working for leading Czech theater companies. He photographed theatrical productions, working quickly and closely alongside the actors onstage as they rehearsed. During this decade he also spent long periods in Roma (Gypsy) encampments in Slovakia and the Czech lands of Moravia and Bohemia (now part of the Czech Republic), creating thousands of pictures. He compiled a selection of these captivating photographs in his seminal publication Gypsies (1975), revised edition 2013. This retrospective presents exhibition and book prints from this series, as well as materials used to create the book.
During the 50s and 60s he worked as an aeronautical engineer. Koudelka became a full-time photographer when traveling through Italy and Slovakia from 1958 to '62. He took thousands of photographs while visiting Roma encampments. His first major exhibition in 1967 of the gypsies became his calling card. 109 essential photographs were published in a book; experiments of form, shape and contrast.
Importantly, these were the first photographs that offered insight into this culture, offering a real engagement with these oft-misunderstood people.
Collected as a comprehensive retrospective, the quality of his work stands out, especially its gritty reality. Koudelka captures the sadness of gypsy life — its resilient emotional strength, force and darkness.
Revered for his enigmatic images of Roma communities and his dramatic documentation of the 1968 invasion of Prague, legendary photographer Josef Koudelka (Czech, naturalized French, b. 1938) has generated some of the most iconic and riveting photographs of the last fifty years. Josef Koudelka: Nationality Doubtful, on view November 11, 2014–March 22, 2015 at the J. Paul Getty Museum, Getty Center, is the first retrospective of his work in the United States that traces the photographer's prolific career over the last five decades.

Drawn largely from Koudelka's personal archive, this exhibition includes rare prints used to create the 1975 publication Gypsies, maquettes that aided the preparation of the books Gypsies (1975) and Wall (2013), and vintage photographs that Koudelka sold for the hard currency he needed to flee Prague and enter exile in 1970. The exhibition originated from the Art Institute of Chicago, and is co-organized with the J. Paul Getty Museum. The exhibition will also travel to Fundación MAPFRE, Madrid in 2015.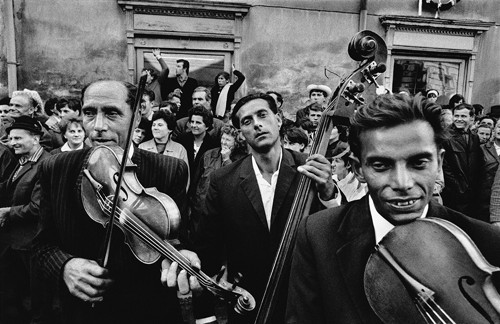 Josef Koudelka: Nationality Doubtful
At the J. Paul Getty Museum, Getty Center
1200 Getty Center Drive,
Los Angeles, California.
Exhibition runs November 11, 2014—March 22, 2015
Related Events.
Performance
Sounds of L.A.: Yuri Yunakov and the Yunakov Ensemble
The hallmark of Bulgarian wedding music is virtuosic technique, dynamic key changes, and
eclectic musical influences. Turkish-Bulgarian Roma saxophonist, Yuri Yunakov, is one of the genre's pioneers, a NEA National Heritage Fellow, and a tireless champion of this music and the extraordinary culture from which it comes. Simply put, Yunakov's concerts are an untethered celebration of what makes life worth living.
Saturday, February 7, 7:30 p.m.
Sunday, February 8, 3:00 p.m.
Getty Center: Harold M. Williams Auditorium
Curator's Gallery Talks
Amanda Maddox, assistant curator of photographs, the J. Paul Getty Museum, leads a gallery
talk on the exhibition. Meet under the stairs in the Museum Entrance Hall.
Tuesday December 16, 2:30 p.m.
Thursday, February 12, 2:30 p.m.
Getty Center: Museum galleries
Related Publication
Publications are available in the Getty Museum Store by calling (310) 440-7333, or online here.
Koudelka: Nationality Doubtful
Matthew S. Witkovsky
Amanda Maddox
Stuart Alexander
Gilles A. Tiberghien
($50, Paperback)
The J. Paul Getty Trust is an international cultural and philanthropic institution devoted to the visual arts that includes the J. Paul Getty Museum, the Getty Research Institute, the Getty Conservation Institute, and the Getty Foundation. The J. Paul Getty Trust and Getty programs serve a varied audience from two locations: the Getty Center in Los Angeles and the Getty Villa in Malibu.
The J. Paul Getty Museum collects in seven distinct areas, including Greek and Roman antiquities, European paintings, drawings, manuscripts, sculpture and decorative arts, and photographs gathered internationally. The Museum's mission is to make the collection meaningful and attractive to a broad audience by presenting and interpreting the works of art through educational programs, special exhibitions, publications, conservation, and research.
Visiting the Getty Center:

The Getty Center is open Tuesday through Friday and Sunday from 10 a.m. to 5:30 p.m., and Saturday from 10 a.m. to 9 p.m. It is closed Monday and most major holidays.

Admission to the Getty Center is always free. Parking is $15 per car, but reduced to $10 after 5 p.m. on Saturdays and for evening events throughout the week. No reservation is required for parking or general admission. Reservations are required for event seating and groups of 15 or more. Please call (310) 440-7300 (English or Spanish) for reservations and information. The TTY line for callers who are deaf or hearing impaired is (310) 440-7305.

Sign up for e-Getty here to receive free monthly highlights of events at the Getty Center and the Getty Villa via e-mail, or visit their official site for a complete calendar of public programs.