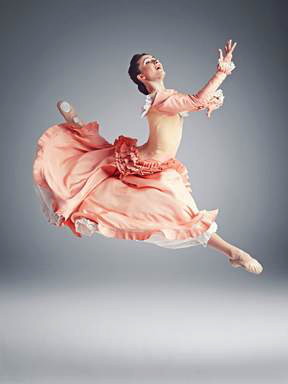 The legendary Martha Graham Dance Company is bringing classic and contemporary modern-dance creations to the Valley Performing Arts Center.
Valley Performing Arts Center at California State University, Northridge, announces its presentation of the celebrated Martha Graham Dance Company, in its sole Los Angeles appearance in the 2014-15 season. The esteemed and historic dance company, founded by Martha Graham in 1926, will appear at VPAC Saturday, April 18, 2015 at 8pm. VPAC is offering additional related events including educational programs and a photography exhibit in the VPAC Gallery, featuring iconic imagery of the Martha Graham Dance Company taken by photographer Barbara Morgan.
VPAC's Graham Company program includes a rare staging of Appalachian Spring (1944) set to Aaron Copland's Pulitzer Prize-winning score. Considered Graham's great enduring masterwork, Appalachian Spring celebrates its 70th birthday this season. The program also features Lamentation Variations, newly choreographed by three celebrated dance makers: Sonya Tayeh, Kyle Abraham and Larry Keigwin. The works by Tayeh and Abraham are West Coast premiers following their debut at the Joyce Theater in New York. Tayeh is best known to television audiences for her choreography for So You Think You Can Dance.
Valley Performing Arts Center Executive Director Thor Steingraber says, "The many activities surrounding the April 18 performance at VPAC will provide a complete 360- degree perspective of the Martha Graham Company, both historically and in its present-day form under Janet Eilber's vital and visionary leadership. The photo exhibit combined with various educational programs and pre-show activities offer Los Angeles dance fans an opportunity to reacquaint themselves with one of America's great cultural icons. And remembering that Graham's formative years were spent here in Southern California adds a greater degree of interest and relevance."
Says Martha Graham Company Artistic Director Janet Eilber, "Many people don't realize that the Graham Company is championing new work — by some of the top choreographers in the world today. We're excited to bringing a program to VPAC that includes stunning contemporary dances — that are only a few months old — alongside two genuine masterpieces of the 20th Century."
Graham repertoire to be performed at VPAC:
Appalachian Spring (1944), a landmark, stirring work about community is infused with the pioneering spirit of the American frontier. Undisputedly the choreographer's most beloved signature piece, Appalachian Spring translates into colorful dance language its Aaron Copland score, which was commissioned by Graham. The dance premiered seventy years ago, on October 30, 1944, with Graham herself performing the lead role.
Errand into the Maze (1947), the second of the program's two historic works, is a dance-duet belonging to the choreographer's canon of works steeped in Greek mythology. Set to a score by Gian Carlo Menotti, the dance derives from the myth of Theseus, who journeys into the labyrinth to confront the Minotaur, a creature half man, half beast. Substituting a heroine for the hero of Greek mythology in her dance, Martha Graham created a strong female protagonist.
Lamentation Variations (2007), an ongoing choreography project to infuse contemporary flair and maintain the Graham Company as a vital creative engine for dance, features dance sketches by leading contemporary choreographers inspired by Martha Graham's iconic solo, Lamentation (1930). Ten dance makers have thus far honored Graham by participating in the "Variations" project along the following constraints: 10 hours of rehearsal, public domain music or silence, basic costumes and lighting design. The latest, Sonya Tayeh, has worked with Madonna, Florence and the Machine, Kylie Minogue, and Miley Cyrus.
Echo (2014), a new work to music by Julian Tarride by contemporary Greek choreographer, Andonis Foniadakis, inspired by the Greek myth of Narcissus and Echo, completes the program. In the work, Foniadakis portrays Narcissus and his reflection, Echo and her multiple voices, the impossibility love and the vanity of beauty. Foniadakis has created works for Cedar Lake Contemporary Ballet, Geneva Ballet, Lyon Opera Ballet, and L.A. Dance Project, among others.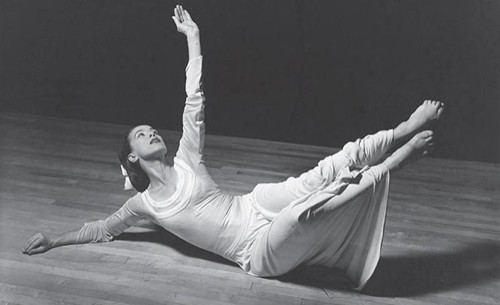 Martha Graham Dance Company
Saturday, April 18, 2015 at 8pm.
California State University Northridge's Valley Performing Arts Center
18111 Nordhoff St,
Northridge, CA 91330
Tickets range from $40 – $65 and can be purchased here.
Photo exhibition: "Past-Future-Perfect: The 20th Century Influences of Martha Graham and Barbara Morgan":
Valley Performing Arts Center's special celebration of the 70th anniversary of Martha Graham Dance Company's American classic Appalachian Spring includes a rare exhibit of vintage black-and-white photographs by Graham's collaborator and friend Barbara Morgan. A 20th century innovator and revolutionary dance photographer, Morgan captured the illusive quality of dance. The exhibition conceived and curated by Bonnie Oda Homsey, a former Graham dancer and founder of the Los Angeles Dance Foundation, visually conveys the formidable spheres of artistic innovation by Martha Graham and Barbara Morgan.
Past-Future-Perfect marks only the second time LADF's Morgan collection has been seen in California. The Company's Los Angeles performance on April 18th holds particular significance for VPAC's Executive Director Thor Steingraber who is bringing the first art exhibit linked to a live performance at the venue, and for Graham Company Artistic Director Janet Eilber who is delighted to share a program at the center that includes new commissioned works with Graham legacy classics like Appalachian Spring.
This photography homage to the Martha Graham Company will be on view in the VPAC Art Gallery Loge until May 15, 2015. Prominent dance history is captured: Martha Graham in Lamentation (1930) and in Frontier (1935), the latter signaling Graham's long collaborative relationship with critically acclaimed Japanese American sculptor Isamu Noguchi. Bonnie Oda Homsey's relationship with the Morgan family resulted in the gift of Barbara Morgan signed photographs to Los Angeles Dance Foundation in 2003, in support of the foundation's mission to promote greater appreciation of America's iconic dance legacies.
Barbara Morgan (1900 – 1992) was already an accomplished artist working in drawing, watercolor and print making when she entered photography in the early '30s. In 1935, Morgan attended a performance by Martha Graham Dance Company that launched their life-long collaboration. A most famous Morgan photo captures Graham in Letters to the World. In 1941, Morgan produced the book, Martha Graham: Sixteen Dances in Photographs.
Bonnie Oda Homsey serves as Chair of Dance and member of the Arts Advisory Board for The Princess Grace Foundation U.S.A. Formerly a principal dancer with the Martha Graham Company under the direction of Graham, she also danced with Metropolitan Opera Ballet, Ethel Winter Dance Company and Hawaii Opera Guild. She founded and is Director of Los Angeles Dance Foundation and co-founded American Repertory Dance Company (ARDC), its award winning performance entity. For ten years, Oda Homsey led the company to produce 40+ reconstructions presented in thematic concerts that informed ARDC's arts education and outreach programming.
Master Class, MGDC Auditions:
Lead dancers of the Martha Graham Dance Company will conduct a master class in the Martha Graham technique April 17, 2015 in the VPAC Rehearsal Room. The class will be open to a limited number of local college and high school students. As part of the MGDC engagement, the company has selected VPAC as a site for national auditions for future engagement into the company's School Programs and Graham 2. This audition workshop will follow the Master Class and will be led by Principal Graham Dancer Tadej Brdnik.
Pre performance talk: Classroom in the Courtyard:
Audience members can enjoy a free dance discussion in Kurland Hall located in the VPAC courtyard. Arts writer Debra Levine will present "Our" Martha Graham: The choreographer's influential early development in Southern California." Levine, a former dancer, began her own dance training in the Graham technique. Levine's dance criticism and feature writing have appeared in the Los Angeles Times, The Huffington Post and Dance Magazine.
Classroom in the Courtyard pre-performance lecture series featuring CSUN faculty experts and guest speakers aims at enhancing the understanding and enjoyment of the VPAC performances. The talk takes place from 6:45pm–7:30pm.
About The Martha Graham Dance Company:
The Martha Graham Dance Company has been a leader in the development of contemporary dance since its founding in 1926. Informed by the expansive vision of its pioneering founder, the Company has expanded contemporary dance's vocabulary with masterpieces such as Appalachian Spring, Lamentation and Chronicle, rooted in social, political, psychological, and sexual contexts.
Always a fertile ground for experimentation, the Martha Graham Dance Company has been an unparalleled resource in nurturing many of the leading choreographers and dancers of the 20th and 21st centuries. Graham's groundbreaking technique and unmistakable style have earned the Company acclaim from audiences in more than 50 countries throughout North and South America, Europe, Africa, Asia, and the Middle East.
About Martha Graham (1894 –1991):
Martha Graham's creativity crossed artistic boundaries and embraced every artistic genre. She collaborated with and commissioned work from the leading visual artists, musicians, and designers of her day, including sculptor Isamu Noguchi and fashion designers Halston, Donna Karan, and Calvin Klein, as well as composers Aaron Copland, Samuel Barber, William Schuman, Norman Dello Joio and Gian Carlo Menotti.
Influencing generations of choreographers and dancers including Merce Cunningham, Paul Taylor and Twyla Tharp, Graham forever altered the scope of dance. Classical ballet dancers Margot Fonteyn, Rudolf Nureyev and Mikhail Baryshnikov sought her out to broaden their artistry, and artists of all genres were eager to study and work with Graham—she taught actors including Bette Davis, Kirk Douglas, Madonna, Liza Minelli, Gregory Peck, Tony Randall, Eli Wallach, Anne Jackson and Joanne Woodward to utilize their bodies as expressive instruments.
Graham's groundbreaking style grew from her experimentation with the elemental movements of contraction and release. By focusing on the basic activities of the human form, she enlivened the body with raw, electric emotion. The sharp, angular, and direct movements of her technique were a dramatic departure from the predominant style of the time.
Consistently infused with social, political, psychological, and sexual themes, Graham's choreography is timeless, connecting with audiences past and present. Works such as Revolt (1927), Immigrant: Steerage, Strike (1928) and Chronicle (1936)—personify Graham's commitment to addressing challenging contemporary issues and distinguish her as a conscientious and politically powerful artist.
Martha Graham remained a strong advocate of the individual throughout her career, creating works such as Deaths and Entrances (1943), Appalachian Spring (1944), Dark Meadow (1946) and Errand into the Maze (1947) to explore human and societal complexities. During her long and illustrious career, Graham created 181 masterpiece dance compositions, which continue to challenge and inspire generations. "I have spent all my life with dance and being a dancer," she said. "It's permitting life to use you in a very intense way. Sometimes it is not pleasant. Sometimes it is fearful. But nevertheless it is inevitable."
About Valley Performing Arts Center:
The 1,700-seat LEED Gold certified Valley Performing Arts Center has established California State University, Northridge, as a hub for culture and live performing arts in the region. It was recently ranked number three on the Best College Ranking's list of "The 25 Most Amazing College Campus Theaters" in the U.S. and was voted one of the top ten performing arts centers and theaters in Los Angeles by Time Out Los Angeles.