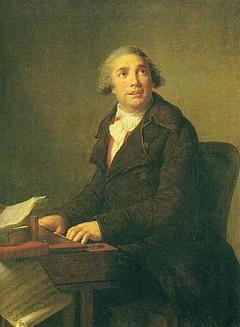 In my recent review of LA Opera's The Marriage of Figaro, I lamented that the company had missed an opportunity by not doing Giovanni Paisiello's adaptation of The Barber of Seville as part of the series of programs devoted to Pierre Beaumarchais' three Figaro plays.
I stand corrected!
They are doing precisely that!
On April 10th and 11th at Caroline's Loft at LACHSA on the campus of Cal State LA, LA Opera Music Director James Conlon will conduct singers from the company's Domingo-Colburn-Stein Young Artist Program and musicians from the USC Thornton School of Music Orchestra in Paisiello's Il barbiere di Siviglia, ovvero La precauzione inutile.
Paisiello was a successful and highly prolific composer who, in his life and career (1740-1816), composed nearly a hundred operas, among other works. These are perhaps more notable for their elegance rather than their profundity, but they were popular in their day and his music is frequently quite beautiful. In 1782 he composed his version of The Barber of Seville. It was extremely popular in its day and fans of the earlier work protested when Rossini adapted the same play 34 years later.
In time, Rossini's version all but completely eclipsed Paisiello's… Now, LA Opera's Figaro Unbound program gives us a rare opportunity to listen to and compare the two works for ourselves.  The plot and characters are the same between the two operas; Paisiello's work perhaps slightly more restrained than Rossini's, emphasizing the love story more than the comedy in the more familiar work.
Paisiello's Il barbiere di Siviglia, ovvero La precauzione inutile.
April 10 and 11, 2015
Caroline's Loft at LACHSA
On the campus of Cal State LA
Tickets are FREE for this semi-staged concert, but reservations are required.
A pre-performance talk by Maestro Conlon will begin at 6:30pm on both evenings.
Further information is available here.
Don't miss this opportunity to experience an operatic rarity and another depiction of Pierre Beaumarchais' immortal character. Viva Figaro!
Report by Jeffrey Roberts.