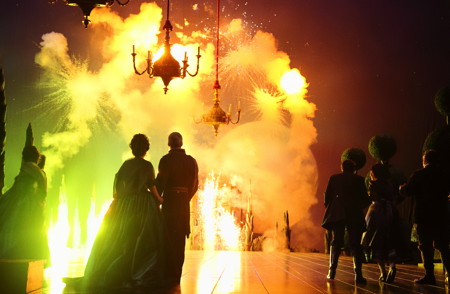 LA Opera's Figaro Trilogy came to a triumphant conclusion Saturday night with the opening of Mozart's The Marriage of Figaro. The trilogy began earlier this season with Corigliano's 'grand opera buffa' Ghosts of Versailles and continued with Rossini's comedy The Barber of Seville, which comes first chronologically in these musical adaptations of French playwright Pierre Beaumarchais' classic plays.
The Marriage of Figaro resumes the story three years on. The Count has married Rosina but is already bored with her. Figaro, the former Barber and now the Count's valet, is to marry Susanna, but the Count insistently tries to force himself on Figaro's intended bride. In the meantime, Figaro also faces a legal complication – he has borrowed money from Marcellina (Berta in Barber) against a promise to marry her. Now she intends to enforce that contract with the help of Doctor Bartolo, still stinging from Figaro's intervention in his affair in Barber and out for revenge. The Countess Rosina, bored and lonely after losing the attention of her husband, is pursued by the amorous young page Cherubino, who has discovered his passion for women in general and the Countess in particular, earning the Count's wrath. The whole opera plays out over the course of a very long day, ending with the couples properly paired up and the Count severely chastened and once more resuming his attentions on his wife.
The opera is performed in two long acts, with an intermission between the original Acts 2 and 3. This production is a remount, once again using sets by Tim Goodchild and costumes by Deirdre Clancy, and its original concept updates the action from 18th century Seville to the 1930s. The sets are large and towering, employing simple architectural elements in mostly bright colors with a few small pieces of furniture, all offset by some large, suspended chandeliers. For the opera's finals scenes, the setting moves outdoors to a garden of stylized trees and shrubs with a villa and oversized full moon visible in the background. The brilliant opera concludes with a stunning indoor pyrotechnic spectacle.
Ian Judge's direction is exemplary; the exceptional cast and chorus playing brilliantly off each other both vocally and in their dramatic interpretations.
Italian bass baritone Roberto Tagliavini made an impressive debut as Figaro, with a handsome stage presence and an attractive voice allied to fine comic timing. He was well matched by soprano Pretty Yende, a charming and also commanding Susanna. Soprano Guanqun Yu, whose performance as Countess Rosina was one of the high points of Ghosts of Versailles, returned in the same part in Figaro and was even more impressive. Her soprano is rich and carries beautifully into the auditorium; she looks every inch the lovelorn noblewoman and her two arias, "Porgi Amor" and "Dove Sono" were highlights of the evening's performance. The rest of the cast offered excellent support including Ryan McKinny as a gruff, threatening Almaviva and Renée Rapier – a hilarious mix of sighs and leers – as the love-struck Cherubino. Kristinn Sigmundsson – Don Basilio in The Barber of Seville –here played Doctor Bartolo and once again demonstrated fine comic timing matched with a booming voice. Lucy Schaufer, a cut-up as the maid in Barberwas back as Marcellina in Marriage and was comedically dazzling and endearing, particularly in the scene where she discovers her true relationship to Figaro. Tenors Robert Brubaker, as the conniving Don Basilio, and Joel Sorenson, as the stammering notary Don Curzio, lent fine comic support. Soprano So Young Park was a playful Barbarina, who sang her little last act arioso beautifully. Regrettably, neither Marcellina nor Basilio were given the opportunity to sing their last act arias as they had been cut from this production.
James Conlon and the orchestra were at their finest, providing deft, virtuoso playing. Special praise goes to Bryndon Hassman for his lively harpsichord continuo, which gracefully accompanied the recitatives.
Beginning with Corigliano's opera, I have enjoyed this LA Opera Figaro Trilogy and its additional related performances. The company is to be commended for this kind of creative cross-cultural programming. In my heart of hearts I might have wished for performances, perhaps in conjunction with another local arts company, of Giovanni Paisiello's once popular adaptation of The Barber of Seville, which fell into relative obscurity after Rossini's version appeared. Or perhaps Darius Mihaud's 1966 operatic version of third Figaro play La mère coupable might have been added to round out this celebration of Pierre Beaumarchais' Figaro, but you cannot have everything…
Bravo on a creative programming concert. Bravissimi for the execution of that fine concept.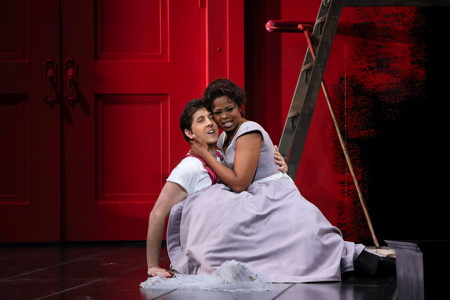 Five performances of The Marriage of Figaro remain, running at Dorothy Chandler Pavilion until April 12th. More information, including performance dates and ticketing, can be found on the LA Opera's official site.
Review by Jeffrey Roberts.