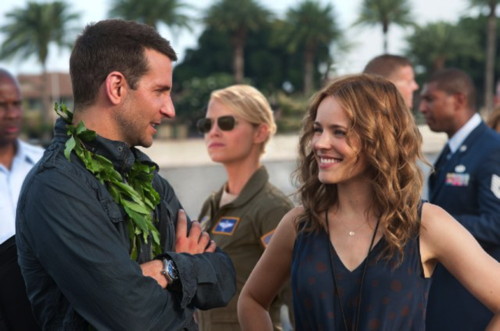 Sometimes the setting of a movie just screams "location holiday!" (Think Ridley Scott and Russell Crowe's junket for A Good Year.) So you can be forgiven for a healthy level of cynicism over Cameron Crowe's latest romantic 'comedy' drama Aloha, set – rather obviously – in the military zone of Hawaii.
Crowe's white-bread cast is overflowing with sometime-comedians such as Bill Murray, Alec Baldwin, John Krasinski, Danny McBride, Emma Stone, Bradley Cooper (the narrator) and Rachel McAdams. Yet there's not a laugh to be had.
Cooper plays a former NASA specialist turned military man who, post war, sold his soul to a major corporation, led by billionaire Carson Welch (Murray). Welch has struck a deal with the US Military to set up a site on Oahu as well as launch a satellite from Hawaii. Welch needs former local dude Brian (Cooper) to smooth things over with the natives. It's a shabby version of Bill Forsyth's 1983 classic Local Hero, minus the 'outsider' element and all of the charm.
Most egregious is the casting of Stone as Air Force fighter pilot Allison Ng, who frequently boasts she's "one quarter Hawaiian" thanks to her half Chinese, half Hawaiian father. Seriously?! Could she at least have skipped the orange hair dye for this ethnic role? Considering the Hawaiian population is about 60% Asian American Pacific Islanders, it's insulting. Sure, we hear their songs, see their dance and observe them in menial roles, but that's about it. One saving grace is a palpable sense of 'mana' or sacred force that is well conveyed.
You can read the rest of this slam review here on the Filmink magazine site.
Aloha is currently screening in selected cinemas in Los Angeles.