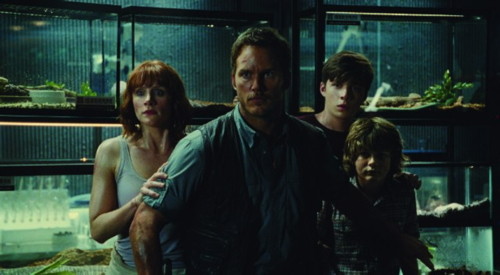 Visually dazzling and heart-stoppingly fun, Jurassic World delivers all the terror and excitement you could ask from an action adventure. Laughter mingles with screams of delight throughout this tautly directed, giddily over-the-top monster movie.
With over two decades (and two sequels) since the blockbuster summer hit of Jurassic Park (1993), the lucrative fantasy franchise resumes with this latest thrilling installment. Although it clings to its tried and tested formula, Jurassic World is a family-friendly film that is sensational fun from beginning to end.
Story-wise, Jurassic World is a virtual carbon copy of the first movie, albeit slightly altered and enlarged. Once again we have the park setting, the important assets (the visiting children), the greedy corporate villains and, of course, the terrifying and predatory dinosaurs — now bigger and more vicious than before. The computer generated dinosaurs are a masterfully rendered, providing as much convincing photo-realism as possible. Our favorites, such as the Velociraptors and T-Rex are here, as well as some mind-bogglingly monstrous new ones.
Bryce Dallas Howard plays Claire, a chilly ice queen workaholic who manages operations at the original film's remote Isla Nublar — now a fully functioning dinosaur theme park, Jurassic World. In order to boost visitor attendance, the scientific team have created a colossal and genetically-modified hybrid dinosaur, dubbed Indominus Rex. Claire's likable nephews, Gray and Zach, come to experience the park just as all hell breaks loose.
The movie boasts some stellar casting, including Howard as one of the leading players, opposite Chris Pratt, fresh off the success of last summer's sleeper hit movie Guardians of the Galaxy. The matching of a strong female character with a competent action man is handled beautifully. In the supporting cast BD Wong, Irrfan Khan and Vincent D'Onofrio are the most familiar faces, while the lesser known actors — especially Ty Simpkins and Nick Robinson as Claire's nephews — are perfect.
While Steven Spielberg directed the first two Jurassic Park movies, for this one he's the executive producer, carefully overseeing Colin Trevorrow at the helm. There are a few comedic jokes that are very much a part of Spielberg's style, and the violence is kept to a minimum. The tone of the movie throughout perfectly balances humor and excitement.
So far, the aggregating site Rotten Tomatoes has given Jurassic World a 71% rating.
 Jurassic World is expected to exceed box office records this summer. Check out these predictions of other major movie releases here.
Jurassic World is now playing is cinemas throughout Los Angeles.