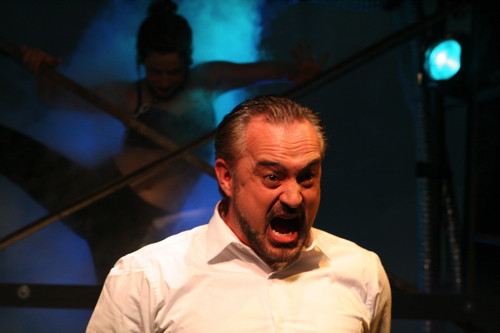 Hello lovely readers and #LAThtr aficionadi,
Here follows my most recent Fringe review (this year) for the critical website Stage Raw — which contains current arts and theater coverage from our intrepid team of journalists & critics.
Happy reading!
The Mermaid Wars.
In Adam Hahn's new play The Mermaid Wars, making its world premier at this year's Hollywood Fringe Festival, the world is in crisis. Mermaids have risen from the sea and plunged humankind into a seemingly interminable war. As the scientists and military spend decades searching for an effective defense to their mysterious powers, each U.S. President slowly goes insane.
Regrettably, SkyPilot's production squanders a decent premise and the commitment of a large cast with a muddled storyline, weak and unfunny dialogue and poor direction. Nicholas Leland has evidently instructed his cast to play their roles 'big' aiming for broad humor, but what we get is a spectrum of hammy overacting. Nevertheless, Anthony Backman is good as the increasingly unhinged Vice President and Kerr Lordygan is amusing as an ornately gesticulating and poetic scientist.
You can read the rest of this review here.
The Mermaid Wars by Adam Hahn.
Now playing at the Hollywood Fringe Festival 2015.
Information on dates, times and tickets here.