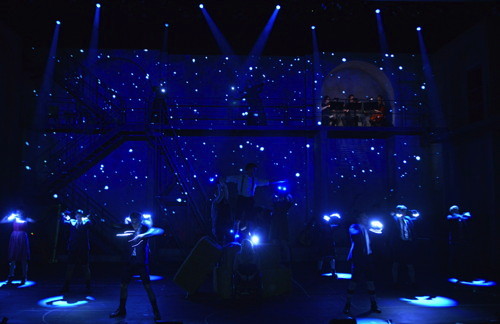 Adolescent angst and sexual exploration — with music by Duncan Sheik, and book and lyrics by Steven Sater, Spring Awakening is a feisty rock musical adaptation of a controversial German play. Written in 1892 by Frank Wedekind, the story is set during late-19th century Germany, and focuses on a group of teenagers who are experiencing the inner and outer chaos of their burgeoning sexuality, and the confusion and complications that ensue.
This musical version of Spring Awakening received eleven 2007 Tony Award nominations, winning eight, including the Tony for best musical, direction, book, score and featured actor. Although the cultural landscape has evolved since Wedekind wrote his play, the enduring themes are still as timely and topical as ever.
Though highly acclaimed, the musical itself suffers from various insurmountable issues.
Oddly, both the musical and the original play are set in this vaguely early 20th century era, and so that causes an uncomfortable frisson between the subject matter and the contemporary rock music soundtrack. Still, it's refreshing to see a young woman shredding on the electric guitar.
The cast is young and energetic and all have fine, strong voices. The musicianship is high, too, as delivered by the various live musicians who roam all over the stage, across the balconies and even hang out in the stalls. The staging by director Michael Arden, choreographer Spencer Liff, and musical director Jared Stein is pleasing, making good use of the space at the Wallis.
Additionally, as this is a co-production between Wallis Annenberg Center for the Performing Arts ("The Wallis"), Deaf West Theatre and Cody Lassen, the show is performed simultaneously in American Sign Language and spoken English by the cast of 27. Adding a further dimension of emotion to the story, the signing element illustrates the disconnect often experienced between teenagers and their parents, as well as the gulf that often lies between deaf children and their hearing parents.
Yet overall Sater's lyrics lack the emotional heft necessary for a story that tackles weighty topics such as first love, abuse, rape, incest and abortion. Some of Sheik's songs are pretty ballads, but far too many feel like re-treads of rock songs by bands such as Green Day.
The show is largely enjoyable, and there's a lot to admire about this complex staging of Spring Awakening, but I just felt emotionally unengaged when I should have been gripped by the drama.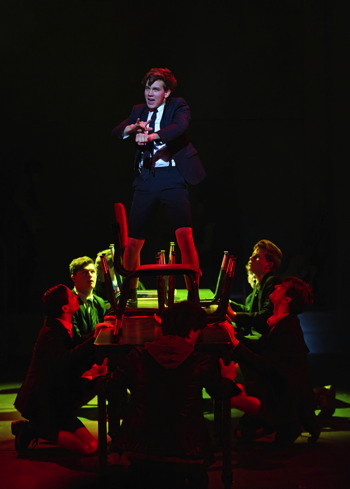 Spring Awakening
Bram Goldsmith Theater
Wallis Annenberg Center for the Performing Arts
9390 N. Santa Monica Blvd,
Beverly Hills, CA 90210
Performances:
Tues through Fri Eves at 8 pm; Sat at 3 pm and 8 pm; Sun at 2 pm and 7 pm
Runs through Sunday, June 14, 2015.
Open-Captioned Performances:   
Saturday, June 6 at 3 pm
Seating:   Special seating will be available for patrons who are deaf or hard of hearing.
Tickets:
Prices — $29—$99.00
Box Office:
The Wallis Ticket Services
9390 N. Santa Monica Blvd, Beverly Hills, CA 90210
By Phone – 310-746-4000