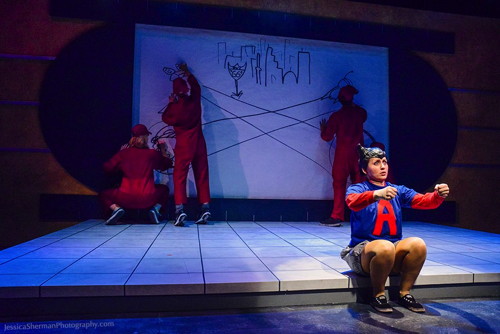 ::STOP PRESS::

Extended through Aug 8th
Natsu Onoda Power's delightful play, Astro Boy and the God of Comics, is making its West Coast debut at Sacred Fools in Hollywood. Producer Brian W. Wallis and director Jaime Robledo have gone to great lengths to stage this charming multimedia performance-art piece in the most creative and inventive way possible, enlisting a stellar cast and superbly talented artists to bring this work to life.
Power's one-act, episodic play unfolds in reverse, which creates a mounting poignancy to the tale. It begins with an adventure starring the heroic Japanese boy robot Astro Boy, expressively played by Heather Schmidt with the perfect balance of simple robotic gestures and physicality paired with wide-eyed and adorable appeal.
The story then delves into the creation of this beloved character which originated in Japanese comic books — aka manga. With echoes of the tale of Pinocchio and Gepetto catapulted into a sci-fi realm, Astro Boy went on to be a popular TV series for kids that was shown all over the world. As the play progresses, the story begins to focus on the life of Astro Boy's creator — the man that many consider to be the Japanese equivalent of Walt Disney; manga master and anime pioneer Osamu Tezuka (played beautifully by West Liang).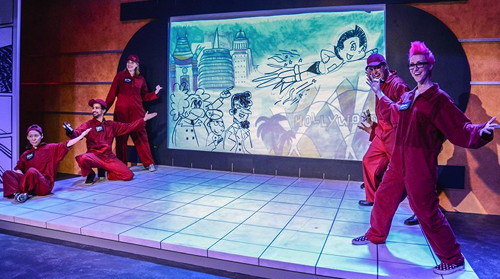 Various visual techniques are employed throughout, such as projected animation sequences, interactive video, projected slides, film, and even live drawing and live sound effects executed brilliantly by a team of six 'animators.' There's even puppetry! At one stage a toy doll on a rod is held aloft as Astro Boy flies through an animated cityscape and into space. All these elements cleverly complement the story and performances. Ryan Johnson's original music and Robledo's spot-on sound design adds another layer of expertise.
Funny at times, and heartfelt by the sweet story's end, Astro Boy and the God of Comics is a "retro-sci-fi visual extravaganza examines post-WWII fascination with technology and destruction, and the relationship between creation and creator."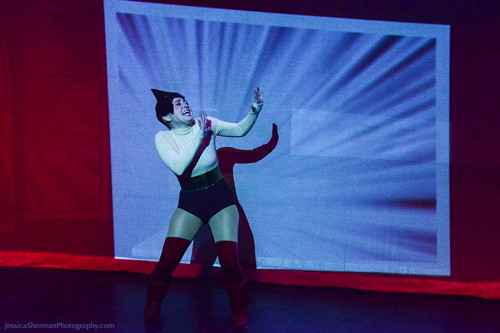 Astro Boy and the God of Comics
by Natsu Onoda Power
directed by Jaime Robledo
Sacred Fools Theatre
660 N Heliotrope Dr,
Los Angeles, CA 90004
Performances:
June 20—Aug 8, 2015
Fridays & Saturdays @ 8pm
Sundays @ 7pm
Tickets:
$25.00
Box Office:
(310) 281-8337
Purchase tickets online here.
SPECIAL EVENTS:
Special Sunday Anime Nights!
Come see ASTRO BOY and then stay for our post-show round table / meet & greets with English voice actors from your favorite anime.
Friday, July 10th: Dr. Sketchy's Anti-Art School.
Dr. Sketchy's is the world's premier alternative drawing movement. Every month, over 3,500 artists gather in over a hundred cities to sketch glamorous, subcultural models in an atmosphere of artistic mayhem. But you don't need to be a professional to join in. Lots of people who have never drawn before attend Dr. Sketchy's. It's a fun, non-judgmental environment to try your hand at drawing.
Special tickets must be purchased for this event – $25.00 tickets purchased via the Dr. Sketchy site includes Astro Boy at 8pm and the Dr. Sketchy event at 10pm; $12 for Dr. Sketchy only. 21 and over only. (Tickets purchased for July 10th via our site do not include the 10pm Dr. Sketchy event.)
July 12th: Carrie Keranen, Wendee Lee & Michael Sorich
July 19th: The cast of "Kill la Kill"
Friday, July 17:  Cosplay Night
Come to the show dressed as your favorite anime or comics character and get $5 off when you buy your ticket in advance using the code FANFRIDAYS!
Purchase tickets online here.
Please note that ASTRO BOY explores themes of war, illness and death, and may not be suitable for children under 10.