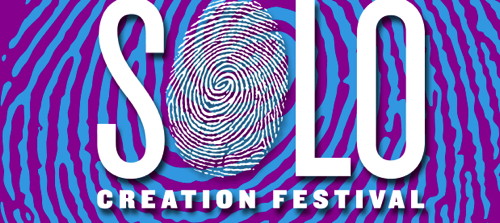 Award-winning theatre company Son of Semele Ensemble (SoSE) is currently presenting their 2nd annual Solo Creation Festival at the Son of Semele Theater in Silver Lake, July 2–19, 2015.
This curated festival provides an opportunity for bold, diverse solo artists to present works of all kinds — including monologue and movement- or design-focused pieces — and offers Los Angeles theatergoers a chance to discover for themselves the creative potential of solo performance. This year's festival features nine solo works in three distinct programs.
The Solo Creation Festival continues this weekend:
Program 2, July 9-12
Alex Wells | Suzan Averitt | Donnie F. Wilson
 A Really Short History of the Second World War
Multi-Media Performance Art
World War Two grows larger and more unwieldy in the collective memory. Performer Alex Wells approaches this monumental conflict of the 20th Century as personal history, myth and irreverent theatrical interrogation.
Written and Performed by Alex Wells
Objectify   
Abstract / Expressionism / Multi-Media
A woman is never alone when she has her memories…even if they threaten to fatally disturb what little reality she has left. A humorously dark tour through the decorative loop of associations and the palpable void exposed when all has been said and nothing done.
Written and Performed by Suzan Averitt
Directed by Jeff G Peters
Show Design by Suzan Averitt and Jeff G Peters

Inside My Kaleidoscope
Storytelling
Christopher, an aspiring artist trying to establish himself in Hollywood, is forced to relocate to South Beach, where his life begins to unravel.
Performed by Larry Grant Malvern
Written by Donnie F. Wilson
Directed by Nicole J. Butler
Program 3, July 16-19
Lisa Dring | Betsy Moore | Brian Sonia-Wallace
  Death Play 
Dramatic Storytelling / Physical / Puppetry
Death Play is an exploration of the echoes people leave behind. What do we take from the dead and what do we forget? What have we kept of them that we don't know about? How do we weave death into our lives?
Written and Performed by Lisa Dring
Directed by Jessica Hanna
Design Consultant Kirk Wilson
Freebird Goes to Mars

Playful Physical Theatre
Betty, a recovered alcoholic Everymom…on a mission to Mars. Put down that Walmart apron and join us on the RED PLANET.
Performed by Betsy Moore
Created by Betsy Moore and Alex Suha
Directed by Alex Suha
 

Difference Maker: White Man, Trying to Help
Clowning / Interactive

Brian Sonia-Wallace is here to change the world and he's not going to let being a middle class white guy with no problems stop him! Prepare to dig deep into your souls and your pockets to find out if you have what it takes to be… a DIFFERENCE MAKER.
Written and Performed by Brian Sonia-Wallace
Directed by Ember Knight
Son of Semele Ensemble (SoSE)
Son of Semele Theater
3301 Beverly Boulevard (at Hoover),
Los Angeles (Silver Lake)
July 2–19, 2015
Thursdays, Fridays and Saturdays @ 8pm,
Sundays @ 5pm
Tickets: $15.00