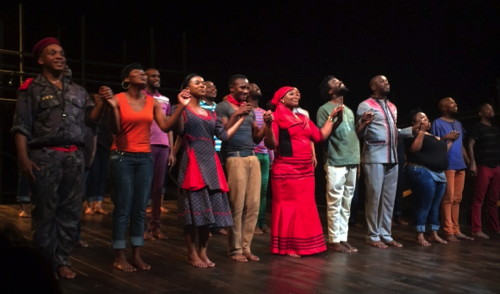 Hello dear #LAThtr fans!
Pauline Adamek from ArtsBeatLA.com presents Exit Reviews, a series of 'vlogs' or video reviews.
Here's the newest Exit Review for the play uCarmen, which opened last night, October 2, 2015 and runs until Saturday, October 10, 2015 at The Broad Stage in Santa Monica.
INFO:
uCarmen
Isango Ensemble, in association with South African Tourism
The Eli & Edythe Broad Stage
1310 11th Street
Santa Monica CA 90401
Performances:
Saturday, October 3, 2015 /  7:30PM
Sunday, October 4, 2015 / 2:00PM
Wednesday, October 7, 2015 / 7:30PM
Friday, October 9, 2015 / 7:30PM
Saturday, October 10, 2015 / 2:00PM & 7:30PM
Tickets:        Prices $50-$100.00
More information at The Broad Stage or call the Box Office at 310.434.3200.
Video info:

Video produced, filmed, edited and hosted by Pauline Adamek.

An ArtsBeatLA production.