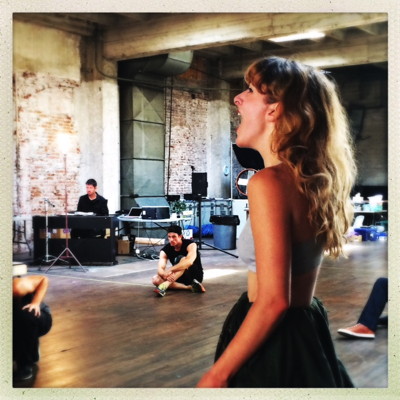 "We're bringing Broadway back to Broadway!" So claims Jack W. Batman, co-producer, along with Bruce Robert Harris, of Carrie The Musical, which opens at the historic Los Angeles Theatre on October 8. Previews are happening this week.
Based on the well-known horror novel by Stephen King, the supernatural musical has been put together by the cast and creative team, with Brady Schwind at the helm as director, in a way that virtually every aspect of the show is immersive in one way or another.
For starters, they have transformed the vast auditorium of the long-disused Los Angeles Theatre. Some seats have been ripped out to create a more intimate theater in the round that seats around 500. When you enter the theater space, you will pass under a false proscenium archway that indicates you are entering the school grounds of Ewing High School in the small town of Chamberlain, Maine.
The seating is raked on three sides of the apron stage, yet the top-dollar seats of the house are on stage level. Several rows of bleachers have been mounted onto four separate, moveable trucks. The audience members in those prime seats will occasionally find themselves trucked forward (and back again) by the actors, to be placed even closer to the action. (Those seats go for $120, FYI.)
Directed by Schwind, this production is based on the acclaimed run this past spring at the La Mirada Theatre for the Performing Arts, and makes it L.A. debut with most of the original La Mirada cast.
The story traces the trials and tribulations of 17-year-old Carrie White — a misfit teenager tormented by classmates at her high school and abused by her bible-thumping mother at home. When Carrie becomes the victim of a cruel prank, her psychic abilities are unleashed with devastating effects.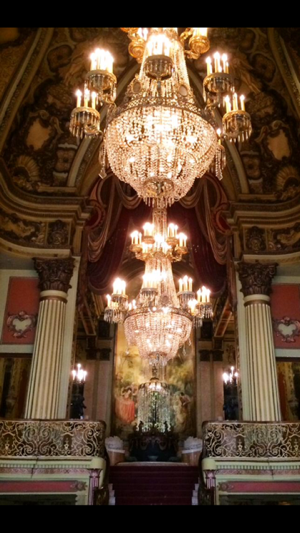 Co-producer Bruce Robert Harris corrects me, "Carrie — the killer Musical! We have built a theater inside a theater. It's a school, and when you enter, you'll be sitting in the burnt out gymnasium, as the show opens up." And then the flashback unfolds from there.
"You'll enter the theater either as a junior, a senior or a freshman or sophomore."
So when the audience enters by class, they already feel as if they have stepped back in time to their school days. Adds Harris, "They already feel that visceral experience as to what school is for them. Then, when they sit down and realize where they are, they start to wonder — what happened in this High School? Then it all comes to life."
So, they producers are striving to deliver an experience that is immersive, atmospheric and environmental.
"This is from Stephen King's book, and apart from other productions, Brady Schwind has worked tirelessly for two years. We have 35-40% new material. And the stage is layered so that we have different levels that they play on."
Also, each one of the characters in this show represents the types from high school: the jocks, the cheerleaders, the nerds etc, permitting the audience members to have someone to identify with. "This show is so cleverly devised that each actor has their own journey."
Explains Jack W. Batman, co-producer, "Now we've expanded the production to 499 seats. Most people dress up for performances and we have 11PM shows scheduled for the late night crowd. At La Mirada we had all ages — even the bridge party ladies because they're all Stephen King fans." Batman hastens to add, "And this is not a campy show — you're back in High School. It's a thriller, but it's also a Cinderella story."
The musical's book is by Lawrence D. Cohen (screenwriter of the classic film, directed by Brian dePalma); music is by Academy Award winner Michael Gore (Fame, Terms of Endearment); and lyrics are by Academy Award winner Dean Pitchford (Fame, Footloose).

The cast includes Carly Bracco, Adante Carter, Misty Cotton, Valerie Rose Curiel, Bryan Dobson, Kevin Patrick Doherty, Rachel Farr, Jennifer Foster, Jon Robert Hall, Jonah Ho'okano, Ian Littleworth, Emily Lopez, Lyle Colby Mackston, Garrett Marshall, Chris Meissner, Tiana Okoye, Jane Papageorge, Kayla Parker, Jenelle Lynn Randall, Amy Segal, Michael Starr, Kimberly Ann Steele, and Victoria Strong.

Carrie The Musical features musical direction by Brian P. Kennedy, flying sequence choreography Paul Rubin, scenic design by Stephen Gifford, costume design by Adriana Lambarri, lighting design by Brian Gale, sound design by Cricket S. Myers, illusion design by Jim Steinmeyer, props design by Terry Hanrahan, hair design by Katie McCoy.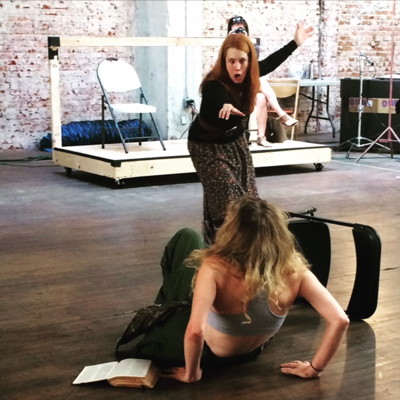 Carrie The Musical
Los Angeles Theatre
615 S. Broadway,
Los Angeles, CA 90014
Dates:        Performances begin Thursday, October 1, 2015
Opening Night is Thursday, October 8.
Performances are presently on sale through November 22, 2015.
Playing:        Tuesday, Wednesday, Thursday, Friday evenings at 8pm
Saturdays Oct. 17, Oct. 31 (Halloween), and Nov. 14 at 6:30p and 11pm
Saturdays Oct. 3, Oct. 10, Oct. 24, Nov. 7 and Nov. 21 at 2pm and 8pm
Sundays at 2pm and 6:30pm
Tickets:        Available online here or by calling 1-888-596-1027
Prices:        Tickets start at $40.00.