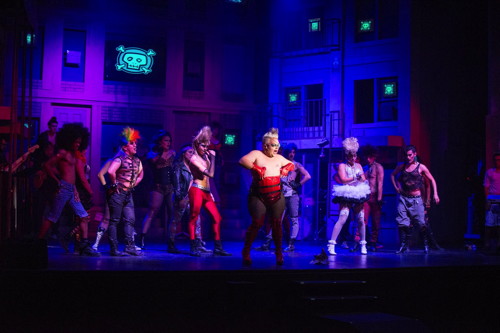 An Interview with star Ginger Minj and Director Greg Hinojosa.
by Kurt Gardner.
Every year, when Halloween rolls around, the Deco District's Woodlawn Theatre brings Frank-N-Furter and his gang back to roaring life in its raucous production of The Rocky Horror Show. And, in keeping with tradition, the theater invites cast members from RuPaul's Drag Race to take part in the show.
This year is no exception. Season Seven runner-up Ginger Minj is taking on the role of the kinky Frank, and was kind enough to answer a few questions about this year's edition, along with director and costume designer Greg Hinojosa.
ARTSBEATLA: Greg, can you tell me how the alliance between the Woodlawn and RuPal's Drag Race contestants begin?
GREG HINOJOSA: The alliance with the reality stars of RuPaul's Drag Race began four years ago. It was the brainstorm of our Musical Director, Hector Serna. We were sitting around talking about Season Seven and especially our love of Sharon Needles. We thought "Wouldn't it be great to have her play Frank N Furter?" So I contacted her agent and the rest is history!
ABLA: What other notable stars have graced the stage in the past?
GREG: Since Sharon's appearance, many RuPaul stars have graced the Woodlawn stage. Alaska, Willam, Michelle Visage, Courtney Act and Bianca Del Rio have all played roles in our Rocky Horror productions.
ABLA: You've gotten creative with the setting in previous shows, taking it out of the original "haunted mansion" milieu and placing it in other environments (steampunk, S&M). What are you doing with this year's edition?
GREG: Many times I find myself having to work around our main stage production's set. This year we are doing American Idiot, which is set on an urban street somewhere in New York. So, I thought a cool way to incorporate that set into our theme is to go Punk Rock 80's! It has really come together better than I expected. Somehow the entire production has fallen into place and the show just works  on all levels. Of course, the success that we have already seen relies mostly on the talents of Ginger Minj (Joshua Eads-Brown).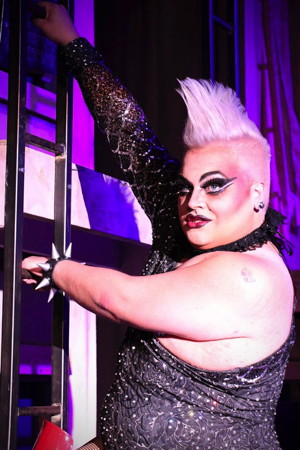 ABLA: Ginger, How did it come about that you would find yourself in San Antonio playing Frank-N-Furter? Did you get any advice or encouragement from previous Drag Race stars who've done it?
GINGER MINJ: Year after year, I've sat back and watched my friends tackle Rocky at the Woodlawn and I always thought, "how much fun would that be?!" I was ecstatic when Greg called to ask me if I wanted to join the production. I think I said yes before he officially offered me anything! Michelle and Sharon have both been incredibly supportive, and I'm so grateful.
ABLA: Is this your first time essaying the role?
GINGER: Yes! I've directed the show several times, I've played Brad, I've played Columbia, I've played Magenta, but never the good doctor himself. In all honesty, I never knew how well my physicality would match up with the role. To my surprise, it seems to be a match made in heaven — and I'm loving every second of it.
ABLA: What special touches are you bringing to your performance?
GINGER: It was really important to me that Frank be a fully-realized person instead of a caricature, so aside from singing and acting my guts out, I'm having fun playing around with my own personal brand of humor and improv. Every performance is a whole new experience!
ABLA: What do you think makes Rocky Horror such an enduring piece, crossing generations and cultures alike?
GINGER: Because the ultimate message of the show is to be whatever you want to be, no matter what anyone else says! And it's fun. Lots and lots of ridiculous, over the top, twisted fun! And don't even get me started on the music…
ABLA: When and where did you see the film version for the first time? How did it affect you?
GINGER: My brother rented the VHS when I was around twelve years old. I played hooky from school, snuck into his room, watched the movie and my life has never been the same!
ABLA: What is the level of audience participation at the Woodlawn? Do they get into it?
GREG: Every year we produce the show, it's my job to find a new way to present it and create an exciting experience for the audience. This year, I have incorporated more audience participation than ever before. The show is played into the audience, literally. Much of it is played in the aisles and often the actors are interacting with the audience.
ABLA: How are you finding the experience? Any surprises or revelations?
GINGER: I knew I would have the time of my life, but I didn't expect to get so close to the rest of the cast and staff at the theatre. The Woodlawn is a true family, and I never want to leave! I'm trying to convince them to bring me back for Mrs. Lovett in Sweeney Todd, but Greg isn't biting. Haha!
GREG: The experience is always rewarding when you see and hear people's reaction after the show. It's a mad-camp, decadent ride from beginning to end!
 ~~~
The Rocky Horror Show plays Thursdays at 8 p.m. and Fridays and Saturdays at 11 p.m. through October 31 at the Woodlawn Theatre, 1920 Fredericksburg Road, San Antonio. Reservations can be made online or by calling (210) 267-8388. The Woodlawn is also offering a "late night date night double feature" package of both Rocky Horror and American Idiot. See details online.
Photos courtesy Woodlawn Theatre.